Oahu Circle Island Tour & Waimea Waterfalls with Shrimp Truck Lunch [Open 2021]
Highlights
Includes admission to Waimea Valley
Lunch at Fumi's Shrimp Shack
Reviews
Circle Island Tour
Rick
Posted on:
2020/01/29
| Rick
oahu circle island tours
neeti
Posted on:
2019/11/24
| neeti
Read more
Overview
Oahu
11 - 12 hour(s) incl. transportation
Available Sun, Mon, Wed, Thu, Fri, Sat
Pick-up available
Lunch
Not Accessible
What to expect
Discover the beauty of Oahu's North Shore on an incredible tour to Waimea Waterfalls, Haleiwa Town and have a bite at the world famous Fumi's Shrimp Shack!
Overview
Available Sun, Mon, Wed, Thu, Fri, Sat
Inclusions: Soft drinks / Juice / Lunch / Admission / Guide / "Pocket Guide to Nature on Oahu" Book / Shave ice
Pick-up from Select Waikiki Hotels
Drive by Diamond Head Crater & Amelia Earhart Lookout
(5 min)
First stop is the world-famous icon of Hawaii, Diamond Head Crater, where overlooking the Pacific Ocean you can also marvel at the 100,000 year old volcanic crater towering above you.
Hanauma Bay (closed on Tuesdays)
(15 min)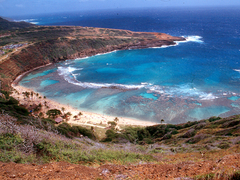 See the famous Hanauma Bay, a pristine marine eco-system with colorful living coral reefs and beaming fish and marine life.
Halona Blowhole & Eternity Beach
(10 min)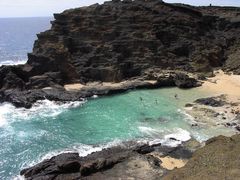 See Halona Blowhole and "From Here to Eternity" beach.
Makapu'u Lookout
(10 min)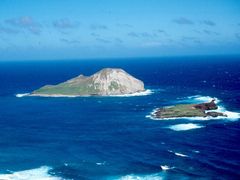 Next stop is Makapu'u Lookout where you will see the island's most recent lava flows, and enjoy incredible panoramic views of offshore islands, turquoise and azure ocean water and breathtaking lava cliffs above.
Nuuanu Pali Lookout
(20 min)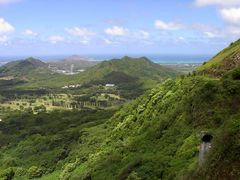 Enjoy stunning views of the beautiful bright blue waters off the Windward coastline. Don't forget your camera for photos from the look out and be sure to hold on to your hat.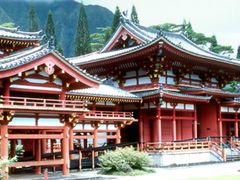 Driving North we arrive at the Valley of the Temples and visit the colorful Byodo-in temple
Lunch Stop at Fumi's Famous Shrimp Stand / Truck
(45 mins)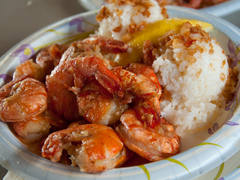 A selection from 7 tasty shrimp plates. Dont' eat shrimp? No problem. We have chicken, hamburger and veggie options available too.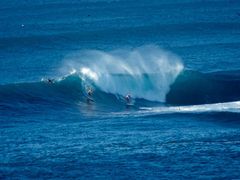 This is the legendary big-wave surfing location where towering, giant waves arrive between November-April.
Waimea Valley and Waterfall
(1.5 hrs)
This enchanting location showcases over 5,000 species of tropical flowering plants, ancient archaeological sites, and one of the most scenic waterfalls on the island.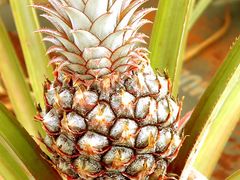 Find many colorful varieties of pineapple species from all over the world.
Drop-off at Select Waikiki Hotels
Location
Pick-up/Check-in Time & Location
Drop-off/Check-out Time & Location
18:30-18:50
Waikiki - Specific hotel
Notes
Restrictions
There will be no rescheduling allowed within 24 hours of your activity. If you miss your activity for any reason and would like to reschedule, you will be assessed a 100% charge of the full activity cost.
Tour vehicle is unable to accommodate walkers, wheelchairs, scooters or strollers.
This tour is suitable for guests with walking difficulties because there is a small golf cart shuttle in Waimea Valley that can accommodate a limited number of guest and take them up to the waterfall without having to walk at all. This small shuttle runs approximately every 30 minutes and currently charges $6.00 for a one-way transportation and $10.00 for round-trip per person. *Fee subject to change
This activity is not wheelchair accessible.
Children 3 years old and above can participate in this activity.
Walking distance is approximately 1.5 miles (3/4 mile each way in the Arboretum to get to the waterfall *but guests may purchase shuttle tickets for the limo cart)
Additional notes
The activity schedule is subject to change or cancellation due to weather or traffic conditions.
The menu is subject to change without notice.
Please note that pick-up times are approximate and could be up to 15 minutes later than your listed pick-up time.
Required items to bring & attire
Closed toe shoes
Comfortable clothing
Casual
Strollers are not allowed
Wheelchairs are not allowed
Large luggage (skis, surfboards, non-collapsible wheelchairs, golf bags, etc.) are not allowed.
FAQ
Q. Is this activity suitable for children?
A. Yes, this tour is both suitable and appropriate for children. The traveling time is not too long and the sightseeing is interesting for children of all ages.
Q. Can I bring my own snacks and drinks?
A. You are welcome to bring your own food and drinks along however you are requested to not eat on the buses, you are welcome to eat at the stops. Please dispose of trash properly at each location.
Q. Is giving a tip (gratuity) required?
A. Gratuity is never required, but if you enjoyed your experience a tip is always greatly appreciated!
Q. How far in advance should I book this activity?
A. We recommend booking at least a few days in advance. If you have very specific schedule requirements and are not flexible, please book sooner. Last minute availability is often possible, but limited.
Q. What is the lunch menu?
A. Lunch Menu: Your choice of one of the following delicious dishes (choices do not have to be made until the day of the tour).

Original Shrimp with Cocktail Sauce, Butter Garlic Shrimp, Lemon Pepper Shrimp, Hot and Spicy Shrimp, Fried Coconut Shrimp, Tempura Shrimp, Spicy Garlic Shrimp, Salt and Pepper Shrimp, Ginger Shrimp, Tonkatsu (Fried Pork Cutlet), Chicken Katsu (Fried Chicken Cutlet), Cheeseburger, Grilled Mahi Mahi
Q. Can we swim at Waimea Falls?
A. Sorry, swimming at Waimea is not permitted on this tour.
Please visit VELTRA Support page to send an inquiry about this activity.
VELTRA Support
Payment / Cancellation Policy
Payment Methods
Credit card payment
Cancellation Policy
Any cancellations made after 17:00 local time, 2 business days prior to the activity will be subject to a charge of 100% of the total amount.
Top-Rated Activities for Oahu
Oahu Circle Island Tour & Waimea Waterfalls with Shrimp Truck Lunch [Open 2021]
Discover the beauty of Oahu's North Shore on an incredible tour to Waimea Waterfalls, Haleiwa Town and have a bite at the world famous Fumi's Shrimp Shack!