Ocean Sports Kohala Coast Snorkel Cruise with Lunch (from Waikoloa)
Highlights
Kids under 6 sail for FREE!
Reviews
If you're gonna do a snorkel cruise, do this one
Christina
Posted on:
2019/01/08
| Christina
Great memories
shawn1677
Posted on:
2015/07/06
| shawn1677
Read more
Overview
Big Island
3.5 - 5 hour(s) incl. transportation
Available Sun, Mon, Wed, Fri, Sat
Pick-up available
Not Accessible
What to expect
Depart from Waikoloa Beach and discover the Big Island's most remote snorkeling spots filled with tropical fish and scenic views along the lush Kohala Coast. Includes snorkel lesson, picnic lunch, complimentary bar & tropical cocktails!
Snorkel Adventure Cruise [April 16 - November 30]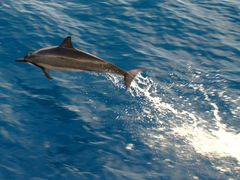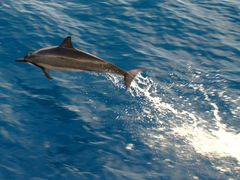 The tour departs from Anaeho'omalu Bay on the Sailing Catamarans "Seasmoke" or "Manu Iwa".
Overview
Available Sun, Mon, Wed, Fri, Sat
Inclusions: Instructor / Open Bar (Unlimited drinks / including alcohol) / Flotation devices / Lunch buffet / Cruise fee / Snorkeling equipment (snorkel, mask & fins) / Deli Style Lunch Buffet / Guided snorkel tour / On-board marine life talk and snorkel lesson
Pick-up from Select Waikoloa & Kohala Hotels
Check-in at Waikoloa Beach Marriott
Picnic Lunch & Snorkel Sail
3 hrs
Location
Pick-up/Check-in Time & Location
Drop-off/Check-out Time & Location
Notes
Restrictions
This activity is not wheelchair accessible.
If less than 8 participants are booked, the activity may not operate.
Children of all ages can participate in this activity.
Snorkel locations vary and are selected daily based on ocean conditions.
Additional notes
The activity schedule is subject to change or cancellation due to weather or traffic conditions.
The menu is subject to change without notice.
The activity provider does not assume any responsibility for your valuables and/or personal belongings.
Gratuity is not included in the price.
Participants should be barefoot or wear flip-flops since you will board the vessel from the shore rather than a pier, and you will wade into the water up to your knee.
If you are driving on your own, you will be required to pay a parking fee.
Required items to bring & attire
Swimsuit
Sunglasses
Camera
Flip-flops
Sunscreen
A valid, government-issued photo ID is required to consume alcoholic beverages.
If you're gonna do a snorkel cruise, do this one
2019/01/08
Couples
Christina
This was THE COOLEST snorkel excursion. First they picked us up from our hotel, RAD. They have a marine biologist on board that taught us a lot about the creatures we'd be seeing and the ecosystem which was fascinating. ...The area they took us to was a gorgeous reef and we saw some amazing fish and sea creatures. The marine biologist was even diving for starfish that he showed everyone and let us pet while we were in the water. We got a good hour and a half of snorkeling and then it was time for a tasty sandwich bar lunch. On the way back was, yes what you've all been waiting for, an OPEN BAR. Those were the best drinks I got on the island. It was awesome, big shout out to the amazing crew.
more
Great memories
2015/07/06
Couples
shawn1677
Two years later and I am still thinking about how much fun we had snorkeling and sailing. Some of the best memories we have from our time on the Big Island. We'll be back as soon as possible!
This is an amazing snorkeling adventure. The staff is very knowledgeable - very attentive - and everyone of them went out of their way to make this a memorable (and safe) experience for us. One of the guides brought up... sea urchins and starfish for everyone to enjoy! Highly recommend!
more
Read all reviews (9)
Activity Provider
Ocean Sports
Payment / Cancellation Policy
Payment Methods
Credit card payment
Cancellation Policy
Any cancellations made after 18:00 local time, 2 business days prior to the activity will be subject to a charge of 100% of the total amount.
FAQ
Are you required to wear a life jacket?
No, life jackets are not required to be worn but they are available throughout the boat in case of emergency.
Are prescription snorkeling masks available?
Yes, mask strengths vary so if you have specific requirements please indicate during booking so that we may secure your arrangements.
Will our guide help us with snorkeling if it is our first time?
Yes, your crew will will teach you how to snorkel and even help you put on your gear comfortably. They will always get into in the water with the group.
What is the breakfast and lunch menu?
Continental Breakfast: Assortment of Yogurt and Pastries, Tropical Juices, and Soft Drinks.

Deli Buffet Lunch: Cold Cuts, Lettuce, Tomato, Cheese Slices, Tortillas, Whole Wheat Bread. Caesar Salad, Homemade Cookies, Chips and Salsa, Soft Drinks & Juices

Complimentary Bar: Imported & Domestic Beers, White Wine, Well Drinks, Soft Drinks & Juices
How far in advance should I book this activity?
We recommend booking at least 1-2 weeks in advance. If you have very specific schedule requirements and are not flexible, please book sooner. Last minute availability is often possible, but limited.
Do I need to be able to swim to participate?
No, plenty of floatation devices are available on board for your comfort along with crew assistance. Noodles, boogie boards with viewing windows, life jackets and water skiing belts are all available to use so you can choose what's best for you.
Will we see whales?
Every year Humpback Whales migrate to the warm waters of Hawaii, and although not guaranteed, they are often seen between the months of December and April.
What kinds of boats will be used?
Sea Smoke [Departs from Anaeho'omalu Bay]: The Sea Smoke has won several awards, including accolades for voyages across the Pacific ocean. Incredible sailing experiences and ample deck space (58 feet long by 28 feet wide) make the Sea Smoke a favorite choice for excursions of all types.

Manu Iwa: The Manu Iwa is the go-to vessel for smaller group excursions. Its rear staircase ladder provides hop-in, hop-out access for amazing snorkeling trips. At 50 feet long, there is still plenty of space to relax and enjoy some sunshine on the water.

Alala [Departs from Kawaihae Harbor]: The Alala perfectly combines the best of a snorkel adventure vessel with the smooth comfort ideal for relaxing sunset cruises and oceanside soirees. At 65 feet long by 30 feet wide, this full-service catamaran can comfortably accommodate groups of up to 75 people. The vessel also includes functional restrooms, cabin space and other premium amenities.
Please Note: The Alala is a powered catamaran. Cruises on this vessel are not sailing trips.
Please visit VELTRA Support page to send an inquiry about this activity.
Veltra Support
Top-Rated Activities for Big Island
Editor's Picks for Big Island
Ocean Sports Kohala Coast Snorkel Cruise with Lunch (from Waikoloa)
Depart from Waikoloa Beach and discover the Big Island's most remote snorkeling spots filled with tropical fish and scenic views along the lush Kohala Coast. Includes snorkel lesson, picnic lunch, complimentary bar & tropical cocktails!