Leilani Maui Cruise - Molokini Snorkel, Dolphin Watch & Turtle Tour [Open Soon]
Highlights
Top rated 5 hour Maui Molokini luxury snorkeling cruise aboard motor yacht Lelani
Witness the best of Maui's Marine life, watch for dolphins and snorkel with turtles!
Sells out fast! Advanced bookings recommended.
50 foot Uniflite motor yacht accommodating up to 40 guests
Departs from Maalaea Harbor (Central Maui)
Reviews
AWESOME!!!
Dave Harley
Posted on:
2017/11/11
| Dave Harley
Read more
Overview
Maui
5.5 - 9.5 hour(s) incl. transportation
Available Daily
Pick-up available
Continental breakfast, Lunch
Not Accessible
What to expect
Go snorkeling at Molokini and Turtle Town, two of Maui's biggest ocean attractions, on this 6-hour snorkeling tour that includes dolphin watching & swimming with turtles! Do everything ocean-related on the Leilani's 'Best Day on Maui' tour!
Overview
Continental breakfast, Lunch
Inclusions: Open Bar (Unlimited drinks / including alcohol) / Flotation devices / Continental breakfast / Lunch / Wetsuit / Snorkeling equipment (snorkel, mask & fins) / Reef-safe sunscreen
Departing from Maalea Harbor & Breakfast on board
It takes about 1 hour to get to Molokini Crater. Enjoy the fresh morning air and complimentary breakfast.
Snorkeling at Molokini Crater
(1h)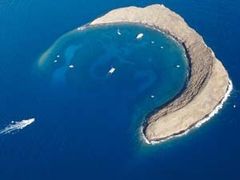 Located just off shore of Maui, Molokini is a sunken atoll that serves as a marine sanctuary. Its crescent shape provides a sheltered area with some of the best snorkeling in Maui.
Snorkeling at Turtle Town
(1 h)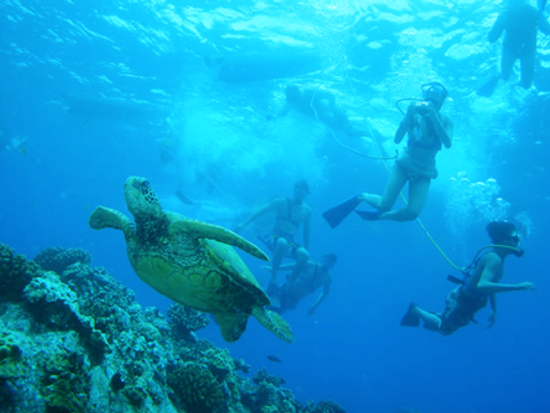 The coral reefs of Makena Beach serves as a home to many local marine species, including Hawaiian green sea turtles, who like to rest among the reefs and get their shells cleaned by fish.
After a freshly-cooked BBQ lunch, enjoy a cold beverage and watch dolphins playing off the shore of Maui.
Location
Pick-up/Check-in Time & Location
Drop-off/Check-out Time & Location
AWESOME!!!
2017/11/11
Solo Travelers
Dave Harley
I took this tour and it was absolutely fantastic! I wanted to try the snuba diving and so very happy I did it. It cost extra, but worth every penny. Staff and instructors were top notch and very easy going. Breakfast, lu...nch and the drinks were great. This was easily my favorite part of our vacation. You can't go wrong.
more
Read all reviews (1)
FAQ
Q. Will we see turtles on this tour?
A. While turtles don't appear at Molokini, you're bound to see green sea turtles at Turtle Town, an aptly named reef on Maui's south shore.
Q. Will we see whales?
A. During the winter and early spring (usually mid December through early April), you'll have a pretty good chance of seeing whales, as Maui is a prime hot spot for whale activity. But don't worry. Your Maui snorkeling experience is still safe, as the whales will be unlikely to approach during snorkeling and pose very little danger to humans.
Q. How far in advance should I book this activity?
A. We recommend booking at least 1-2 weeks in advance. If you have very specific schedule requirements and are not flexible, please book sooner. Last-minute bookings are often possible, but availability is limited.
Q. Do I need to know how to swim to snorkel?
A. There are guests who do not know how to swim. However, several different flotation devices to keep you floating will be provided. The Captain will give you an orientation and there will be a lifeguard in the water and crew standing watch.
Q. What happens if it rains?
A. All tours are weather permitting and it is up to the captain's discretion to take you where the conditions are the best overall and safe and enjoyable.
Q. What happens if the ocean conditons are not good and we can't make it to Molokini Crater for snorkeling?
A. Safety is always our number one priority and we want all the guests to be safe and comfortable in the water at all times. If we can't make it to Molokini Crater the Captain will always make sure to get you to another beautiful snorkel destination!
Please visit VELTRA Support page to send an inquiry about this activity.
VELTRA Support
Payment / Cancellation Policy
Payment Methods
Credit card payment
Cancellation Policy
Any cancellations made after 18:00 local time, 3 business days prior to the activity will be subject to a charge of 100% of the total amount.
Top-Rated Activities for Maui
Restrictions
This activity is not wheelchair accessible.
Children of all ages can participate in this activity.
Required items to bring & attire
A valid government-issued photo ID is required to consume any alcoholic beverages.
Towel
Swimsuit
Additional notes
The activity schedule is subject to change or cancellation due to weather or traffic conditions.
This activity operates regardless of weather.
The menu is subject to change without notice.
The activity provider does not assume any responsibility for your valuables and/or personal belongings.
This activity may be changed or canceled for your safety, medical issues or comfort.
Gratuity is not included in the price.
Complimentary parking available.
If you are driving on your own, you will be required to pay a parking fee.
Booking requirements (# of participants, vehicles, hours, etc.)
You can book a maximum of 40.
Leilani Maui Cruise - Molokini Snorkel, Dolphin Watch & Turtle Tour [Open Soon]
Go snorkeling at Molokini and Turtle Town, two of Maui's biggest ocean attractions, on this 6-hour snorkeling tour that includes dolphin watching & swimming with turtles! Do everything ocean-related on the Leilani's 'Best Day on Maui' tour!