Old Lahaina Luau - Maui's Most Traditional Hawaiian Oceanfront Dinner & Show
Highlights
The very best luau Hawaii has to offer
Authentic Hawaiian hula & cuisine
Choice of tables & chairs or traditional mat seating
Receive personalized attention & excellent service
Most popular luau & always sold out
Reviews
Amazing, MUST see!!!
B Simmons
Posted on:
2020/03/11
| B Simmons
One of the Best Luaus in Hawaii
Shaina B
Posted on:
2020/02/20
| Shaina B
Read more
Overview
Maui
3 hour(s)
Available Daily
Pick-up not available
Dinner buffet
Accessible
What to expect
Well known as Maui's most authentic and popular luau, the Old Lahaina Luau offers a beachfront experience complete with traditional Hawaiian food and entertainment. Be sure to book Maui's best luau today for an unforgettable evening in paradise!
Overview
Inclusions: Open bar (all-you-can-drink) / Welcome drink / Dinner buffet / Fresh flower lei greeting / Entertainment
Check-in at the Old Lahaina Luau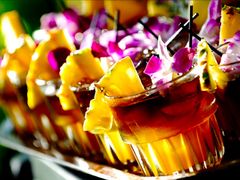 Once you arrive at the luau, you will receive a traditional lei greeting and after enjoying your welcome tropical drink, you will be ready to begin your evening at Maui's most popular luau. Open bar included throughout the evening.
Island Crafts & Imu Ceremony
(15 min)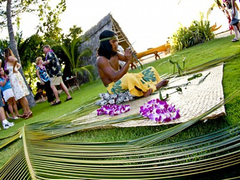 Explore the area and take this opportunity to learn about the fascinating Hawaiian history and culture. See how lei are made, how certain food is created, and then finally gather around the imu (underground oven) for the an authentic unearthing of the slow-cooked pig.
Luau Dinner Buffet & Premium Open Bar
(1 hr)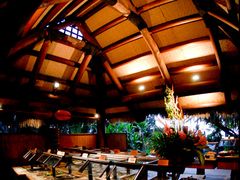 Be sure to come to the hungry since you will want to eat your fill of the gourmet all-you-can-eat Polynesian buffet. With a variety of different food options ranging from traditional pulled Hawaiian kalua pork to freshly prepared marinated octopus, there is something for everyone.
Hawaiian Hula & Music Performance
(1 hr)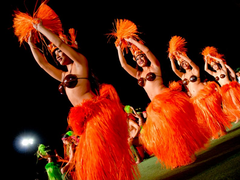 After dinner, sit back and relax to watch the award-winning presentation of traditional Hawaiian music and hula! Take a musical journey across the islands as local dancers and musicians perform incredible hula and the music of Hawaii.
Location
Pick-up/Check-in Time & Location
Drop-off/Check-out Time & Location
Notes
Restrictions
Wheelchair Accessibility: Facilities at the Old Lahaina Luau are all wheelchair accessible. Front row seating is on floor cushions with low tables, and all other seating is with chairs and a table.
This activity is wheelchair accessible.
Children of all ages can participate in this activity.
Additional notes
Infants age 2 and under are free of charge as long as they are able to sit in someone's lap or in a high chair throughout the evening.
All seats are reserved and prioritized by the date a reservation is initially confirmed.
Guests may choose from our Traditional Hawaiian Mat seating, or our regular Conventional Tables and Chairs. (*It is difficult to change after all guests have arrived.)
Professional photographers are available to capture the evening's memories (no obligation to purchase).
The activity schedule is subject to change or cancellation due to weather or traffic conditions.
The menu is subject to change without notice.
The activity provider does not assume any responsibility for your valuables and/or personal belongings.
Gratuity is not included in the price.
Required items to bring & attire
A valid government-issued photo ID is required to consume alcohol.
Booking requirements (# of participants, vehicles, hours, etc.)
You can book a maximum of 14.
FAQ
Q. How far in advance should I book this activity?
A. The Old Lahaina Luau operates at maximum capacity (440 guests) all year round and is often sold out up to 30 to 45 days in advance. It is highly recommended that you book your luau at least two months prior to your visit to Maui.
Q. How many staff members will be at the luau?
A. Even though the luau is normally sold out, you will still get personalized service and attention since there are normally over 160 employees, or one staff member for every 12 guests.
Q. Is parking available?
A. Yes. Free parking is available on site, but fills up quickly. Come early to ensure you find a spot. Overflow parking is available nearby and on the street.
Q. What happens if it rains?
A. If it starts to rain heavily, the luau will be cancelled and refunds will be given dependent on the circumstances of cancellation. In light rain, the show will go on!
Q. What is the dress code?
A. Resort Casual. Most ladies wear nice shorts, slacks, or capri pants and a blouse or a casual sundress. Shorts and a Hawaiian Aloha shirt tend to be the attire of choice for men. You may want to bring a light jacket or sweater if there are cool ocean breezes that evening.
Please visit VELTRA Support page to send an inquiry about this activity.
VELTRA Support
Payment / Cancellation Policy
Payment Methods
Credit card payment
Cancellation Policy
Any cancellations made after 16:00 local time, 1 business days prior to the activity will be subject to a charge of 100% of the total amount.
Top-Rated Activities for Maui
Old Lahaina Luau - Maui's Most Traditional Hawaiian Oceanfront Dinner & Show
Well known as Maui's most authentic and popular luau, the Old Lahaina Luau offers a beachfront experience complete with traditional Hawaiian food and entertainment. Be sure to book Maui's best luau today for an unforgettable evening in paradise!