Four Winds Molokini Snorkel Tour on Glass Bottom Boat (from Maalaea Harbor)
Highlights
Swim with sea turtles at Molokini Crater!
Snorkel at Molokini Crater
Glass-bottom viewing room
Breakfast & lunch included!
Includes water slide, grill, & open bar
Reviews
Four Winds snorkling
Connie
Posted on:
2019/04/14
| Connie
snorkel trip
Darla
Posted on:
2019/03/30
| Darla
Read more
Overview
Maui
5.5 hour(s)
Available Daily
Pick-up not available
Lunch
What to expect
Embark on a family friendly snorkeling adventure on Four Winds II catamaran. This all-inclusive cruise includes snorkeling at Molokini Crater, swimming with sea turtles, a water-slide, open bar, two on-board grills, and a glass bottom viewing room.
In an effort to maintain the health and safety of both guests and employees, this activity will be temporarily pausing operations. Resumption date is subject to change and bookings cannot be guaranteed past August 31st, 2020.
Overview
Inclusions: Instruction / Soft drinks / Juice / Alcoholic beverages / Lunch / Snorkeling equipment (snorkel, mask & fins) / Sea Boards (large flotations with a clear bottom viewing window), Boogie Boards, Floatation Belts, and Life Vests.
Check-in at Ma'alaea Harbor
Glassbottom & Snorkel Cruise
(5 hrs)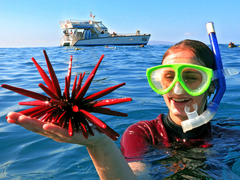 About two hours is spent at Molokini, giving you more time to snorkel and explore the marine environment at your own pace! The cruise provides breakfast, lunch, drinks, and all the snorkeling equipment you'll need!
Location
Pick-up/Check-in Time & Location
Drop-off/Check-out Time & Location
Notes
Restrictions
Children of all ages can participate in this activity.
Snuba participants must be 8 years old & older.
Wheelchair Accessibility: Ramp meets level to the boat for boarding. On-board bathroom is not ADA compatible but assistance is available from the crew. Please indicate during booking for most convenient arrangements.
Additional notes
The activity schedule is subject to change or cancellation due to weather or traffic conditions.
Whale and dolphin sightings are not guaranteed.
For cruise ship passengers, driving distance to Maalaea Harbor from the Pier (Lahaina or Kahului) is approximately 45 minutes away by taxi.
Snorkel sites are selected at the discretion of the captain. An alternate site will be chosen if undesirable ocean conditions exist at Molokini.
A link to complete the required online waiver will be sent you via text message.
Required items to bring & attire
Swimsuit
A valid, government-issued photo ID is required to consume alcoholic beverages.
Four Winds snorkling
2019/04/14
Couples
Connie
Great food and saw some whales. Very nice crew members.
Very attentive staff, great experience. Food was good, saw lots of fish and an eel.
Best Boating excursion EVER!
2019/01/17
Couples
Canada Robert
We were lucky that it was a beautiful day on the water. Everything was perfect! We saw so many whales we couldn't keep up with which side of the boat they were breaching on. Our "Captain Dan" was the most amazing host. H...e provided a lot of insight into the whales (their behaviour, etc), the surrounding area & history, the crew on the boat and even his own life. It wouldn't have been the same without him onboard. Thanks, "Lieutenant Dan"!! Riley was an excellent bar keep and equipment manager. I don't remember the names of the rest but all were so professional and accommodating. Snorkelling on the Molokini for a newbie like my wife was a breeze thanks to ALL of them. Will definitely book this again when we go back to Maui.
more
Read all reviews (42)
FAQ
Q. Do I need to be able to swim to participate?
A. No, you are not required to be able swim. You are welcome to stay on the boat or grab a flotation device to hold on to. They also have "See Boards" which are like large boogie boards equipped with a Plexiglas viewing port.
Q. Are you required to wear a life jacket?
A. No, life jackets are not required to be worn but they are available throughout the boat in case of emergency.
Q. Are prescription snorkeling masks available?
A. Yes, there are prescription masks on board ranging from -2 to -7.
Q. Is there a safe place to store my belongings while on tour?
A. There are areas on board where items can be stored and kept dry. There are no lockers, however there hasn't been any security issues to date, as staff are very aware and constantly monitoring the boat
Q. How far in advance should I book this activity?
A. We recommend booking at least 1-2 weeks in advance. If you have very specific schedule requirements and are not flexible, please book sooner. Last-minute bookings are often possible, but availability is limited.
Q. What happens if the ocean conditions are rough?
A. Molokini's crescent shape protects it from the majority of strong waves and currents. However, if the captain decides that the weather at Molokini will be unfavorable, Coral Gardens will be chosen as a snorkeling destination instead.
Please visit VELTRA Support page to send an inquiry about this activity.
VELTRA Support
Payment / Cancellation Policy
Payment Methods
Credit card payment
Cancellation Policy
Any cancellations made after 18:00 local time, 2 business days prior to the activity will be subject to a charge of 100% of the total amount.
Top-Rated Activities for Maui
Four Winds Molokini Snorkel Tour on Glass Bottom Boat (from Maalaea Harbor)
Embark on a family friendly snorkeling adventure on Four Winds II catamaran. This all-inclusive cruise includes snorkeling at Molokini Crater, swimming with sea turtles, a water-slide, open bar, two on-board grills, and a glass bottom viewing room.