Te Au Moana Wailea Marriott Oceanfront Luau & Fire Knife Show [Open Now]
Highlights
Outdoor dinner show featuring a Hawaiian feast, traditional dances, and music
Stunning oceanside setting on luau grounds
Three Course Menu served family style at your table
Reviews
Our First Luau
Reyes Family
Posted on:
2019/07/10
| Reyes Family
Fun time for my family
Tony
Posted on:
2019/03/28
| Tony
Read more
Overview
Maui
4 - 4.5 hour(s)
Available Mon, Thu, Sat
Pick-up not available
Accessible
What to expect
Experience the legacy and culture of the Hawaiian islands at the amazing Te Au Moana Luau in Wailea, featuring a 3-Course Dinner, Open-bar, traditional dances, music and an spectacular fire knife performances.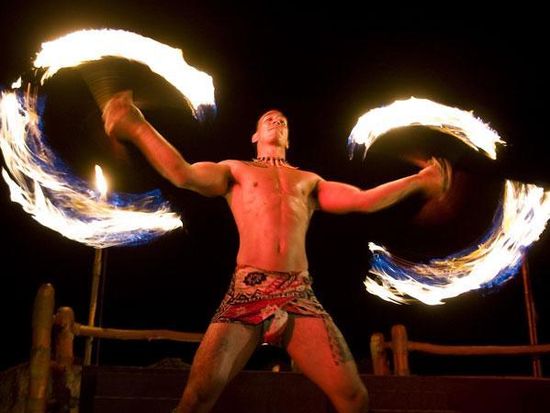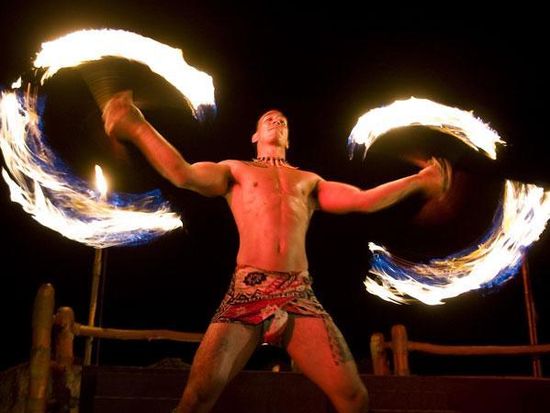 • 3-course family-style menu severed table side
• Open Bar
• Private Table
• Individuals wanting to be seated together must all be booked on the same reservation. We are unable to combine more than one booking on a table.
• Tables will be assigned in order of booking
Overview
Inclusions: Open bar (all-you-can-drink) / Welcome drink / Three-course family-style dinner / Te Au Moana Show
Check-in at Wailea Beach Marriott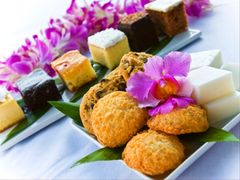 Enjoy a delicious 3-course family-style dinner severed table side before the showtime!
Te Au Moana: The Ocean Tide Show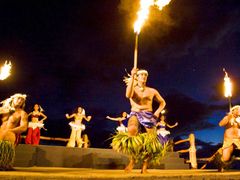 Te Au Moana means "The Ocean Tide" in Hawaiian and the show retelling of the legendary episodes of Maui. Enjoy the spectaclar show featurs music and dances from Hawaii, Tahiti, Tonga, and other Polynesian islands. Also Torch dance and the dangerous Fire-knife dance of Samoa!
Location
Pick-up/Check-in Time & Location
Drop-off/Check-out Time & Location
Our First Luau
2019/07/10
Families
Reyes Family
The location of the luau was perfect for us because it was close. The resort itself is breathtaking and immaculate. We were a party of 12 with 2 young kids and were seated right away. There were several activities for ev...eryone before it got started. We took tons of pictures, most of them being the beautiful sunset. They singing, dancing and overall production was very entertaining. The delicious food and open bar were the icing on the cake. Overall, everyone in our party had a great time.
more
The show was great. The food was decent as well. It was a nice experience for my wife and three teen daughters. Mahalo!
Great food, fun entertainment.
This was the one 'touristy' thing we did, but it was fun. Very well organized, although expect to walk quite a ways to get to it from the dropoff/ parking area. Holy cow, the food was incredible. SOOO much also! And an o...pen bar! I HIGHLY recommend fish, by the way. The roasted pig was good, but I didn't expect the fish to be so phenomenal... it was a nice surprise. Actually, the only thing I wasn't a fan of was the poi (traditional taro root 'sauce/ garnish?''). Everyone was so friendly, and they had great activities and excellent craftsman with items for purchase. We talked to a guy who's family all dive for fossil whale bones and carve totems from them. Beautiful craftsmanship.
more
Read all reviews (41)
FAQ
Q. What should I wear to this activity?
A. The Luau dress code is Smart Island Casual, meaning, wear something comfortable. A light jacket or sweaters are nice when the evening gets cooler.
Q. Is this activity family-friendly?
A. Yes, this luau is family friendly and enjoyed by people of all ages.
Q. What if it rains during the luau?
A. If inclement weather occurs before the luau, the luau will be moved to the ballroom. If bad weather occurs during your luau, you will be able to reschedule for a different night.
Q. Should I arrive hungry?
A. Yes, you will be enjoying a mouthwatering All-You-Can-Eat Luau Buffet.
Q. What is the luau facility like?
A. A lavish celebration set beach side at the luxurious Wailea Beach Resort & Spa, this luau comfortably seats 400 people with unobstructed views of the Pacific Ocean and the stunning Hawaiian sunset.

Q. What is on the menu?
A.
Luau Dinner Menu:


Salads and Starters: Pineapple Coleslaw, Crispy Fried Soba Noodle Salad, Poi, Hawaiian Potato Salad, Wailea Beach Macaroni Pasta Salad, and Upcountry Mixed Green Salad with house made dressing (Mango Basil Butter, Ranch Dressing, Papaya Seed Dressing), and Fruit Salad (Pineapple, Cantaloupe, Honeydew melon, Passion fruit puree, and Toasted coconut)


Accompaniments: Lomi Lomi Salmon, Stir-fried Vegetables, Hawaiian Purple Sweet Potatoes with coconut syrup and toasted coconut, Roasted Garlic Edamame Fried Rice, and Hawaiian Sweet Rolls & Mango Basil Butter


Entrées: Imu baked Kalua Pig, Honey Teriyaki Grilled Steak, Seafood Vegetable Pasta, and Shoyu Honey Ginger Roasted Chicken


Dessert: Pineapple Upside Down Cake, Sweet Potato Haupia Squarers, Chocolate Brownies, Key Lime Squares, Banana Nut Bread, and Assorted Cookies


Beverages: A variety of non-alcoholic beverages, Open Bar and Blended Tropical Drinks
Q. Are there any vegetarian dinner options?
A. Special meals are available with advanced request and vegetarian customers are still welcome to help themselves at our salad bar at the buffet. Please indicate during booking to secure arrangements.
Please visit VELTRA Support page to send an inquiry about this activity.
VELTRA Support
Payment / Cancellation Policy
Payment Methods
Credit card payment
Cancellation Policy
Any cancellations made after 16:00 local time, 2 business days prior to the activity will be subject to a charge of 100% of the total amount.
Top-Rated Activities for Maui
Restrictions
This activity is wheelchair accessible.
Children of all ages can participate in this activity.
Wheel Chair Accessibility: All facilities at the Te Au Moana Luau and the Wailea Beach Marriott Resort are accessible and ADA approved.
Required items to bring & attire
A valid government issued photo I.D. is required to consume any alcoholic beverages.
Additional notes
The activity schedule is subject to change or cancellation due to weather or traffic conditions.
The menu is subject to change without notice.
Gratuity is not included in the price.
Parking validation available.
Guests are required to follow all CDC, state, and local guidelines. Te Au Moana Luau reserves the right to refuse/terminate service if guests do not adhere to all CDC, local, and state guidelines.
Due to COVID-19, all guests must follow these policies:
• Guests are required to wear a mask at all times while on-site unless seated at their table.
• Pass a mandatory health screening at the entrance.
• Each reservation must be seated at their assigned table. Max of 10 guests per table. Individuals are not allowed to mingle with other reservations. There will be only one booking per table.
• You will receive a text with your table assignment and check-in time within 5 days of your event.
COVID-19 Safety Protocol (Facilities):
• Capacity has been reduced by 50%. Maximum of 49 tables per show.
• Hand sanitizing stations are available.
• Frequently touched areas will be disinfected before, during, and after guests' attendance.
• Washroom protocols follow strict guidelines in accordance with the CDC and state recommendations. These will be monitored and cleaned at minimum every 30 minutes during the event, and deep cleaned and sanitized at the conclusion of the event.
COVID-19 Safety Protocol (Entertainment):
• All entertainers must pass a mandatory health screening at the entrance.
• Entertainers must be physically distanced from guests at all times.
• Guest on stage participation has been temporarily suspended.
• Interactive cultural activities have been temporarily suspended.
COVID-19 Safety Protocol (Food and Beverage Service):
• All Food and Beverage service is required to follow local, state and CDC guidelines.
• All self-service buffets are temporarily suspended. Food will be served in three courses, family style.
• Guests are required to maintain social distancing while at the Open Bar.
Booking requirements (# of participants, vehicles, hours, etc.)
You can book a minimum of 2 and maximum of 10.
Te Au Moana Wailea Marriott Oceanfront Luau & Fire Knife Show [Open Now]
Experience the legacy and culture of the Hawaiian islands at the amazing Te Au Moana Luau in Wailea, featuring a 3-Course Dinner, Open-bar, traditional dances, music and an spectacular fire knife performances.