Explore Big Island's active volcanoes and the attractions at Hawaii Volcanoes National Park on a half-day or full-day volcano sightseeing tour. Here's your chance to immerse yourself in the power of this living volcanic landscape, its misty rainforests, thermal ponds, waterfalls and even lava flows. Tours allow you to go with a group and meet new friends or get your own personal expert guide to introduce you to the volcano and visit areas seldom visited by other volcano tour companies.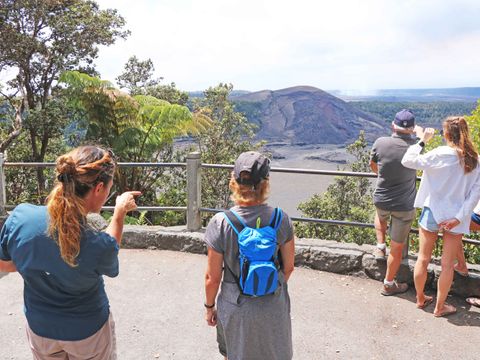 News Update (July 2018): Most of Hawai'i Volcanoes National Park remains closed due to increased and damaging earthquakes, corrosive volcanic ash, and continuing explosions from Halema'uma'u, the summit crater of Kīlauea Volcano.

The only way to currently view the volcano is from the air or the sea...
Check out the other fun things to do on the Big Island...