Romantic Marriage Proposal Private Helicopter Flight [Open 2021]
Overview
Maui
1 hour(s)
Available Daily
Pick-up not available
Accessible
What to expect
Propose to the one you love like something right out of the movies with a romantic helicopter flight and a banner that reads "Marry Me" from the skies above.
Overview
Inclusions: Airfare / Guide / Two lei / HD video of flight / Commemorative photo / Beach sign
Check-in at Kahului Heliport Hangar 110
Romantic Helicopter Tour
(30 mins)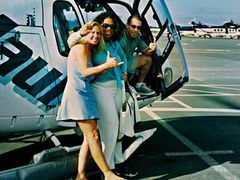 Show that special someone what they really mean to you. Share a precious moment in the sky over Maui and end your tour with a flyby over a beach sign that asks the most important question of your life: "Will you marry me?"
Check-out at Kahului Heliport Hangar 110
Location
Pick-up/Check-in Time & Location
Drop-off/Check-out Time & Location
Notes
Restrictions
Wheelchair Accessibility: The helicopter is not equipped with a lift. Guests must be able to enter the aircraft with limited assistance.
The maximum combined weight for any six passengers on a single flight must not exceed 1040 lbs (472 kg).
This activity is wheelchair accessible.
Children of all ages can participate in this activity.
Guests should not have serious fear of heights (acrophobia).
Other requirements
FAA regulations require activity providers to weigh all passengers and bags at check-in. For each passenger weighing 240 lbs (109 kg) or a combined weight of 420 lbs (191 kg) per couple, an additional seat must be purchased. This is for the safety and comfort of all passengers.
Half hour check-in prior to all flights is required.
Booking requirements (# of participants, vehicles, hours, etc.)
You can book a maximum of 1.
Required items to bring & attire
A valid government-issued photo ID
Additional notes
Flight routes and sights may vary due to weather conditions.
Fuel surcharge rate subject to change.
"Selfie Sticks", tablets and bags are not allowed on the helicopter.
Only cellphones are allowed on board.
The activity schedule is subject to change or cancellation due to weather or traffic conditions.
Gratuity is not included in the price.
FAQ
Q. Is there a safe place to store my belongings while on tour?
A. Yes, you can to safely store your belongings at the Air Maui base during your flight.
Q. Is giving a tip (gratuity) required?
A. Gratuity is never required, but if you enjoyed your experience a tip is always greatly appreciated!
Q. How far in advance should I book this activity?
A. We recommend booking at least 1-2 weeks in advance. If you have very specific schedule requirements and are not flexible, please book sooner. Last-minute bookings are often possible, but availability is limited.
Q. What kind of helicopter will be used?
A. An Aerospatiale / American Eurocopter A-Star 350BA - Aerial 1B Engine with all of the current modifications (Ceramic Swirl Plate, MO5 Gears) will be used. This 1996 Helicopter is outfitted with air-conditioning, 2 compact disc players, Bose Headsets, a 5-camera system and viewing monitors. It is currently the only A-Star that offers 180-degree unobstructed views!
Q. Can the beach sign be customized?
A. No, the beach sign cannot be customized. The sign reads "WILL YOU MARRY ME?" and is visible from the helicopter. A person's name can be written in the sand under the sign.
Q. Will it be possible to talk to each other during the flight?
A. Unfortunately, the headsets used inside the helicopter offer communication between the passengers and the pilot. Verbal communication between passengers may not be possible during the flight. However, the provided beach sign is highly visible from the air, so verbal communication should not be necessary for your proposal.
Please visit VELTRA Support page to send an inquiry about this activity.
VELTRA Support
Payment / Cancellation Policy
Payment Methods
Credit card payment
Cancellation Policy
Any cancellations made after 16:00 local time, 3 business days prior to the activity will be subject to a charge of 100% of the total amount.
Top-Rated Activities for Maui
Romantic Marriage Proposal Private Helicopter Flight [Open 2021]
Propose to the one you love like something right out of the movies with a romantic helicopter flight and a banner that reads "Marry Me" from the skies above.