Haleakala Sunset Tour with Dinner
Highlights
Dinner provided at Cafe OLei at the Dunes
Includes admission to Haleakala National Park
Reviews
A wonderful experience!
BeachWoman
Posted on:
2020/03/14
| BeachWoman
Very knowledgeable funny and friendly bus is extremely comfortable,
Nancy
Posted on:
2019/07/15
| Nancy
Read more
Overview
Maui
7.5 - 9 hour(s) incl. transportation
Available Tue, Wed, Fri
Pick-up available
Dinner
Accessible
What to expect
Ascend to the tallest peak on Maui for a Haleakala sunset tour that will leave you breathlessly staring at distant horizons where clouds are painted in colors you'll have to see to believe! Book today for the best way to watch the sunset on Maui.
In an effort to maintain the health and safety of both guests and employees, this activity will be temporarily pausing operations. Resumption date is subject to change and bookings cannot be guaranteed past September 30, 2020.
Overview
Inclusions: Dinner / Admission / Guide
Stop at Kula Lodge Marketplace
(1 hr)
Browse through quality goods made by local artisans, including gourmet foods, apparel and more! The fudge at Kula Lodge is a must-try treat for any Maui visitors with a sweet tooth.
Haleakala Visitor Center
(1 hr)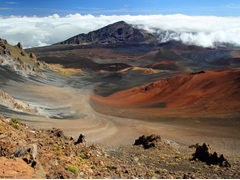 Nestled on the edge of Haleakala Crater at 9,740 ft, the Haleakala Visitor Center offers some interesting facts to provide context for your journey, as well as great views of the paths that cut through the volcanic landscape.
Haleakala Sunset Viewing
(15 mins)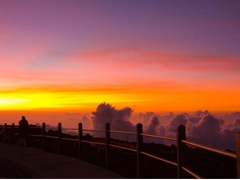 Any list of things to do on Maui will include a Haleakala Crater sunset tour, and there's a good reason for that. The experience of watching the sky change into a kaleidoscope of color at the top of the world just can't be adequately described in words.
Dinner at Café O'Lei at the Dunes
(1 hr)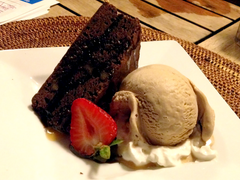 Dinner at this popular Maui restaurant includes three courses and provides a great way to end the experience as you can relax over dinner while reflecting on your incredible journey to above the clouds.
Location
Pick-up/Check-in Time & Location
13:30-14:30
Maui Hotels - Specific hotel
14:00-15:00
Maui Hotels - Specific hotel
Drop-off/Check-out Time & Location
22:00-22:30
Maui Hotels - Specific hotel
22:30-23:00
Maui Hotels - Specific hotel
Notes
Restrictions
Not recommended for people with heart or respiratory conditions that may be exacerbated due to high altitude.
People who have gone scuba diving should wait 24 hours before going on this tour to mitigate the risk of decompression sickness.
This tour is operated on very rough, winding roads. It is not recommended for pregnant women, those with back/joint problems or those prone to motion sickness.
Wheelchair Accessibility: A transfer vehicle equipped with a lift is available with prior notification of at least one week. Please indicate during booking to secure arrangements. All stops and facilities visited are wheelchair accessible.
The weather at the summit of Haleakala is unpredictable. Temperatures commonly range between 40° and 65°F, but can drop below freezing at anytime of year due to the wind chill factor. The weather changes rapidly on Haleakala. Intense sunlight, thick clouds, heavy rain and high winds can happen at any moment. Wear lightweight, layered clothing that will keep you warm even in wet weather, and sturdy, comfortable shoes.
This activity is wheelchair accessible.
Children of all ages can participate in this activity.
Guests should not have serious fear of heights (acrophobia).
Other requirements
Please call the activity provider 24 hours before your activity to reconfirm your booking. Your voucher has the necessary contact information listed.
Required items to bring & attire
Please dress warmly for your Haleakala tour as temperatures fluctuate.
Additional notes
If the sunset is not visible due to inclement weather conditions, refunds will not be issued on those grounds alone.
The activity schedule is subject to change or cancellation due to weather or traffic conditions.
The menu is subject to change without notice.
The activity provider does not assume any responsibility for your valuables and/or personal belongings.
Gratuity is not included in the price.
Drinks are available for purchase.
A wonderful experience!
2020/03/14
Couples
BeachWoman
Our driver, Judy, was cautious and humerous. She made our trip up and down Haleakala crater so enjoyable. The sunset was beautiful and the dinner was surprisingly good. Definitely worth every penny!
Very knowledgeable funny and friendly bus is extremely comfortable,
2019/07/15
Families with Young Children
Nancy
Tour guide was Very knowledgeable and friendly , bus is extremely comfortable, dinner was delicious
The guide made it
2019/06/17
Families
R. Turner
We were picked up at our resort within one minute of the scheduled time in a brand new very comfortable tour bus and the guide Henry immediately set a wonderful tone for the tour. Our entire time together his comedic del...ivery was flawless but he mixes it with very interesting facts about Maui history and culture which really kept our interest. His content and delivery was perfect and completed the tour rather than overpowered it; a perfect mix.

The tour stops were excellent in timing and again, Henry's information really made the difference. Of course, once we got towards the top his focus was on safety but not overpowering. He's also an excellent photographer!

The scenery of the tour by itself is breathtaking but combined with Henry's expertise it was truly memorable.
more
Read all reviews (32)
FAQ
Q. Is this activity family-friendly?
A. Yes, but families traveling with younger children should be sure to have them wear warm clothing.
Q. How will I know my pick-up time?
A. After you complete your booking, you will receive a confirmation e-mail which includes your pick-up time location and time.
Q. Is it safe on top of Haleakala?
A. Yes. Although guests with cardiovascular or respiratory issues should consult with their physician before planning a trip to the summit of Haleakala on Maui, this is a generally safe experience, even for young children. Please be advised, however, that guests who have gone scuba diving in the last 72 hours should refrain from taking a tour to the top of Haleakala, as the change in elevation can cause decompression sickness.
Q. What is the weather like on Haleakala?
A. High elevation and open exposure to the wind make the summit of Haleakala fairly cold, even during the summer months. Consider packing a thick sweater or even a winter jacket for your trip.
Please visit VELTRA Support page to send an inquiry about this activity.
VELTRA Support
Payment / Cancellation Policy
Payment Methods
Credit card payment
Cancellation Policy
Any cancellations made after 16:00 local time, 4 business days prior to the activity will be subject to a charge of 100% of the total amount.
Top-Rated Activities for Maui
Haleakala Sunset Tour with Dinner
Ascend to the tallest peak on Maui for a Haleakala sunset tour that will leave you breathlessly staring at distant horizons where clouds are painted in colors you'll have to see to believe! Book today for the best way to watch the sunset on Maui.