Mala Wharf Sunken Pier Morning Snorkel Cruise (from Kaanapali Beach)
SALE
Instant Confirmation
Hop straight from Kaanapali Beach to Mala Wharf for a quick snorkel swim with turtles in Maui's crystal waters, set against a sunken pier overgrown with coral.
Cut out all the unnecessary frills and head straight for the water around Mala Wharf, where a partially sunken pier forms an artificial reef that is perfect for quick snorkel swims. Spend nearly two hours in blue Hawaiian waters, playing around the interesting structures beneath the surface and interacting with a host of colorful fish and other local residents. Mala Wharf is known locally as gathering place for Hawaiian Green Sea Turtles, making it ideal for face-to-face encounters with one of Hawaii's most beloved marine creatures.
| | |
| --- | --- |
| Adult (Age 21 & over) | |
| Youth (Age 13-20) | |
| Child (Age 3-12) | |
| Infant (Age 0-2) | |
GE Tax, Harbor Fee and Fuel Surcharge included
Duration:

2.5 hour(s)

Available:

Daily

Pick-up:

Not available

Inclusion:

Soft drinks / Juice / Flotation devices / Cruise fee / Snacks / Snorkeling equipment (snorkel, mask & fins)
Add-ons:
SNUBA Equipment (per person, ages 8+)
+

USD 71.87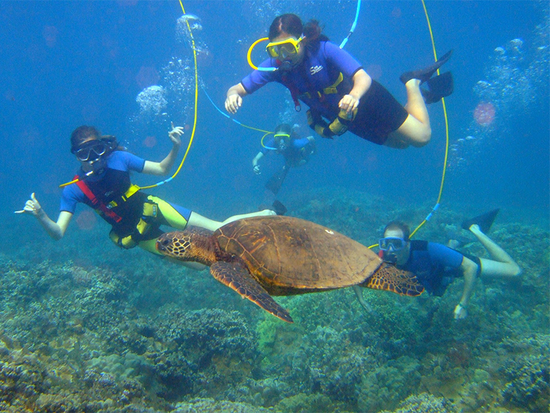 Experience the freedom of SCUBA with the ease of snorkeling with an optional SNUBA rental!
SNUBA Equipment (per person, ages 8+)
+

USD 71.87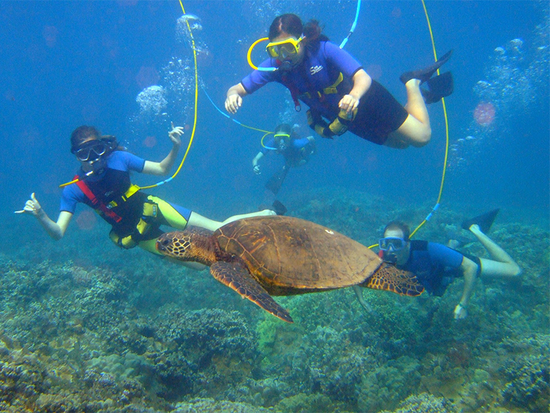 Experience the freedom of SCUBA with the ease of snorkeling with an optional SNUBA rental!
Package detail / Schedule
Close
Schedule & Location
 

Check-in
Time & Location

 

Check-out
Time & Location

 
09:00

Boat Ride to Mala Wharf

(15 mins)

09:15

Snorkel at Mala Wharf

(1.5 hrs)

10:45

Boat Ride to Kaanapali Beach

(15 mins)
Notes
Restriction(s)
Participants must be able to walk up a small flight of stairs through ankle deep water.
Children of all ages can participate in this activity.
Required Items to Bring & Attire
Hat
Sunglasses
Towel
Swimsuit
Sunscreen
Requirement(s) - Others
Participants are required to sign a liability waiver at the time of check-in.
Minors are required to have a parent or guardian sign their liability waiver.
Additional Note(s)
All participants who go in the water must wear a flotation device.
Throughout your trip, a photographer will take a number of HD photos. These photos are then loaded onto an 8-gigabyte waterproof USB wristband that you can take home with you for an additional fee of $25.
The activity schedule is subject to change or cancellation due to weather or traffic conditions.
Gratuity is not included in the price.
Drinks are available for purchase.
Booking Requirements (# of participants, vehicles, hours, etc.)
You can book a maximum of 48.
What kind of boat will be used?
The "Sea Maui" is a 55-foot powered catamaran that can accommodate up to 48 passengers. With a covered bar and lounge area, two full bathrooms and comfortable nets at the front of the vessel to sit and relax on, you will be sure to have an amazing time on the water.
Are prescription snorkel masks available?
While the tour does not include prescription snorkel masks, they can be rented from The Snorkel Store for a nominal fee.
Are sea turtle sightings guaranteed?
While there is no guarantee that sea turtles will be sighted on your trip, Mala Wharf provides an excellent habitat for these creatures, making it extremely likely to see them while you swim.
Is parking available?
Validated parking is available for 3 hours at Whaler's Village. If your tour lasts longer than 3 hours, you will need to pay an additional $3 per half hour. Free parking is also available at the beach on a first-come, first-served basis.
Please click
HERE
to send an inquiry about this activity
Payment/Cancellation policy
Payment type
| | |
| --- | --- |
| Credit card payment | |
Cancellation Policy
Any cancellations made after 18:00 local time, 2 business days prior to the activity will be subject to a charge of 100% of the total amount.
Taxes & fees included
1% Reward Points
| | |
| --- | --- |
| Pick-up | Not available |
| Duration | 2.5 hour(s) |
| Availability | Daily |
Share your experience with other travelers.