Kipu Safari Adventure - Zipline, Hike, Kayak & Waterfall Swim [Open Soon]
Highlights
Family-friendly adventure
3-line zip, including waterzip
Reviews
Highly recommend anyone to this tour
Mike
Posted on:
2018/08/21
| Mike
An AMAZING Adventure!!
Alicia D
Posted on:
2017/08/30
| Alicia D
Read more
Overview
Kauai
7 - 8 hour(s) incl. transportation
Available Mon, Thu
Pick-up available
Lunch
Not Accessible
What to expect
Paddle along the Huleia River, hike from the riverbank to waterfalls, travel across ranch-lands on a wagon and zip through the forest for a thrilling flight!
Overview
Inclusions: Instruction / Soft drinks / Juice / Lunch / Guide / Kayak rental fee / Short Hike / Kayak Paddling (2 miles) / Zipline
Pick-up from Poipu & Check-in at Nawiliwili Boat Harbor
Start your adventure with a leisurely downwind, two-mile kayak on the scenic Hule'ia River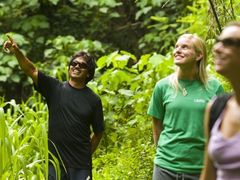 A short hike takes you to waterfalls where those who want to swim can swing into a fresh-water pool.
Wagon ride across Kipu Ranch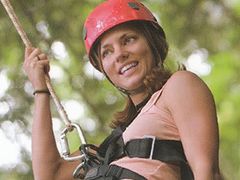 Walk through the rainforest canopy on suspended bridges that take you to the 3 line zip trek. You can also have the option to zip into a mountain-stream fed pool
Ride back on a motorized Hawaiian-style canoe
Location
Pick-up/Check-in Time & Location
Drop-off/Check-out Time & Location
Notes
Restrictions
Guests with heart and cardiovascular issues are not permitted to participate in this activity.
This activity is not wheelchair accessible.
If less than 8 participants are booked, the activity may not operate.
Guests should not have serious fear of heights (acrophobia).
You must be able to walk two miles (3 km) over irregular terrain, and paddle in a tandem kayak for 60-90 minutes.
In order to participate in the zipline portion of the tour, passengers must weigh less than 275 lbs (124.5 kg) and be at least seven (7) years old to fit into the safety harness.

Please provide accurate body weights during booking as you will be weighed during check-in. Misrepresentation of body weight could result in denial of service without a refund.
The 2nd tour time will ONLY be available if the 1st tour time is sold out. You may request the 2nd tour time when making your booking, but if the 1st time is still available, your reservation will be confirmed for the 1st tour time.
Children 7 years old and above can participate in this activity.
Other requirements
Participants are required to sign a liability waiver at the time of check-in.
Please call the activity provider 48 hours before your activity to reconfirm your booking. Your voucher has the necessary contact information listed.
Minors are required to have a parent or guardian sign their liability waiver.
Booking requirements (# of participants, vehicles, hours, etc.)
You can book a maximum of 17.
Required items to bring & attire
Water shoes / sports sandals
Swimsuit
Footwear with Aggressive Tread for Muddy Conditions (Water Shoes or Sport Sandals with Heel-Straps)
Waterproof camera
Shorts
T-shirt
Windbreaker or light rain coat
Hat
Towel
Rain gear
Sunscreen
Insect repellent
Additional notes
The activity schedule is subject to change or cancellation due to weather or traffic conditions.
The menu is subject to change without notice.
Please note that occasionally tour guides will need to change locations or sequence of activities for hindrances such as fallen trees or raging waterfalls.
The activity provider does not assume any responsibility for your valuables and/or personal belongings.
The tour guide has full discretion to refuse service to customers based on attire, behavior, physical fitness and condition.
This activity may be changed or canceled for your safety, medical issues or comfort.
Gratuity is not included in the price.
If you are driving on your own, you will be required to pay a parking fee.
Highly recommend anyone to this tour
2018/08/21
Families with Young Children
Mike
Awesome tour guys! My kids and the adults learned a lot from this adventure.
An AMAZING Adventure!!
2017/08/30
Couples
Alicia D
My husband and I had an amazing adventure zip lining (for the first time ever!) kayaking, hiking and swimming on the beautiful island of Kaua'i. Our tour guides, Dan, Flip, and Matteas were incredible. SO fun, supportive..., informative, and upbeat and really put Me at ease with the things that were more "scary" for me. They are true professionals with a fun-loving spirit and made me feel safe and secure while laughing a LOT! They also know the history, botany, and many interesting facts and stories about the island, so we learned a lot. Now I know what leaf to use As a natural insect repellant! I highly recommend this adventure to anyone who wants to get out and truly experience Kaua'i up close and personal!
more
So much fun!
2017/08/17
Couples
Crystal
This is a must for anyone visiting Kauai. The staff were exceptional and the tour was too. It was my favorite part of the vacation.
Read all reviews (39)
FAQ
Q. How safe is the zipline?
A. This course is regularly inspected by an accredited vendor of the Association for Challenge Course Technology (ACCT), has been professionally engineered and constructed to exceed industry standards, and is meticulously maintained.
Q. Do I need any prior experience to participate in this activity?
A. Perfect for beginners, no prior experience is required! Your guides will give you full instruction and even a paddle lesson before kayaking.
Q. Are photo or video services available for my zipline?
A. No, professional photo or video services are not available, but you are welcome to bring your own camera, just make sure it's strapped on.
Q. What should I wear to this activity?
A. Wear swimwear under comfortable clothing suitable for hiking. Bring shorts, t-shirt, a windbreaker or light raincoat.
Footwear with tread for muddy conditions. A sports-type sandal with heel straps or aqua socks with tread works great.
And don't forget a hat, sunscreen, bug spray, and a waterproof camera.
Please visit VELTRA Support page to send an inquiry about this activity.
VELTRA Support
Payment / Cancellation Policy
Payment Methods
Credit card payment
Cancellation Policy
Any cancellations made after 16:00, 2 business days prior to the activity will be subject to a charge of 100% of the total amount (Parties of 5 or less).
Any cancellations made after 16:00, 4 business days prior to the activity will be subject to a charge of 100% of the total amount (Parties of 6 or more).
Top-Rated Activities for Kauai
Kipu Safari Adventure - Zipline, Hike, Kayak & Waterfall Swim [Open Soon]
Paddle along the Huleia River, hike from the riverbank to waterfalls, travel across ranch-lands on a wagon and zip through the forest for a thrilling flight!