What to expect
Get your tickets for the Maui Ocean Center, and have the best views of Hawaii's marine life as you explore this three-acre marine park featuring Hawaii's largest aquarium tank and tunnel, and the only 3D sphere humpback whale experience in the world!
General Admission Ticket to the Maui Ocean Center
• Includes Admission to the Aquarium for up to 2.5 hours, and the "Humpbacks of Hawaii virtual Sphere Experience"
• Rates are seasonal and will vary depending on the selected date. The calendar will reflect the correct price for the day of your visit.
• Tickets are non-refundable and all sales are final.
Click [View details] to check the scheduled presentations
Overview
Inclusions: General Admission / "Humpbacks of Hawaii" 3D Virtual Sphere Experience
Check-in at Maui Ocean Center in Maalaea
Explore the Maui Ocean Center
(2.5 hrs)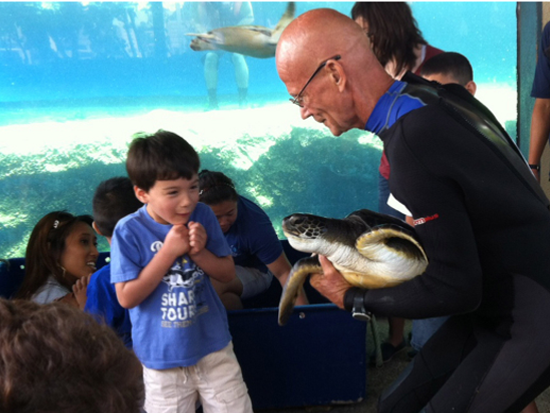 Enjoy up to two and a half hours of underwater fun as you make your way through the Maui Ocean Center's many different and unique visits. You can get your hands wet in the touch pool, walk through Hawaii's largest aquarium tank, or simply enjoy the picture perfect views of the West Maui Coast.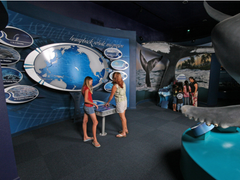 The Living Reef showcases over 40 Hawaiian coral species that range from shallow to deep-reef habitats, and offer you the opportunity to see the beauty of live Pacific corals, many of which have been raised in the aquarium since 1998. There are also many color tropical fish, crustaceans, and more!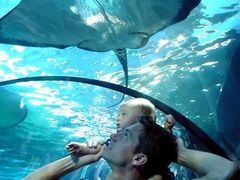 Watch as manta rays swim above your head and sharks zip across your shoulders while you walk through a 53-foot long, crystal clear acrylic tunnel that takes into the heart of the "Open Ocean" exhibit. There you will see countless schools of fish, sharks, and rays as they swim and explore the waters.
Humpbacks of Hawaii Exhibit & 3D Movie Experience
(15 mins)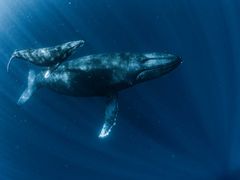 The Maui Ocean Center's Sphere breaks the deep-sea barrier and brings you eye-to-eye with Maui's humpback whales in their ocean home. Witness the breathtaking majesty of these ocean mammals in a unique 3D Sphere experience that includes an informational exhibit for you to explore before the movie.
Kahoʻolawe: A Story of History and Healing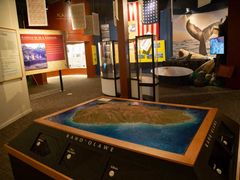 Kaho'olawe has long been sacred to Native Hawaiians, and is rich with cultural and historical significance, but was marred by an era of U.S. military target practice, and eventual reclamation by the people of Hawaii. Explore this exhibit and commemorate the sacred island's past, present, and future.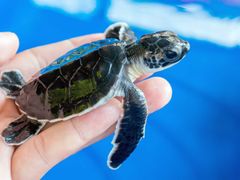 Say "Aloha" to the Hawaiian green sea turtles, or "honu" in Hawaiian, and meet both adult and juvenile turtles as you learn about their protected status and population recovery. There will often be a professional marine biologist on-hand to answer and questions you may have about these animals.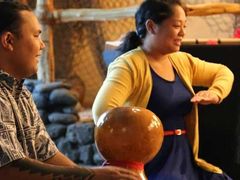 Delve into the traditions and cultures of Hawaii, and learn how they sailed across the Pacific in double-hulled canoes using the stars as guides, while also hearing about Hawaiian history, culture, and unique traditions. You can even learn some 'olelo Hawai'i, or the Hawaiian language and even hula!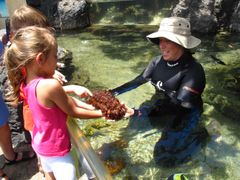 Watch as Maui Ocean Center becomes and interactive wonderland with a variety of different presentations that happen throughout the day at various exhibits.

• Shallow Reef: 9:30AM, 10:30AM, 1:30PM, 2:30PM. & 3:30PM
• Blacktip Sharks: 10:15AM, 12:00PM, & 3:15PM
• Open Ocean: 11:00AM & 3:00PM
Location
Pick-up/Check-in Time & Location
Drop-off/Check-out Time & Location
Great last day visit option at Maui Ocean Cemter
2022/07/01
Families
Alan from Colorado
We had a late flight our last day in Maui so we wanted something fun and easy to do after we checked out of our condo. The MauI Ocean Center was a really fun time and educational to boot. There is a mix of outdoor and in...door spaces, an interactive show on feeding the sharks and rays, and plenty of exhibits that allow you up close views of the fish and turtles we saw while snorkeling.

The 3d video on whales was well done and the crowds were light enough to allow us good access to all the different viewing areas.
more
Maui Ocean Center Aquarium
2019/08/02
Families
A Rodriguez
Awesome exhibits and great presentations on sharks and coral reef fish! Interactive tide pools for all ages. Left appreciating ocean life more!
We enjoyed it immensely. We got to see things not available in the natural habitat. We found the demonstrations to be very good and informative. The seven day pass was a terrific value and we used it 3 times.
Read all reviews (21)
FAQ
Q. What exhibits are available at the Maui Ocean Center?
A. The Living Reef ? The wonder of Hawaii's coral reefs from the rocky surge zone to the edge of the deep reef is realistically portrayed throughout this colorful exhibit.

Turtle Lagoon ? View green sea turtles from above and below at this multi-level exhibit. The green sea turtles at Maui Ocean Center are part of a hatch-and-release program and will eventually be released in the wild.

Hawaiians and the Sea - The close relationship between the ancient Hawaiians and the Pacific Ocean is told through graphic boards and life-size representations in this inspiring exhibit.

Sea Jelly Gallery ? Watch and be mesmerized as sea jellies appear to dance before your eyes in a stunning floor-to-ceiling cylinder.

Marine Mammal Discovery Center ? This 3,000 square-foot exhibit includes interactive displays and graphic boards on the Hawaiian monk seal, various species of dolphins, and whales found in Hawaiian waters. Experience what it is like to be the krill that is gathered up and eaten by humpback whales in the dynamic Bubble Net exhibit.

Open Ocean ? The vast open ocean is called the "pelagic realm". Graceful stingraysand large, fast-swimming fish like sharks and jacks co-exist in this 750,000-gallon salt-water exhibit, the largest in the state of Hawaii. A 54-foot-long clear acrylic tunnel transports visitors through this pelagic realm providing a 240-degree view of nearly 2,000 fish, while stingrays glide overhead and sharks look you in the eye. Certified divers may enter this exhibit as part of the Shark Dive Maui? program.

The Tide Pool ? This exhibit holds a variety of harmless marine animals like sea cucumbers, sea stars, and urchins. Visitors are welcome to touch the inhabitants of this display with care.

Hammerhead Harbor ? All sharks and stingray have electroreceptive organs which can detect electrical pulses from living animals. View the unique-shaped hammerhead sharks and an array of fish from above and below at this multi-level exhibit.

The Discovery Pool ? Visit with sea stars, sea urchins, mollusks, sea cucumbers, an assortment of colorful reef fish, and maybe even a hermit crab.

Reef Caf? ? Enjoy take-away sandwiches, salads and ice cream.

Seascape Ma'alaea Restaurant ? Savor dramatic panoramic vistas of the Pacific Ocean, majestic Haleakala and the scenic South Maui coastline while dining on exquisite cuisine, exceptionally prepared and served.<

Maui Ocean Center Store ? Discover not only the widest assortment of ocean-themed toys, music, logo wear, books, Hawaiiana, home d?cor, art works, fine jewelry and more; but also rare museum pieces.
Q. Are tours of the center available for purchase or do you explore on your own?
A. The best way to experience Maui Ocean Center is to explore on your own. Electronic audio guides are available to rent for a small fee. Occasionally guided tours and upgrades will be available.
Q. Are we allowed to bring food and drinks into the center?
A. No outside food, drinks, or chewing gum is permitted, except items specifically for infants and very young children. Food and drinks are available for purchase.
Q. Is this activity family-friendly?
A. Yes, the center is family friendly and enjoyed by people of all ages. The Maui Ocean Center is ADA compliant and wheelchairs are available on a first come, first serve basis and there is no fee to use these.
Q. How much money should I bring?
A. Just bring enough money to enjoy some of the centers amenities and features. There is an ATM located in the Deli at the Harbor Shop next to the center.
Please visit VELTRA Support page to send an inquiry about this activity.
VELTRA Support
Payment / Cancellation Policy
Payment Methods
Credit card payment
Cancellation Policy
Tickets are non-refundable. All sales are final. After your booking is made you are unable to cancel your reservation.
Change Policy
Date change fee is $20 per reservation transaction, pending availability. Please note that the prices vary per season. If a new date falls in a higher season, additional payment is required. If the date change cannot be accommodated, the tickets are non-refundable.

Top-Rated Activities for Maui
Restrictions
This activity is wheelchair accessible.
Children of all ages can participate in this activity.
Complimentary wheelchairs can be picked up upon check-in on a first-come, first-served basis.
Outside food or beverages are not permitted. Exceptions are made for infants (under 2 years), and those with special medical needs.
3D Sphere Theater: Children must be accompanied by an adult, and must be 3 years or older.
Required items to bring & attire
Smart phone and headphones/earbuds if you would like to utilize the narrated tours available by scanning a QR code
Other requirements
Guests may enter the park up to 10 minutes prior to the reservation time and can stay up to 20 minutes after ticketed reservation time.
Guests arriving past the allocated time allowance will only be permitted entry should the next reservation time be available; otherwise, Maui Ocean Center will forfeit their tickets.
Additional notes
This activity operates regardless of weather.
Meals are not included in the price.
Drinks and meals are available for purchase
If you are driving on your own, you will be required to pay a parking fee.
3D Sphere Theater operates every half hour from 10:30 am with last admission entry at 2:30pm (no reservations required)
Maui Ocean Center Hours: 9 am to 5 pm, with the last reservation entry at 3:30 pm.
Park Holiday Hours (Christmas Eve & New Year's Eve): 9 am to 4 pm. Final reservation entry at 2:30 pm.
Presentation Schedule: subject to change without notice
Shallow Reef: 9:30AM, 10:30AM, 1:30PM, 2:30PM. & 3:30PM
Blacktip Sharks: 10:15AM, 12:00PM, & 3:15PM
Open Ocean: 11:00AM, & 3:00PM
Please note that the Maui Ocean Center exhibits marine animals in realistic, natural environment and feeds them according to their needs; therefore, regularly scheduled feedings are not guaranteed, and presentations may be canceled without notice.
Maui Ocean Center General Admission Ticket - Visit The Best Aquarium in Hawaii
Get your tickets for the Maui Ocean Center, and have the best views of Hawaii's marine life as you explore this three-acre marine park featuring Hawaii's largest aquarium tank and tunnel, and the only 3D sphere humpback whale experience in the world!