Smith's Tropical Paradise Wailua River Cruise & Garden Luau Combo
Highlights
Book both River Cruise & Luau and Save!
Visit Wailua River, Fern Grotto & Tropical Garden
Hosted by the Smiths for 50+ years
Reviews
Best Luau on Kauai
Pijones
Best luau in all of Hawaii
Kauai Val
Read more
Overview
Kauai
6 hour(s)
Available Weekday
Pick-up not available
Accessible
What to expect
Experience beauty and magic in Wailua with the Smith's river cruise & luau. Featuring a buffet feast, live entertainment, and the famous Smith hospitality.
Overview
Inclusions: Smith's Luau Admission (Open-bar, Dinner Buffet, Show) / 3:30 PM Fern Grotto River Cruise Admission
Enjoy a two mile river journey & hear songs and stories of ancient Hawaii. At the Fern Grotto landing, you'll enjoy a short nature walk through the rainforest to the lush Fern Grotto.
1 hr 20 mins
Wailua Introductory Greetings
Take a tram tour or a leisurely stroll around the beautiful gardens of the Smith Family. This botanical and cultural garden spans 30 acres in the Wailua area of Kauai, close to the population center of Lihue, but far enough to be secluded.
1 hr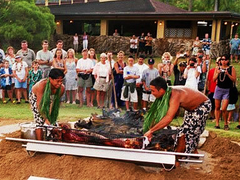 Experience a traditional ceremony unearthing pigs from the imu, or underground oven. The pigs will then be prepared to serve at the dinner buffet as the traditional dish, kalua pig.
15-20 mins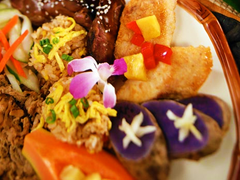 Enjoy a beautiful and generous buffet dinner featuring traditional Hawaiian dishes as well as contemporary island favorites, including kalua pig, chicken adobo, lomi salmon, poi, mac salad, and a variety of desserts!
1.5 hrs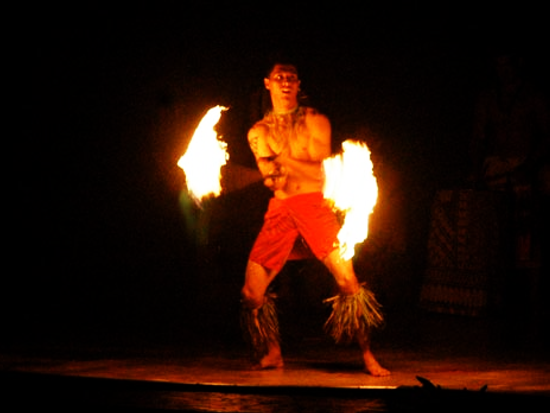 The night ends with a colorful and varied pageant that includes authentic performances many cultures, including Hawaii, Tahiti, Samoa, the Philippines, New Zealand, China, and Japan, in the torch-lit Pele Ampitheater!
1.5 hrs
Location
Pick-up/Check-in Time & Location
Drop-off/Check-out Time & Location
Notes
Restrictions
This activity is wheelchair accessible.
Children of all ages can participate in this activity.
Wheelchair Accessibility: Must be able to go down 5 steps into the boat with assistance. Wheelchair is usable on the boat. Facilities at the Tropical Paradise Luau are wheelchair accessible.
Additional notes
The activity schedule is subject to change or cancellation due to weather or traffic conditions.
The menu is subject to change without notice.
Gratuity is not included in the price.
Required items to bring & attire
A valid government issued photo I.D. is required to consume any alcoholic beverages.
Printed VELTRA voucher
Activity Provider
Smith's Tropical Paradise Luau
Payment / Cancellation Policy
Payment Methods
Credit card payment
Cancellation Policy
Any cancellations made after 16:00 local time, 1 business days prior to the activity will be subject to a charge of 100% of the total amount.
FAQ
What is the luau facility like?
This lush 30-acre botanical and cultural garden provides an idyllic escape to enjoy Mother Nature's creations. The garden is centrally located on the east side of Kauai, known as "The Coconut Coast," within the Wailua Marina State Park.
Are there any vegetarian options available?
Yes, please indicate during booking so that we may secure arrangements. Stir fried veggies and white rice will be provided and you can help yourself to the buffet's salad bar.
Should I bring bug spray on this tour?
Yes, bringing bug spray is recommended.
Is the Smiths Tropical Paradise Luau nearby to where the river boat cruise ends?
Yes, the luau and the Smiths Motor Boat Cruise are both held at the Wailua Marina State Park.
Can I bring my own snacks and drinks?
Yes, you can bring your own snacks and drinks to enjoy while on the cruise. Alcoholic beverages are not allowed.
Is this activity family-friendly?
Yes! This is a great activity for families!
What's on the dinner buffet menu?
Luau Menu:

Appetizers: Three Bean Salad, Garden Isle Greens, Macaroni Salad, Namasu Salad, and Lomi Lomi Salmon
Entrée: Kalua Pig, Teriyaki Beef, Adobo Chicken, and Sweet & Sour Mahi Mahi
Accompaniments: Snowflake Potatoes, Poi, Oriental Fried Rice, Assorted Breads & Butter, and the Hot Vegetable of the Day
Dessert: Coconut Cake, Sweet Potatoes, Haupia, Rice Pudding, Assorted Fresh Fruit, and Jello
Drinks: Coffee, Punch, Soft Drinks, Mai Tai, Beer, Wine, and Standard Bar Beverages
What type of boat is used for the river cruise?
Powered by a rear engines, boats that cruise the Wailua River are designed to be spacious and open-air, allowing you a panoramic view of the beautiful scenery as you cruise by.
Please visit VELTRA Support page to send an inquiry about this activity.
Veltra Support
Top-Rated Activities for Kauai
Smith's Tropical Paradise Wailua River Cruise & Garden Luau Combo
Experience beauty and magic in Wailua with the Smith's river cruise & luau. Featuring a buffet feast, live entertainment, and the famous Smith hospitality.