Sea Life Park Admission Day Pass & Dolphin Greeting - Kid Friendly! [Open Soon]
Highlights
Great for kids of all ages
Stay dry and interact with a dolphin
Includes Sea Life Park admission
Reviews
So worth it!
Erika
Posted on:
2019/12/02
| Erika
We upgraded to the swim. It was incredible. Your staff is awesome.
HARTSON
Posted on:
2019/03/18
| HARTSON
Read more
Overview
Oahu
Available Daily
Pick-up available
Accessible
What to expect
Play with a dolphin at Sea Life Park in Oahu! Feed & pet your dolphin friend from dry land. A fun 20-min experience so kids of all ages can encounter dolphins in Hawaii, plus all-day admission to Sea Life Park's other shows & attractions!
Dolphin Greeting & Day Pass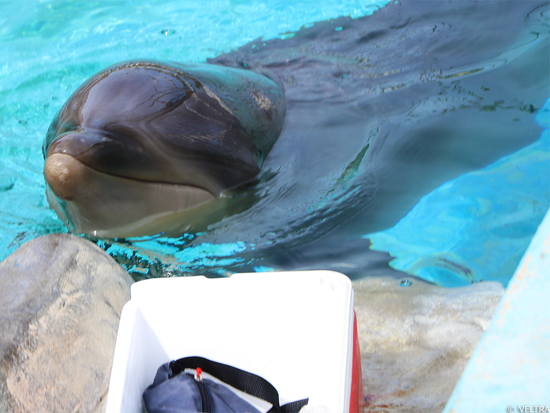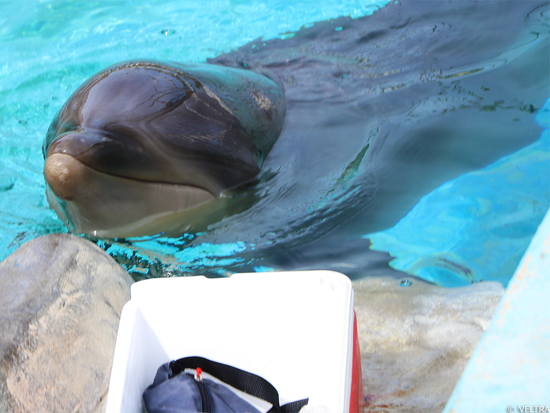 The easiest dolphin encounter on Oahu, and loads of fun for the whole family without getting in the water!
Overview
Inclusions: Instructor / Admission / Complimentary Transportation / $10 Gift Card
General Admission is included to explore the park and any of the shows between 9:30 and 16:00. See the FAQ section for show details.

For Add-on Programs: Starting time based on availability.
Sea Lion Swim (45mins) start 10:00 / 11:30
Hawaiian Reef Encounte (30mins) start 10:40 / 11:20 / 14:40
Check-in for Dolphin Aloha Meet & Greet
(30 mins)
Prepare for your encounter by visiting the coin lockers near the pool to drop off any jewelry or valuables, as well as cell phones. This is a requirement for the safety of the animals.
Dolphin Aloha Meet & Greet
(20 mins)
Enjoy a private show followed by a greeting from the performers themselves. Pet and feed the dolphin your paired with from the edge of the pool... the best way to see dolphins in Hawaii without getting wet yourself!
Earlier transportation back to Waikiki departs at 14:30.
Location
Pick-up/Check-in Time & Location
Drop-off/Check-out Time & Location
So worth it!
2019/12/02
Solo Travelers
Erika
I had such a good time playing with the birds and the dolphin show was great! I really enjoyed my dolphin meeting experience too! There's a little something for everyone here.
We upgraded to the swim. It was incredible. Your staff is awesome.
2019/03/18
Families with Young Children
HARTSON
Not to be missed. The stall from the sweet lady in the ticket booth to Kate the trainer to Taigani in the restaurant were great. Definitely a must do attraction.
Definitely the staff and Dolphins are the best part!
2018/09/01
Couples
Cameron
The timing of the bus and transportation was very nice and great, honestly we should have drove ourselves, but having the option was really nice!

I really enjoyed the experience and it was like no other! The Dolphins ...were so kind and nice and really fun and funny to be around. The staff and trainers were so nice and kind they were definitely thinking about us!

The park was a little quiet at first, but we were able to have a great time and enjoy it as we could! The most attractions are great for kids, but as a single couple, we were a bit waiting for the bus under an hour, so we had some free time.

But I recommend it for the Dolphins and other animals! It was great and friendly!
more
Read all reviews (740)
FAQ
Q. Is there a safe place to store my belongings while on tour?
A. Locker rentals are available for $6. *subject to change.
Q. Do I need to be able to swim to participate?
A. No, participants do not need to know how to swim. For the dolphin greeting, guests won't actually enter the water but instead will interact with the dolphins from outside of the pool.
Q. What time does Sea Life Park open?
A. Sea Life Park opens at 9:30 AM and is open until 4:00 PM. You are more than welcome to check-in before your dolphin activities or stay after to explore the park. Times are subject to change.
Q. What time are the shows available with a Sea Life Park general admission ticket?
A. A general admission ticket (included in all packages) provides access to the following scheduled shows and programs.

Dolphin Lagoon Show (12:30): Grab a seat for a thrilling exhibition showing off the natural playfulness and grace of Sea Life Park's dolphins, as well as the tremendous skill and facility of the park's trainers. Flips, jumps, ball tricks and other surprises abound during this energetic performance.

Kolohe Kai Sea Lion Show (11:15 & 15:00): Sea Life Park's sea lions demonstrate stunning intelligence as they respond to commands, drawing laughs and gasps from the crowd. Along the way, experienced staff trainers will provide valuable context and background for this delightful California sea lion presentation.

Penguin Trainer Talk (10:45 & 14:20): Observe a fun little parade of Humboldt penguins led by one of Sea Life Park's expert trainers. The penguins will shoot out of the water and walk around near the audience while the trainer shares some fascinating details about these precious creatures.

Please Note: Times are subject to change.
There are more shows, education exhibits, and feeding programs. Please speak with staff upon arrival for details.
Q. What exhibits are available with a Sea Life Park general admission ticket?
A. A general admission ticket (included in all packages) provides access to the following displays and exhibits.

Discovery Reef Touch Pool: Reach down from above into carefully constructed pools to touch, hold and interact with local Hawaiian sea life! The touch pool's rotating roster of safe critters includes sea stars, urchins and occasionally even sea turtles! Kids can also crawl through a specially constructed tunnel to get an underwater view of swimming tropical fish. Experiences like this make Sea Life Park in Hawaii one of the top Oahu points of interest for families.

Shark Cave: Sea Life Park's Shark Cave is a deep centralized aquarium with dozens of native sharks that visitors pass through when first entering the park grounds. Keep an eye out as you walk through, as this facility also houses a 200lb manta ray! You might even see other guests in the middle of their Shark Trek, a real underwater walk with the sharks using a special underwater breathing helmet.

Hawaiian Monk Seal Exhibit: Stop by the monk seal enclosure to see these rare additions to Hawaii's Sea Life Park basking in the sun, swimming or playing with toys. Exhibits like this one help make Sea Life Park one of the best attractions in Honolulu.

Dolphin & Wolphin Exhibit: In addition to Sea Life Park's resident dolphins, the park is also home to a rare mix breed known as a wholphin, the cross between a false killer whale and a bottlenose dolphin. The enclosure is designed to give guests a great view of these creatures day-to-day movements.

California Sea Lion Exhibit: Between shows (which you're also highly encouraged to check out), guests can find the sea lions napping and playing around in their pen. Often vocal and lots of fun to watch, the enclosure is always popular with visitors to Sea Life Park.

Aviary Exhibit: Step inside Sea Life Park's aviary and you'll be greeted by hundreds of flapping wings. This exhibit is open-air, meaning you can walk about freely and interact with love birds, cockatiels and other tropical birds. Millet sticks are available for you to offer, and the birds will fly right up and land on your hand for a snack. You may even have a visitor sit down on your head.

Sea Bird Sanctuary: This artificial grove has been built as part of Seal Life Park's rehabilitation efforts. It houses sick or injured sea birds, like the Hawaiian Iwa (Great Frigate Bird), and gives them a sanctuary as they make their way to a full recovery.

Please Note: Exhibits are subject to occasional closures or maintenance and animal visibility cannot be guaranteed. Check with staff upon arrival for the status of exhibits and suggestions.
Q. Is parking available at Sea Life Park?
A. Yes. Sea Life Park has parking space available for $5 per vehicle per day. If you're driving yourself, we recommend coming early to enjoy all of the park's attractions and shows.
Q. What am I not allowed to bring into Sea Life Park?
A. Alcoholic beverages, food, firearms, and pets are not permitted on park grounds. Overtly offensive clothing such as, but not limited to, clothing with hateful messages, pornography, vulgarity, illegal acts, and/or divisive political messages. Tobacco is not sold in the park.

Q. Are there any wheelchairs or strollers I can rent in the park?
A. Wheelchairs can be rented for $5 per day. Guests are allowed to enter the park with their own wheelchair or electric scooter. Single strollers can be rented for $5 per day.
Please visit VELTRA Support page to send an inquiry about this activity.
VELTRA Support
Payment / Cancellation Policy
Payment Methods
Credit card payment
Cancellation Policy
Any cancellations made after 09:30 local time, 2 business days prior to the activity will be subject to a charge of 100% of the total amount.
Top-Rated Activities for Oahu
Restrictions
This activity is wheelchair accessible.
Children of all ages can participate in this activity.
Wheelchair Accessibility: A transfer vehicle equipped with a lift for standard wheelchairs is available with at least two days advanced notice. Special needs are handled on a case by case basis, so please indicate when booking to secure the best possible arrangements. A form must be completed and reviewed by the trainer in order to assess participation. You may be required to walk or stand to participate in dolphin interactions.
To avoid the risk of the dolphins or other marine life swallowing foreign objects that could pose a serious health risk for them, jewelry (including piercings) and anything that could potentially fall off in the water (such as glasses, rings, bracelets, necklaces, hair ties, etc.) absolutely must be removed prior to participation. Failure to comply may result denial of service without refund.
Nail art and nail extensions are not permitted. Fingernails must be smooth and properly trimmed. Failure to comply may result in denial of service without refund.
Children of all ages are welcome to participate in the Dolphin Aloha program.
Children 12 years old and under must be accompanied by an adult (18 years old and above). One adult may accompany up to four children.
Special Needs Guests (physical and/or mental challenges and handicaps) – Please indicate upon booking.
It is required that you inform us of any special needs guests when making your reservations. Each case must be individually assessed by experienced staff, and we must properly prepare and staff accordingly. Reservations will be confirmed pending the assessment, and customers may be contacted directly for additional information.
Should a guest with special needs arrive without prior notification, we will strive in good faith to make accommodations—but we cannot guarantee such, and the guest may be declined for certain or all activities. Sea Life shall not have any liability for special needs guests who claim discrimination or failure to accommodate.
It is important to arrive 30 minutes before the start of your reserved program at Sea Life Park Hawaii.
Required items to bring & attire
Towel / Swimwear (For only Dolphin Greeting, you will not require towel or swimwear.)
Other requirements
Participants are required to sign a liability waiver at the time of check-in.
Additional notes
The activity schedule is subject to change or cancellation due to weather or traffic conditions.
You will share the transportation with other customers.
Gratuity is not included in the price.
Drinks and meals are available for purchase
If you are driving on your own, you will be required to pay a parking fee of $5.00. Prices are subject to change.
Two pick-up options are available. The early pick-up arrives at Sea Life Park by 9:30, and the later pick-up arrives at Sea Life Park by 12:30. The activity schedules shown above reflect the early pick-up time. However, you will be given the choice to use the later pick-up if you would prefer to do so.
Please do not bring cameras, hats or other unsecured items such as sunglasses, jewelry, and hair accessories. If weather permits, photos and videos are available for purchase.
Lockers are available for rent for $6. *subject to change.
$10 gift can be used at any cash register at Sea Life Park, such as, gift shop, photo, and restaurant. It can only be applied to a single transaction. There is no refund if redeemed for less than full value, and no cash value and is not redeemable for cash.
Due to PCI Compliance, Sea Life Park Hawaii require guests to show an ID upon purchase of items with a credit card. (The ID could be a passport, driver's license, state ID, or credit card with Photo. For passports, driver's license or any other ID could be in a form of a printed copy or mobile phone picture regardless to the origin of country.)
Optional photos are available for purchase.
Sea Life Park Admission Day Pass & Dolphin Greeting - Kid Friendly! [Open Soon]
Play with a dolphin at Sea Life Park in Oahu! Feed & pet your dolphin friend from dry land. A fun 20-min experience so kids of all ages can encounter dolphins in Hawaii, plus all-day admission to Sea Life Park's other shows & attractions!