What to expect
Ride Maui's premier glass-bottom boat, the Reef Dancer and explore Hawaii's marine life without getting wet! Fun for the whole family! Professional divers will search the bottom for exotic critters and bring them to your window
Reefdancer is a surface vessel with an underwater viewing cabin. Enjoy a 75-min reef and dive show! Tours are narrated by expert guides and professional divers will search for marine life and bring it right to the windows.
Get guaranteed window seats! You can see both sides of the vessel and don't miss any action. The top deck also offers incredible views of the West Maui Mountains!
Overview
Inclusions: Window seats for everyone / Free fish chart / 75-minute tour of the underwater world of Maui with Dive show / Air-conditioned underwater cabin
Check-in at Lahaina Harbor
Reefdancer Adventure
(1 hour 15 mins)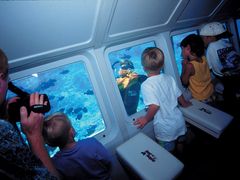 Enjoy Maui's ultimate reef viewing adventure. An expert narrator will explain everything to you and answer questions, and professional divers will find critters like eels and octopuses and bring them right to your window.
Location
Pick-up/Check-in Time & Location
Drop-off/Check-out Time & Location
Great experience
2023/03/12
Couples
Wisconsin visitors
This was a great alternative to actual snorkeling. The divers and staff were very informative and very friendly. They made sure everyone was happy and getting the most out of the adventure. However the water was murky... and not a lot of ocean creatures. But you see what's there at that time. Would do again. Certainly an experience we will remember.
more
A fun time!
2023/02/22
Families with Young Children
Renee
This was a really fun little boat tour. Seeing the fish and sea life through the big windows was so cool. The boat ride wasn't too long so it was the perfect activity to take our toddler on. The only thing I would cautio...n others about this tour is sea sickness. The rocking of the boat can really be felt underneath it and can definitely make you feel sea sick. It's probably not a good activity for people that have a tendency to get sea sick, although their staff is super outgoing and helpful to anyone feeling sick during the ride.
more
Good host is great
Divers are cool
No turtle nor much depth

Read all reviews (37)
Payment / Cancellation Policy
Payment Methods
Credit card payment
Cancellation Policy
Any cancellations made after 15:00 local time, 2 business days prior to the activity will be subject to a charge of 100% of the total amount.
Change Policy
Any changes made after 15:00 local time, 2 business days prior to the activity will be subject to a charge of 100% of the total amount. This includes, but not limited to, change of the activity date/ time, package, the number of participants, etc.

Operation days
Top-Rated Activities for Maui
Restrictions
This activity is not wheelchair accessible.
Children of all ages can participate in this activity.
The Reefdancer only allows water in their viewing cabin. Other drinks and foods are not allowed on board.
Required items to bring & attire
You must bring a copy of your voucher as proof of purchase to the activity or the activity provider may charge you again in full. VELTRA.com will not be liable for any additional charges.
Additional notes
The activity schedule is subject to change or cancellation due to weather or traffic conditions.
Gratuity is not included in the price.
There are no restrooms onboard. Please use the bathroom before the tour.
Booking requirements (# of participants, vehicles, hours, etc.)
You can book a maximum of 34.
Lahaina Semi-Submersible Glass Bottom Boat Adventure - Maui Reefdancer
Ride Maui's premier glass-bottom boat, the Reef Dancer and explore Hawaii's marine life without getting wet! Fun for the whole family! Professional divers will search the bottom for exotic critters and bring them to your window