Wings Over Kauai - Premier Kauai Air Tours over the Na Pali Coast [Open Now]
Reviews
Wonderful
Andrea and Ulli
Posted on:
2018/10/06
| Andrea and Ulli
Unbelievable views
Duane
Posted on:
2017/02/19
| Duane
Read more
Overview
Kauai
2 hour(s) incl. transportation
Available Daily
Pick-up available
Not Accessible
What to expect
Take an airplane high above Kauai and discover the beauty of Hawaii's beloved Garden Isle. This is a great alternative to the helicopter tours and often more intimate.
Pick-up from Cruise Ship Pier
Check-in at Lihue Airport
Circle Island Airplane Tour
(65 - 70 mins)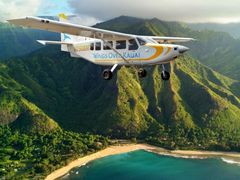 Sights Include:
・Kipu Kai
・Hanapepe Valley
・Jurassic Park falls
・Waimea Canyon
・Na Pali Coast
・Wai'ale'ale crater
・Hanalei Bay
・Hanalei Valley waterfalls
・Winter whale watching
Location
Pick-up/Check-in Time & Location
Drop-off/Check-out Time & Location
Notes
Restrictions
A minimum of two passengers and a maximum of 5 passengers are required per flight.
The weight limit for each seat is 375lbs (170 kg). The maximum total weight allowed in the AirVan is 1150lbs (521kg). The maximum total weight allowed in the Cessna is 550lbs (249 kg).
Passengers must be physically able to enter and exit the aircraft with assistance.
The tour routes depicted are approximate. The actual route flown may be changed due to weather conditions.
Wheel Chair Accessibility: Must be able to climb 2 steps to board the aircraft with assistance. Please indicate upon booking for most convenient arrangements.
This activity is not wheelchair accessible.
Children of all ages can participate in this activity.
Additional notes
The activity schedule is subject to change or cancellation due to weather or traffic conditions.
Large luggage (skis, surfboards, non-collapsible wheelchairs, golf bags, etc.) are allowed for an additional fee
Gratuity is not included in the price.
Required items to bring & attire
A valid government-issued photo ID
Booking requirements (# of participants, vehicles, hours, etc.)
You can book a minimum of 2 and maximum of 6.
Wonderful
2018/10/06
Families with Young Children
Andrea and Ulli
After a friendly and efficient introduction we had a phantastic flight with Marcus. He told us lots of facts about the spots and answered every question. Because of a windowseat everyone had a great possibility to take p...hotos
We total recommend this tour. It was really outstanding.


more
Unbelievable views
2017/02/19
Families
Duane
All 4 of us able to have window seats of the beautiful island.
Garden Isle Flight was Awesome!
Highky recommend this tour, our pilot was the best, we loved the tour it was beautiful to see Kauai from the air, we were able to see the waterfalls, the scenery is breath taking. All I can tell you is book this trip AS...AP. And I highly recommend purchasing the YouTube video of your trip you will love it and you can send it to all your friends and family. They will certainly be jealous. If this is on your bucket list, just do it...it's worth it.
more
Read all reviews (22)
FAQ
Q. Is there a safe place to store my belongings while on tour?
A. Yes, there is a small storage area located under the seats.
Q. What kind of airplanes will be used?
A. Now operating two aircraft, take flight in either the Gippsland G8 AirVan or a Cessna 172 Skyhawk. The AirVan is the ideal plane for Kauai's skies, specifically designed for observational flights with its high wing design, huge 'bubble' windows for optimal photo opportunities and slow, stable cruising speed of 125-135 knots. This plane carries up to 6 passengers, making it ideal for families or groups. The Cessna Skyhawk is the #1 aircraft every built in America! A great plane for a party of two, one in the co-pilot seat and one in the back, the window can open for stellar photo opportunities!
Q. What kind of experience does the pilot have?
A. Bruce Coulombe is a highly experienced Kauai fixed wing aviator and has a perfect safety record over his 20 year of piloting airplanes. He has flown this stunning route around Kauai hundreds of times over the past decade. In addition to his commercial pilot certificate and impressive instrument rating, Bruce holds a Ph.D. in Agronomy (Crop Science), making him uniquely qualified to describe in fascinating detail the agricultural activities on Kauai.
Please visit VELTRA Support page to send an inquiry about this activity.
VELTRA Support
Payment / Cancellation Policy
Payment Methods
Credit card payment
Cancellation Policy
Any cancellations made after 17:00 local time, 3 business days prior to the activity will be subject to a charge of 100% of the total amount.
Top-Rated Activities for Kauai
Wings Over Kauai - Premier Kauai Air Tours over the Na Pali Coast [Open Now]
Take an airplane high above Kauai and discover the beauty of Hawaii's beloved Garden Isle. This is a great alternative to the helicopter tours and often more intimate.