West Oahu Dolphin Watch Sail & Snorkel Cruise - Dolphin Sightings Guaranteed!
Highlights
Perfect for families staying at Ko Olina
Includes 2 free alcoholic drinks
Departs from Waianae Harbor
Reviews
The perfect day!
Ashton
Posted on:
2020/01/24
| Ashton
Awesome!
Jodi
Posted on:
2018/11/23
| Jodi
Read more
Overview
Oahu
3.5 - 7 hour(s) incl. transportation
Available Daily
Pick-up available
Continental breakfast, Lunch
Not Accessible
What to expect
Enjoy a relaxing eco-friendly dolphin watch cruise. Sail along Oahu's West Coast on a deluxe catamaran & snorkel on one of the island's finest spots. Includes continental breakfast, lunch and full bar service.
To protect our visitors and activity providers, precautionary measures will be set up to monitor and mitigate the spread of potential disease. Please see the additional notes below for more details.
Hotel transportation currently not available.
Special Deal: Special offer
Special Deal: Special offer
Special Deal: Special offer
Dolphin Sightings Guaranteed!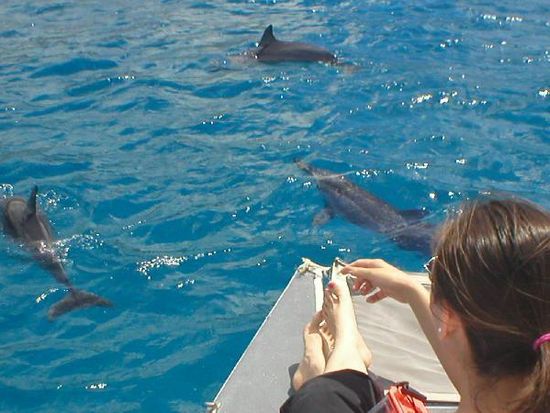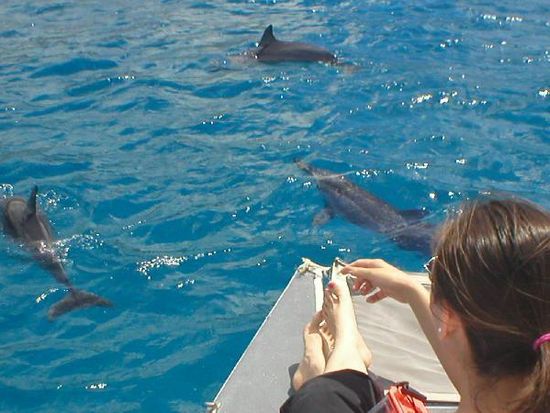 Special Deal: Special offer
Dolphin Sightings Guaranteed!
Overview
Continental breakfast, Lunch
Inclusions: Instructor / Continental breakfast / Lunch / Cruise fee / Snorkeling equipment (snorkel, mask & fins) / Two alcoholic bar drinks per adult / Unlimited non-alcoholic drinks
Check-in at Waianae Harbor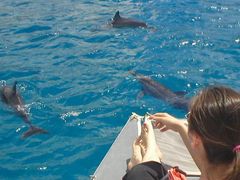 A smooth catamaran ride is fun enough on its own right, but on this tour you get to travel with pods of Hawaiian spinner dolphins gliding through the water around you. This is also a good time to grab a cup of coffee or some fresh fruit offered as part of the complimentary continental breakfast.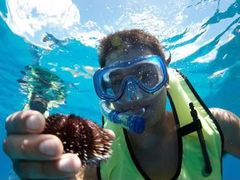 Many of Oahu's best snorkeling locations can only be reached by boat. Luckily, the captain and crew are local experts that can take you directly to some outstanding places for a dip. Here you'll find good chances to encounter friendly marine life, like sea turtles and tropical fish.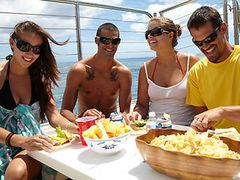 Help yourself to a delicious deli-style lunch spread. You'll also have unlimited access to non-alcoholic drinks throughout the day, as well as two complimentary alcoholic drinks per adult.
Location
Pick-up/Check-in Time & Location
Drop-off/Check-out Time & Location
Notes
Restrictions
This activity is not wheelchair accessible.
Children of all ages can participate in this activity.
Other requirements
Participants are required to sign a liability waiver at the time of check-in.
Minors are required to have a parent or guardian sign their liability waiver.
Required items to bring & attire
Swimsuit
Sunglasses
Camera
Towel
Sunscreen
This is a barefoot sail. Footwear is not allowed on board and will be stored at the dock for the duration of the cruise.
A valid government-issued photo ID is needed to consume any alcoholic beverages.
Additional notes
The activity schedule is subject to change or cancellation due to weather or traffic conditions.
The menu is subject to change without notice.
You will share the transportation with other customers.
The activity provider does not assume any responsibility for your valuables and/or personal belongings.
The tour guide has full discretion to refuse service to customers based on attire, behavior, physical fitness and condition.
This activity may be changed or canceled for your safety, medical issues or comfort.
Gratuity is not included in the price.
All participants who go in the water must wear a flotation device.
Drinks are available for purchase.
Whale sightings are not guaranteed.
Dolphin sightings are guaranteed. If you do not see dolphins during your cruise, you will be offered sail again for free. (*Transportation not included.)
If ocean conditions do not allow for snorkeling, you will be notified prior to your tour.
In response to COVID-19, this activity provider is implementing the following safety & sanitation measures:
1. Limited capacity on each tour
2. Safe check-in: sign digital waiver by email
3. Surfaces disinfected before/after each trip
4. Extra hand wash/sanitizer stations
5. Face mask required for staff
The guests are required to follow the COVID-19 safety guidelines below:
1. Pass mandatory health screening
2. Wash/sanitize hands prior to tour
3. Wear face mask
Please bring your own snorkel and mask or purchase them at check-in ($22.95 + tax). Rentals are not available.
The perfect day!
2020/01/24
Friends
Ashton
I can't say enough about how amazing this crew is and how much fun we had!  The boat is so nice with two different net lounge seating areas at the front with seating space inside the cabin as well. We saw so many dolphin...s and the crew made everyone feel very comfortable snorkeling. They were also great with pointing out all of the different marine life that they found so we even got to see a couple of sea turtles! I would definitely recommend this tour for anyone looking for a nice day out on the West side!
more
Awesome!
2018/11/23
Families with Young Children
Jodi
The crew was low key and so very friendly. This was one of the highlights of our trip. My 8 year old surprisingly did great snorkeling and we al had a super time! Thank you so much!
There is no better way to experience Hawaii, than out on its beautiful, indescribable blue waters. After doing a bit of research, I knew I wanted to go snorkeling on the west side of the island. I also snorkeled at Han...auma Bay, but there is zero comparison. Two completely different experiences. Sailing out of the harbor, on the beautiful catamaran, with the wind in your hair, onto the sparkling water, a stunning, panoramic view of the majestic mountains behind you, with three fabulous hours of yet unknown adventures ahead of you---well, what more can you ask for? Our time on this tour was great. It went by entirely too fast. But every minute was wonderful. We saw more dolphins than we could count. Had great visibility while snorkeling. Saw many different types of fish and marine life. All under the skillful supervision of the awesome crew. Also, the boat was not overly crowded, which was terrific. Plenty of room to move about and to have a good seat. The food and drinks were perfect. I just wish it was twice as long. And honestly, next time we go back, I will probably go more than once. It's simply the best way to experience the magic of Hawaii. PS. I booked through Hawaii Activities.com and I believe the company name is also Hawaii Nautical. No matter which you book it, it's completely worth it!
more
Read all reviews (32)
FAQ
Q. How far in advance should I book this activity?
A. We recommend booking at least 1-2 weeks in advance. If you have very specific schedule requirements and are not flexible, please book sooner. Last-minute bookings are often possible, but availability is limited.
Q. Do I need to be able to swim to participate?
A. Although you do not need to be a strong swimmer, it is recommended that you be comfortable in the open ocean.
Q. Are you required to wear a life jacket?
A. Yes, life jackets must be worn at all times while in the water. The life jackets are fully adjustable and will fit children of all ages.
Q. Is there a safe place to store my belongings while on tour?
A. There is no locked area to store your belongings, but there is a dry space on board where you may store them.
Q. Can I swim with dolphins on this tour?
A. No, you will not be able to swim with dolphins on this tour.
Q. Is this activity appropriate for families with young children?
A. Yes, young children are more than welcome aboard! There is a covered cabin where children and families can relax. However, please be aware that there is no running allowed on board.
Q. What kind of boat will be used?
A. The Ko Nau Lani is a custom-built, 65' performance sailing catamaran that accommodates a maximum of 80 passengers and is equipped with indoor and outdoor seating, a bar area, nets for lounging, two full restrooms and twin 100-HP engines.
Q. What is DolphinSMART?
A. DolphinSMART is a program that adheres to the National Oceanic and Atmospheric Administration's (NOAA) mission to promote responsible advertising and the safe viewing of wild dolphins in coastal waters by following DolphinSMART criteria, as well as demonstrating support for dolphin conservation.
Please visit VELTRA Support page to send an inquiry about this activity.
VELTRA Support
Payment / Cancellation Policy
Payment Methods
Credit card payment
Cancellation Policy
Any cancellations made after 17:00 local time, 2 business days prior to the activity will be subject to a charge of 100% of the total amount.
Top-Rated Activities for Oahu
West Oahu Dolphin Watch Sail & Snorkel Cruise - Dolphin Sightings Guaranteed!
Enjoy a relaxing eco-friendly dolphin watch cruise. Sail along Oahu's West Coast on a deluxe catamaran & snorkel on one of the island's finest spots. Includes continental breakfast, lunch and full bar service.