Oahu to Big Island - Volcano Helicopter Tour & Sightseeing Adventure
Highlights
Fly from Oahu to the Big Island and see the live Kilauea Volcano by air and by land
Includes a 45-minute helicopter tour where you can see recent lava flows and the volcanic crater
See the best of the Hawaii Volcanoes National Park with stops at the Lava Tubes and Visitor's Center
Your local expert guide will take you to beautiful Rainbow Falls and have free time in Hilo Town
Available Wednesday & Friday with convenient departure from the Honolulu International Airport
Reviews
Amazing.
NancyL
Posted on:
2021/10/22
| NancyL
Great experience!
Patricia
Posted on:
2021/10/11
| Patricia
Read more
Overview
Oahu
15.5 hour(s)
Available Wed, Fri
Pick-up not available
Not Accessible
What to expect
Embark on an exciting one day trip from Oahu to Big Island for a volcano tour! Explore Hawaii's most popular attraction as you fly over the volcano's Kilauea Crater, and then enjoy a ground sightseeing tour through the Hawaii Volcanoes National Park.
Volcano by Air & Land Adventure
Overview
Inclusions: Admission / Airfare / Transportation fee / Guide / Circle of Fire Helicopter Tour [A-Star]
Check-in at the Hawaiian Airlines Interisland Terminal at the Honolulu Airport
Oahu to Big Island Flight
(1 hr)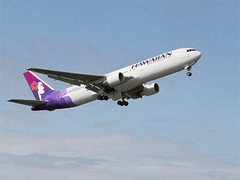 Fly from the Honolulu International Airport, and arrive quickly and safely to the Hilo Airport at approximately 8:30AM. Once you arrive, you will want to make your way to the helicopter check-in counter where a friendly staff member will be on hand to take you to your helicopter tour.
Volcano & Waterfalls Helicopter Flight
(45 mins)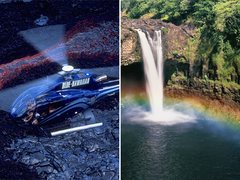 Board a helicopter for a breathtaking aerial tour of the Big Island. Fly over the volcano and visit the famous waterfalls of Hilo. Once your flight is complete, a comfortable mini-bus will be on-hand to pick you up for a sightseeing tour of the Big Island's eastern coast and volcanoes.
Richardson's Black Sand Beach
Liliuokalani Park and Gardens
Visit Hawaii Volcanoes National Park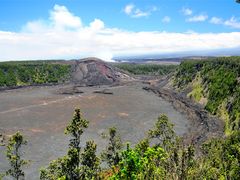 - Picnic Lunch
- Haleamaumau Crater
- Steam Vents
- Thurston Lava Tube
- Chain of Craters Road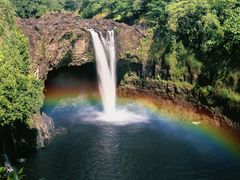 Visit Big Island's most iconic waterfall.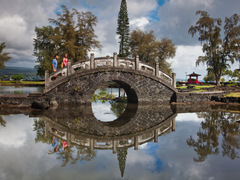 Drive by Banyan Drive, stop at the Liliuokalani Gardens and take a short walk offshore to Coconut Island, then visit Richardson's Black Sand Beach.
Big Island to Oahu Flight
(1 hr)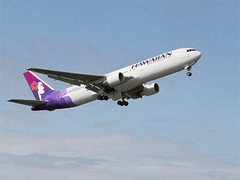 Return to Oahu to end your adventure-filled day on the Big Island.
Check-out from the Honolulu International Airport
Location
Pick-up/Check-in Time & Location
Drop-off/Check-out Time & Location
FAQ
Q. Are there any refunds if I miss this tour?
A. No, refunds are not processed for missed activities that include air fare. Reservations for inter-island tours cannot be cancelled once they are confirmed.
Q. What airport will I arrive to on the Big Island?
A. Your arrival flight will land at the Hilo Airport.
Please visit VELTRA Support page to send an inquiry about this activity.
VELTRA Support
Payment / Cancellation Policy
Payment Methods
Credit card payment
Cancellation Policy
Any cancellations made after the booking confirmation date will be subject to a charge of 100% of the total amount.
Change Policy
No name or date changes will be honored once booking is confirmed. Name or date changes after booking has been made will be assessed a change fee of up to $200 per person.

Once your activity is confirmed, you will not be able to cancel and receive a refund for any reason. This includes, but not limited to, missing your flight to Hawaii, being unable to enter Hawaii, issues with the Hawaii Safe Travels Program, illness, or other health emergency, etc.
Top-Rated Activities for Oahu
Restrictions
Guests may not fly within 24 hours of a two-tank scuba dive due to the high risk of decompression sickness.
Guests who are pregnant are not permitted to participate in this activity.
This activity is not wheelchair accessible.
Participants must be in good health and capable of comfortably walking one mile on uneven natural paths with ascending and descending slopes.
No changes can be made to Hawaiian Airlines bookings after the reservation has been made.
You will not be permitted to rebook or receive a refund should you miss the check-in time. If you are driving, please secure your parking ahead of time and allow enough time to arrive in time for your check-in.
In accordance with the "Safe Access Oahu" program, if you are unable to participate in this activity for failing to show proof of vaccination or a valid negative COVID-19 test taken within 48 hours of activity, you will not be eligible for a refund. Contact the activity provider directly for participation requirement.
Required items to bring & attire
A valid government-issued photo ID
Passport (for international guests)
Guests are advised to not bring large or heavy bags on the flight.
Other requirements
For all island flights or day trips, the name should appear as it is on picture ID (license or passport). The airlines will deny boarding if the passenger's legal name, as shown on their valid government-issued ID does not match the name on their E-Ticket. If a passenger is denied boarding, there will be no refunds.
Additional notes
The activity schedule is subject to change or cancellation due to weather or traffic conditions.
Air mileage will not be added upon completion of this tour.
Gratuity is not included in the price.
In the event of inclement weather which requires cancellation of the helicopter tour, guests will be refunded for the helicopter tour and will be welcomed on an extended sightseeing land tour including a visit to Liliuokalani Gardens, a drive through Hilo town and Rainbow Falls.
If guests prefer to remain at the Blue Hawaiian base to stand by for a possible helicopter tour departure later in the day, they may forego their sightseeing land tour although no refund will be available for that portion of tour.

If helicopter tour is cancelled and guests wish to return to Honolulu earlier than their scheduled flight, a refund of helicopter portion (only) will be provided, and additional taxi, airline change fees, or other expenses will be the responsibility of the guest.
We will not extend financial reimbursement to compensate for flight or traffic delays beyond reasonable control of the activity provider, or disappointment if circumstances make it impossible to provide services as intended. Examples may include, but are not limited to: unexpected closure of the lava viewing area, rain, or road closures.
In compliance with Federal Aviation Administration (FAA) regulation, Blue Hawaiian Helicopters will weigh each individual, along with any hand carried items, when checking in at the heliports for safety and weight balance of the aircraft. We do this discreetly for your privacy. Please provide accurate body weights for all passengers. Misrepresentation of body weight could result in denial of service without refund.
Each guest weighing more than 260 pounds (113 kg) are required to purchase an adjacent empty seat for an additional fee which is already reflected in the pricing section. The additional cost is to secure an adjacent seat that will remain empty for the duration of the flight, to help properly balance the aircraft, and ensure the comfort of all passengers.
This tour company cannot guarantee the viewing of active lava flow.
Tour dates may be fully booked at the price listed due to the limited availability of airline tickets. However, the date may be available for an additional fee. Additional fees vary depending on availability and are subject to change without notice.
Should the tour itinerary, route or schedule change due to unforeseen circumstances, services are non-refundable.
In response to COVID-19, this activity provider is implementing the following safety & sanitation measures:
1. Limited capacity on each tour
2. Face mask required for staff
3. Fully sanitized vehicles / disinfection throughout the day
4. Enhanced Air Filtration in the vehicle
5. 10 point critical touch disinfection throughout the day
6. 36-Point Disinfection daily at days end
7. Hand Sanitizer Stations Available
8. Employees are to daily self-certify that they are symptom free
The guests are required to follow the COVID-19 safety guidelines below:
1. Wear face mask when inside or within 6 ft distance of others
2. Practice social distancing whenever possible
3. Provide contact information when booking for contact tracing purposes
Oahu to Big Island - Volcano Helicopter Tour & Sightseeing Adventure
Embark on an exciting one day trip from Oahu to Big Island for a volcano tour! Explore Hawaii's most popular attraction as you fly over the volcano's Kilauea Crater, and then enjoy a ground sightseeing tour through the Hawaii Volcanoes National Park.