Big Island Day Trip from Oahu - Visit Volcanoes National Park [Open 2021]
Highlights
Includes Inter-Island Airfare from Oahu
Reviews
Best tour, best guide
The Fords
Posted on:
2020/02/04
| The Fords
Small Bus Excellent Driver
Big Phil
Posted on:
2019/12/01
| Big Phil
Read more
Overview
Oahu
15.5 - 17 hour(s) incl. transportation
Available Mon, Wed, Fri
Pick-up available
Not Accessible
What to expect
Experience the wonders of the volcano, with all transportation and airfare from Oahu to the Big Island included! Enjoy this guided one-day trip to the volcano, which stops at famous Hawaii attractions including Kilauea & Hilo.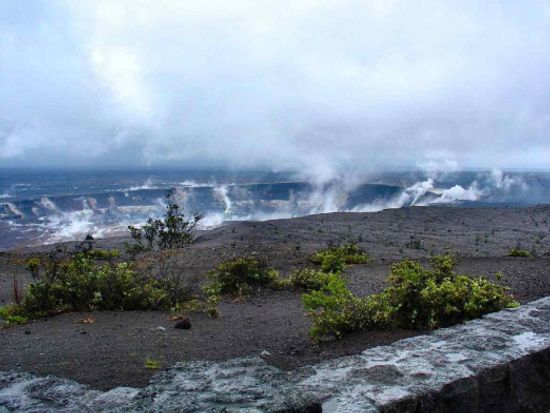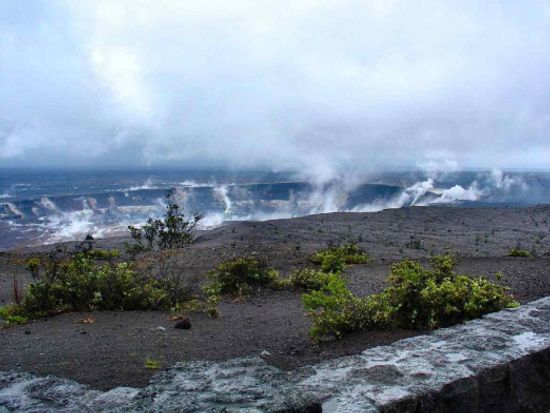 Have a sightseeing adventure through the beautiful scenic sites of the Big Island's volcanic wonderland.
Overview
Inclusions: Admission / Airfare / Transportation fee / Guide
Check-in at Honolulu Airport & Pick-up from Waikiki Hotels
Flight from Oahu to Big Island (Hilo)
(1 hr)
Hilo Airport arrival at 8:30 a.m.
Visit Hawaii Volcanoes National Park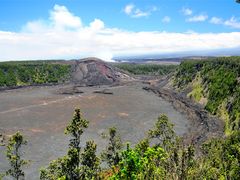 See the tremendous Halemaumau Crater and Kilauea Iki Crater. Stroll down Devastation Trail and drive along the Chain of Craters Road to visit Pu'u Pua'i Crater.
Stop at Volcano House Restaurant
Enjoy a breakfast buffet at the only restaurant with a panoramic view of Kilauea caldera. (*Meal not included with tour price). The nearby Kilauea Visitor Center includes a gift shop and curated exhibits.
Mauna Loa Macadamia Nuts Factory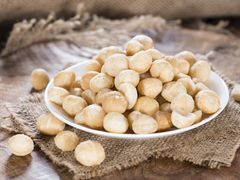 Stop at Mauna Loa Macadamia Nut Factory & Big Island Candies to try Hawaiian macadamia nuts, Big Island cookies, and other local treats.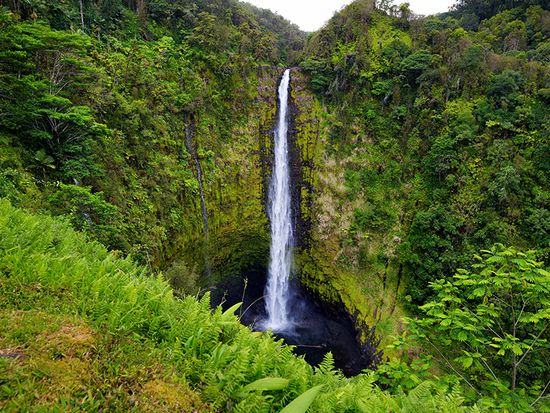 Take a short walk on the Akaka Falls hike, a paved footpath to this famous waterfall that plummets 442-feet into a stream-eroded gorge.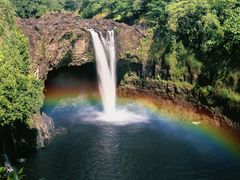 Witness the deafening sound of the 80-foot Rainbow Falls as it rushes into a large pool below, almost 100 feet in width. This waterfall is named for the rainbows that magically form in its mist.
Drive through historic Hilo town. Visit the King Kamehameha statue and Shinmachi Tsunami Memorial.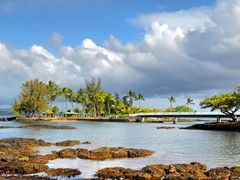 Cruise along Banyan Drive, known as the "Hilo Walk of Fame", where you can see a scenic view of lined Banyan tree along the Hilo coastline.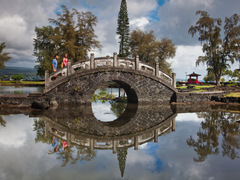 The park site was originally donated by Queen Liliuokalani. Now the park is renowned as a beautiful, lush Japanese-style gardens, the largest of its kind outside of Japan.
Richardson Black Sand Beach
Visit one of Hawaii's famous black sand beaches, featuring amazing spring-fed tidepools.
Flight from Big Island to Oahu
(1 hr)
Return to Honolulu Airport & Drop-off at Waikiki Hotels
Location
Pick-up/Check-in Time & Location
Drop-off/Check-out Time & Location
Notes
Restrictions
Guests may not fly within 24 hours of a two-tank scuba dive due to the high risk of decompression sickness.
Guests who are pregnant are not permitted to participate in this activity.
This activity is not wheelchair accessible.
Due to health hazards associated with exposure to volcanic fumes, this tour is generally not recommended for persons with asthma
No changes can be made to Hawaiian Airlines bookings after the reservation has been made.
Other requirements
For all island flights or day trips, the name should appear as it is on picture ID (license or passport). The airlines will deny boarding if the passenger's legal name, as shown on their valid government-issued ID does not match the name on their E-Ticket. If a passenger is denied boarding, there will be no refunds.
Required items to bring & attire
A valid government-issued photo ID
Passport required for non-US
nationals
Additional notes
The activity schedule is subject to change or cancellation due to weather or traffic conditions.
This tour company cannot guarantee the viewing of active lava flow. Often, hiking over rough, uneven lava surfaces is required to view lava. Volcanic fumes (VOG) are hazardous to your health. Persons with breathing and heart difficulties, pregnant women, infants, and young children are especially at risk should not consider this tour to avoid potential health problems from exposure to fumes.
We will not extend financial reimbursement to compensate for flight or traffic delays beyond reasonable control of the activity provider, or disappointment if circumstances make it impossible to provide services as intended. Examples may include, but are not limited to: unexpected closure of the lava viewing area, rain, or road closures.
Tour dates may be fully booked at the price listed due to the limited availability of airline tickets. However, the date may be available for an additional fee. Additional fees vary depending on availability and are subject to change without notice.
In response to COVID-19, this activity provider is implementing the following safety & sanitation measures:
1. Limited capacity on each tour
2. Face mask required for staff
3. Fully sanitized vehicles / disinfection throughout the day
4. Enhanced Air Filtration in the vehicle
5. 10 point critical touch disinfection throughout the day
6. 36-Point Disinfection daily at days end
7. Hand Sanitizer Stations Available
8. Employees are to daily self-certify that they are symptom free
The guests are required to follow the COVID-19 safety guidelines below:
1. Wear face mask when inside or within 6 ft distance of others
2. Practice social distancing whenever possible
3. Provide contact information when booking for contact tracing purposes
FAQ
Q. Why is this tour non-refundable?
A. All inter-island tours provided by Polynesian Adventures Tours are non-refundable due to airline cancellation policies.
Q. How far in advance should I book this activity?
A. We recommend booking at least 1-2 weeks in advance. If you have very specific schedule requirements and are not flexible, please book sooner. Last minute availability is often possible, but limited.
Q. Will I see molten lava?
A. Weather and lava viewing conditions are unpredictable and lava viewing features can change hourly. Molten lava sighting is not guaranteed.
Q. Are there any refunds if I miss this tour?
A. No, refunds are not processed for missed activities that include air fare. Reservations for inter-island tours cannot be cancelled once they are confirmed.
Please visit VELTRA Support page to send an inquiry about this activity.
VELTRA Support
Payment / Cancellation Policy
Payment Methods
Credit card payment
Cancellation Policy
Any cancellations made after the booking confirmation date will be subject to a charge of 100% of the total amount.
Change Policy
No name or date changes will be honored once booking is confirmed. Name or date changes after booking has been made will be assessed a change fee of up to $200 per person.
Top-Rated Activities for Oahu
Big Island Day Trip from Oahu - Visit Volcanoes National Park [Open 2021]
Experience the wonders of the volcano, with all transportation and airfare from Oahu to the Big Island included! Enjoy this guided one-day trip to the volcano, which stops at famous Hawaii attractions including Kilauea & Hilo.