Blue Hawaiian Discover Kauai Helicopter Tour from Princeville [Open 2021]
Reviews
Best way to see the island
Bill
Posted on:
2020/01/04
| Bill
Breath Taking
Elizabeth Langston
Posted on:
2019/06/05
| Elizabeth Langston
Read more
Overview
Kauai
1.5 hour(s)
Available Daily
Pick-up not available
Accessible
What to expect
Soar over the Garden Isle of Kauai on this 45-minute helicopter tour. Marvel at your panoramic view of the sea cliffs of the Na Pali Coast, Waimea Canyon, Hanapepe Valley, the Manawaiopuna Falls, also known as the Jurassic Park Falls and more!
Check-in at Princeville Airport
Kauai Helicopter Tour
(45 mins)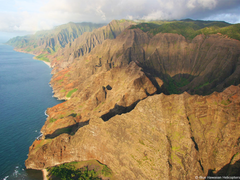 Sights include:
• Hanapepe Valley
• Manawaiapuna Falls
• Olokele Canyon
• Waimea Canyon
• Na Pali Coast
• Bali Hai Cliffs
• Hanalei Bay

Location
Pick-up/Check-in Time & Location
Drop-off/Check-out Time & Location
Notes
Restrictions
This activity is wheelchair accessible.
Children of all ages can participate in this activity.
Hats and other loose articles of clothing are not permitted near the aircraft, as they may get pulled up into the rotor, causing damage.
Do not go SCUBA diving within 24 hours or SNUBA 12 hours prior to your tour. You may snorkel or swim prior to your tour and there is no risk in SCUBA or SNUBA after your helicopter tour.
All of tours are wheelchair accessible and ADA compliant. Each base has a custom built chair lift to assist passengers into the helicopter safely and comfortably. The chair lifts are able to accommodate passengers up to 250 lbs.
The additional cost for guests weighing 260 lbs (117.5 kg) and over is to secure an adjacent seat that will remain empty for the duration of the flight. This is to help properly balance the aircraft and ensure the comfort of all passengers. For each guest weighing more than 260 lbs, an adjacent, empty seat purchase is required.
The chair lifts are only able to access the rear row of seats therefore guests requiring a chair lift to board the helicopter cannot be accommodated in the front row. **Front Row Upgrade is not wheelchair accessible.**
Combined front row seat weight must be under 319 lbs for A-Star tours and 470 lbs for Eco-Star tours.
Front row passengers must occupy their own seats and must be able to refrain from interfering with the pilot and instrumentation. Lap children cannot be accommodated in the front row. In the event of an emergency front row passengers must be able to receive instructions in English and be physically capable of operating exit doors.
Other requirements
Please call the activity provider the day before to reconfirm your booking. Your voucher has the necessary contact information listed.
Participants are required to sign a liability waiver at the time of check-in.
Minors are required to have a parent or guardian sign their liability waiver.
In accordance with FAA regulations, each guest will be weighed upon check-in to ensure proper balance of the aircraft. Misrepresentation of body weight prior to check-in could result in denial of service without refund.
Booking requirements (# of participants, vehicles, hours, etc.)
You can book a maximum of 6.
Required items to bring & attire
A valid government-issued photo ID
You must present your VELTRA Voucher upon check-in (printed or mobile confirmation).
Additional notes
The activity schedule is subject to change or cancellation due to weather or traffic conditions.
The activity provider does not assume any responsibility for your valuables and/or personal belongings.
The tour guide has full discretion to refuse service to customers based on attire, behavior, physical fitness and condition.
This activity may be changed or canceled for your safety, medical issues or comfort.
If you plan on taking photographs during your flight, dark clothing is recommended to reduce glare from the window reflection.
The cabin of the aircraft is air conditioned. Consider bringing a long-sleeve shirt or light sweater.
You must check-in at least 45 minutes prior to your activity start time.
In response to COVID-19, this activity provider is implementing the following safety & sanitation measures:
1. A customized health and sanitation program that meets or exceeds CDC guidelines
2. Adhere to Helicopter Association International (HAI) COVID Clean Program standards
3. Disinfection of public areas and helicopters
4. Disposable masks and gloves will be available
5. Hand sanitizer dispensers placed at entrance, lobbies and briefing area
6. Health and temperature check before every shift
7. Practice social distance whenever possible
8. Wear Personal Protective Equipment depending on the role and responsibility of employee
9. Disinfect ALL surfaces with proper cleaning products throughout the day
10. Disinfect aircraft and equipment after every flight
11. The frequency of air filter replacement and HVAC system cleaning has been increased and fresh air exchange will be maximized
The guests are required to follow the COVID-19 safety guidelines below:
1.Complete A COVID Prevention acknowledgement form will be completed for each part.
2. Pass mandatory 14 day quarantine or have negative test result within 72 hours of boarding their flight to Hawaii
3. Facemask must be worn at all times and in the aircraft (even before entering the property)
4. Temperature check prior to check-in
5. Practice social distance whenever possible
Best way to see the island
My daughter was in a wheelchair and they were very accommodating
Breath Taking
2019/06/05
Couples
Elizabeth Langston
Beautiful sights! As we saw the sights he explained what we were seeing. Loved seeing the place they filmed Jurassic World and the history of the families that have lived there for generations. Very comfortable ride and ...we could ask questions as we went along. Highly recommend this company. They show you a safety video before which is informative. The company is very serious about safety. Also loved the video they took while we were flying which we bought for a very reasonable price. Wouldn't fly with any other company.
more
Read all reviews (2)
FAQ
Q. How far in advance should I book this activity?
A. We recommend booking at least 1-2 weeks in advance. Last-minute bookings are often possible, but availability is limited.
Q. Is there a safe place to store my belongings during the flight?
A. Personal belongings can be safely stored at the Blue Hawaiian Helicopters office prior to your departure.
Q. Do you make a video of the flight tour?
A. Yes. Every flight is captured in high-quality video. Each helicopter is equipped with four cameras; three external and one in the cabin. The video recording begins during the boarding process. The recording is continuous until landing and includes digital quality music chosen to complement the changing scenery, plus all the pilot's narration. The video is available for purchase right after you return from your flight.
Q. Do you recommend taking anti-motion sickness medication?
A. The flights operated by Blue Hawaiian Helicopters' professional pilots are very smooth and turns are slow and gentle. If you are particularly prone to motion sickness, taking a precautionary anti-motion sickness medication is a good idea.
Please visit VELTRA Support page to send an inquiry about this activity.
VELTRA Support
Payment / Cancellation Policy
Payment Methods
Credit card payment
Cancellation Policy
Any cancellations made after 17:00 local time, 2 business days prior to the activity will be subject to a charge of 100% of the total amount.
Top-Rated Activities for Kauai
Blue Hawaiian Discover Kauai Helicopter Tour from Princeville [Open 2021]
Soar over the Garden Isle of Kauai on this 45-minute helicopter tour. Marvel at your panoramic view of the sea cliffs of the Na Pali Coast, Waimea Canyon, Hanapepe Valley, the Manawaiopuna Falls, also known as the Jurassic Park Falls and more!