Blue Hawaiian Helicopters Private Charter (from Honolulu)
Overview
Oahu
1.5 - 4 hour(s) incl. transportation
Available Daily
Pick-up available
Accessible
What to expect
Experience an unforgettable flight on a private helicopter tour over Oahu and create your own personalized route and flight for up to six passengers.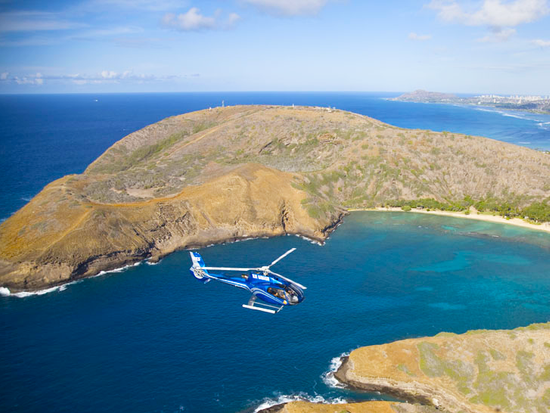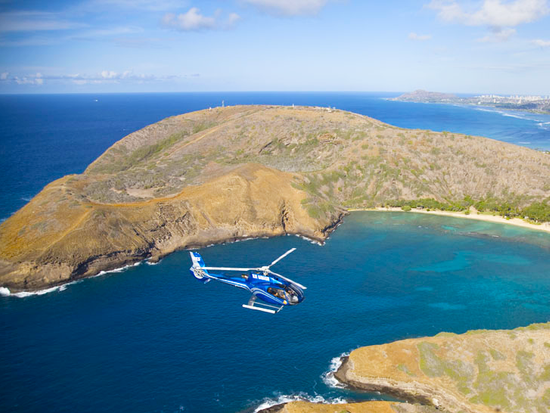 The world's first 21st century touring helicopter and incorporates the latest cutting-edge technologies, materials, systems and avionics. Offering incomparable passenger comfort with roomy interior space, individual "Business Class" seats, raised theater-style platform seating in the rear, and a large cockpit glass for fantastic sweeping panoramic views.
Overview
Inclusions: Guide / On-board narration
Pick-up & Check-in at Waikiki Hotels
Arrive and Check-in with Blue Hawaiian Helicopters
Oahu Helicopter Tour
(1 hour)
Check-out & Waikiki Hotels Drop-off!
Location
Pick-up/Check-in Time & Location
Drop-off/Check-out Time & Location
Notes
Restrictions
This activity is wheelchair accessible.
Children of all ages can participate in this activity.
Wheel Chair Accessibility: Facilities are ADA compatible and Helicopter is equipped with a mobility lift. Transfer vehicles are not equipped with a lift. No wheelchairs and oxygen tanks are not allowed on-board or runways.
Other requirements
Please call the activity provider the day before to reconfirm your booking. Your voucher has the necessary contact information listed.
In compliance with Federal Aviation Administration (FAA) regulation, Blue Hawaiian Helicopters will weigh each individual, along with any hand carried items, when checking in at the heliports for safety and weight balance of the aircraft. We do this discreetly for your privacy. Please provide accurate body weights for all passengers. Misrepresentation of body weight could result in denial of service without refund.
Required items to bring & attire
A valid government-issued photo ID
Hats and other loose articles of clothing are not permitted near the aircraft, as they may get pulled up into the rotor, causing damage.
The cabin of the aircraft is air conditioned. Consider bringing a long-sleeve shirt or light sweater.
If you plan on taking photographs during your flight, dark clothing is recommended to reduce glare from the window reflection.
You must present your VELTRA Voucher upon check-in (printed or mobile confirmation).
Additional notes
The activity schedule is subject to change or cancellation due to weather or traffic conditions.
Complimentary parking available.
FAQ
Q. How far in advance should I book this activity?
A. We recommend booking at least 1-2 weeks in advance. Last-minute bookings are often possible, but availability is limited.
Q. Is there a safe place to store my belongings during the flight?
A. Personal belongings can be safely stored at the Blue Hawaiian Helicopters office prior to your departure.
Please visit VELTRA Support page to send an inquiry about this activity.
VELTRA Support
Payment / Cancellation Policy
Payment Methods
Credit card payment
Cancellation Policy
Any cancellations made after 17:00 local time, 2 business days prior to the activity will be subject to a charge of 100% of the total amount.
Top-Rated Activities for Oahu
Blue Hawaiian Helicopters Private Charter (from Honolulu)
Experience an unforgettable flight on a private helicopter tour over Oahu and create your own personalized route and flight for up to six passengers.