Active Oahu Kayak Rental - Kahana Valley Rainforest & River Tour
Highlights
Explore the beauty of Kahana Valley on a self-guided kayaking river tour
Head out on four to five miles of paddling along a secluded river within a Hawaiian rainforest
This adventurous activity is perfect for both beginner and advanced paddlers
Multiple departure times are available throughout the day for morning or afternoon tours
Pick-up your kayak in Kailua Town. The driving distance to the launching point is 40 minutes
View details
Reviews
Neat way to see the rain forest
DawnO
Posted on:
2023/03/18
| DawnO
Read more
Overview
Oahu
4.5 hour(s)
Available Mon, Tue, Wed, Thu, Fri, Sat
Pick-up not available
Not Accessible
What to expect
Go on the best Oahu kayak adventure, and paddle through the rainforests of Kahana Valley with views of the Koolau Mountains and lush rainforests as you head out on a pristine river on a unique kayaking tour.
Self-Guided River & Rainforest Kayak Package
• Rental times: Every hour from 8:30AM - 3:30PM
• Tour duration: 4 hours
• Includes kayak, paddles & dry bag
• A 4-door vehicle that can accommodate a kayak is required
• Available for beginners and experienced paddlers of all ages
• Check-in is at Kailua Town, a 40-minute drive to Kahana Bay
Overview
Available Mon, Tue, Wed, Thu, Fri, Sat
Inclusions: Small 15 liter dry bag / Life vest / Kayak rental with seatbacks, paddle & leash / Foam pads and straps to transport the kayak
Check-in at Active Oahu - Kailua Town
Kayak rental & informational briefing
(15 mins)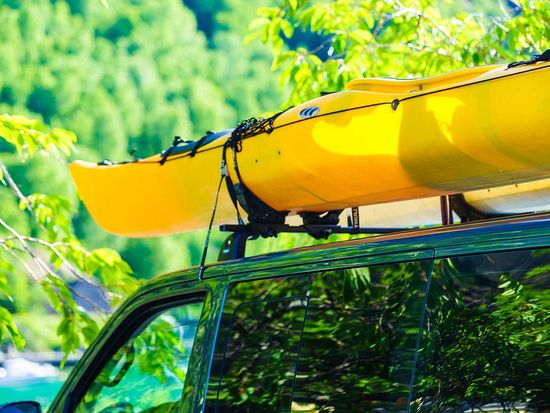 Upon check-in, your local expert will be on hand to assist you in strapping on the kayak to the roof of your vehicle (large sedan, SUV or van is needed), while also providing you with all of the necessary equipment you will need during your kayaking tour through the rainforests of Kahana Valley.
Drive to Ahupuaa O Kahana State Park
(40 mins)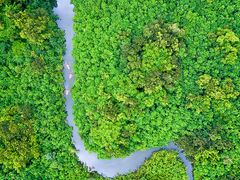 Drive 40 minutes from your check-in location so you can launch the kayaks from an easy and calm area. There is ample parking available in the area, and once you have removed the kayaks from the roof, it is just a few steps till you arrive at the calm and clear Kahana Rainforest River to kayak.
Self-Guided Rainforest & River Kayak Tour
(2.5 hours)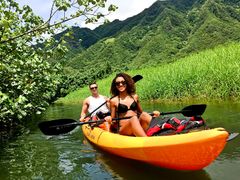 Slip into the water on your easy-to-use kayak, and start your four to five mile journey through Kahana Valley, Oahu's untouched paradise. For those who are feeling adventurous, you can even pull off to the riverbanks to try out some of the many rope swings that have been placed throughout the trail.
Drive back to Kailua
(40 mins)
Return kayak & equipment at Active Oahu Kailua
Location
Pick-up/Check-in Time & Location
Drop-off/Check-out Time & Location
Neat way to see the rain forest
We did the rainforest kayak trip. Staff was friendly and the launch spot was easy to find with the map sent in email so make sure you have that handy. The trip was very peaceful and pretty. It was a bit narrow in spo...ts. Overall would recommend!
more
Read all reviews (1)
FAQ
Please visit VELTRA Support page to send an inquiry about this activity.
Payment / Cancellation Policy
Payment Methods
Credit card payment
Cancellation Policy
Any cancellations made after 12:00 local time, 3 business days prior to the activity will be subject to a charge of 100% of the total amount.
Operation days
Top-Rated Activities for Oahu
Restrictions
This activity is not wheelchair accessible.
Children of all ages can participate in this activity.
Participants should be experienced or advanced paddlers.
Required items to bring & attire
Towel
Swimsuit
Reef-safe sunscreen
Water and snacks are highly recommended
Athletic shoes, water shoes, or reef shoes are necessary to hike around the riverbanks.
Other requirements
Participants are required to sign a liability waiver at the time of check-in.
Minors are required to have a parent or guardian sign their liability waiver.
A 4-door vehicle (large sedan, SUV, van, etc.) is required to transport the kayak. Foam pads and straps are provided to help transport the kayak.
You will need to transport the kayak from Kailua Town to Kahana Bay using your own transportation.
Additional notes
The activity schedule is subject to change or cancellation due to weather or traffic conditions.
The tour guide has full discretion to refuse service to customers based on attire, behavior, physical fitness and condition.
Complimentary parking available.
There are no guides on this activity.
For an easier kayaking experience, it is highly recommended that you begin directly from the river as ocean conditions can be rough and difficult to navigate.
During ideal conditions in the summer months (end of May to early September), advanced and experienced paddlers can launch from the nearby beach instead of driving to the river head. Departing from the beach adds an additional two miles of ocean paddling, and is not recommended from October to April due to rough and hazardous ocean conditions.
Kahana Valley is a rainforest area and there is a high probability of rain. This activity operates regardless of the weather, and will not be cancelled due to rain.
Do not bring any valuables with you on this activity, and if you do have any with you, do not leave them in your vehicle. Any valuables should be placed into the provided dry bag, and brought with you on the kayaking tour.
Active Oahu Kayak Rental - Kahana Valley Rainforest & River Tour
Go on the best Oahu kayak adventure, and paddle through the rainforests of Kahana Valley with views of the Koolau Mountains and lush rainforests as you head out on a pristine river on a unique kayaking tour.