Manoa Falls Guided Tour - Tropical Rainforest Hike & Lunch
Highlights
The only Manoa Falls hike that includes lunch
Reviews
Amazing experience !
Tausha
Posted on:
2020/03/01
| Tausha
Manoa falls
RCD
Posted on:
2018/07/19
| RCD
Read more
Overview
Oahu
4 - 5 hour(s) incl. transportation
Available Weekday
English, Japanese
Pick-up available
Lunch box
Not Accessible
What to expect
Experienced guides will lead you through the Manoa Valley Rainforest to a breathtaking 150-foot waterfall. Our tour includes transportation from Waikiki and a delicious and healthy lunch. The trail is suitable for all ages and experience levels.
In an effort to maintain the health and safety of both guests and employees, this activity will be temporarily pausing operations. Resumption date is subject to change and bookings cannot be guaranteed past September 30th, 2020.
Overview
Inclusions: Lunch box / English-speaking guide / Japanese-speaking guide / Water with reusable bottle / Walking Stick
Pick-up from Waikiki Hotels
Arrival at the entrance of Manoa Valley Trail
Tour guide will give a reusable customized "Nature and You" souvenir water bottle before you start hiking.
Hike to Manoa Falls
(1 hr)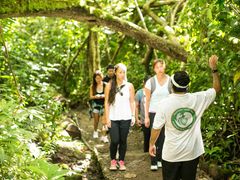 Learn about the legends and history of Manoa Valley and experience the spectacular power of Manoa Falls. Take a moment to appreciate the stunning rush of water from a 150-foot tall waterfall.
Arrival at Kapiolani Park & Lunch at the park
(1 hr)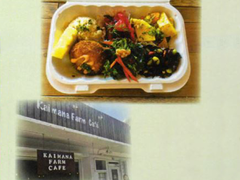 Have a "Power Lunch Box" from Kaimana Farm Cafe or Peace Cafe. Both restaurants are well-known for using fresh ingredients and organic food including gluten free and vegetarian options.
**Monday, Wednesday, Thursday, Friday - Lunch at Kaimana Farm Cafe
**Tuesday - Lunch at Peace Cafe
Location
Pick-up/Check-in Time & Location
Drop-off/Check-out Time & Location
13:30-14:00
Waikiki - Specific hotel
Notes
Restrictions
This activity is not wheelchair accessible.
If less than 2 participants are booked, the activity may not operate.
Children 4 years old and above can participate in this activity.
Other requirements
Participants are required to sign a liability waiver at the time of check-in.
Booking requirements (# of participants, vehicles, hours, etc.)
You can book a maximum of 17.
Required items to bring & attire
Closed toe shoes
Comfortable clothing
Clothing that can get wet
Clothing that can get dirty
Hat
Sunglasses
Camera
Rain gear
Sunscreen
Insect repellent
Additional notes
Rain ponchos are available for purchase during the tour.
Custom USB photo service is not intended to this tour.
The activity schedule is subject to change or cancellation due to weather or traffic conditions.
This activity operates regardless of weather.
The menu is subject to change without notice.
You will share the transportation with other customers.
The activity provider does not assume any responsibility for your valuables and/or personal belongings.
The tour guide has full discretion to refuse service to customers based on attire, behavior, physical fitness and condition.
This activity may be changed or canceled for your safety, medical issues or comfort.
Gratuity is not included in the price.
Amazing experience !
2020/03/01
Couples
Tausha
We were visiting Hawaii on our honeymoon and wanted to do a waterfall hike. Yuji was an amazing guide! He was very knowledgeable about all the trees and plants and he was very nice and funny. It was a great experience !
Beautiful hike. Tour guide Jody was informative. Bring repellent, I didn't even realize I got a few bites! It can get messy if it rains, muddy shoes. There's so many people, a tour guide is not really needed but the tran...sportation there and back was nice. Also, this was my first hike and also my mother in laws, we did really well. Totally worth it. Lunch was also very good, first time trying vegan food, it was surprisingly filling.
more
Read all reviews (2)
FAQ
Q. How difficult is the hike?
A. This hike covers approximately 1.6 miles round-trip over moderately easy terrain.
Q. Can I swim at Manoa Falls?
A. It is not recommended to swim on this tour.
Q. Do you have a vegetarian option?
A. The meal served to Nature and You Tour is a fully vegetarian meal from local restaurants Peace Cafe and Kaimana Cafe. If you have any dietary restrictions or allergies, you can mention it when you book the tour.
Q. What should I bring to this tour?
A. Please bring comfortable shoes and clothing that can get wet and can be in the mud. The part of the island around Manoa Valley can receive rain frequently. Bring a light rain jacket and mosquito spray is also a good idea.
Please visit VELTRA Support page to send an inquiry about this activity.
VELTRA Support
Payment / Cancellation Policy
Payment Methods
Credit card payment
Cancellation Policy
Any cancellations made after 17:00 local time, 2 business days prior to the activity will be subject to a charge of 100% of the total amount.
Top-Rated Activities for Oahu
Manoa Falls Guided Tour - Tropical Rainforest Hike & Lunch
Experienced guides will lead you through the Manoa Valley Rainforest to a breathtaking 150-foot waterfall. Our tour includes transportation from Waikiki and a delicious and healthy lunch. The trail is suitable for all ages and experience levels.