Wahine Charters
Activity location
:
Big Island
Last updated: 2020/01/16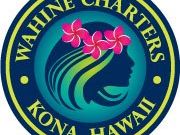 74-380 Kealakehe Pkwy, Kailua-Kona, HI 96740
For a link to directions, please click here: [https://goo.gl/maps/OKSCw](https://goo.gl/maps/OKSCw)

We are located in the Honokohau Marina, 4.5 miles south of the Kona Airport and 3.5 miles north of Kailua Kona Town. Turn off Highway 19 (Queen Kaahumanu) toward the ocean on Kealakehe Parkway. Make your first right (keep the boats that are in the water on your left). Turn left immediately after the "Sea Store Deli". Drive straight ahead towards the boat ramp and then a quick right towards the public restrooms. We park next to the public restrooms and meet our guest under the pavilion. Park on the water side of the public restrooms.
Availability varies by date for all activities.