There is a lengthy list of different Waikiki sunset cruises to choose from. So how do you know which is the best option for you? First, decide what type of cruise you'd like: catamaran or yacht, dinner included or not, beach-departure or harbor-departure, open bar or BYOB.
If you are looking for something that is sort of in the middle of all the different options, you can never go wrong with Manu Kai catamaran.
Manu Kai Catamaran Cocktail Cruise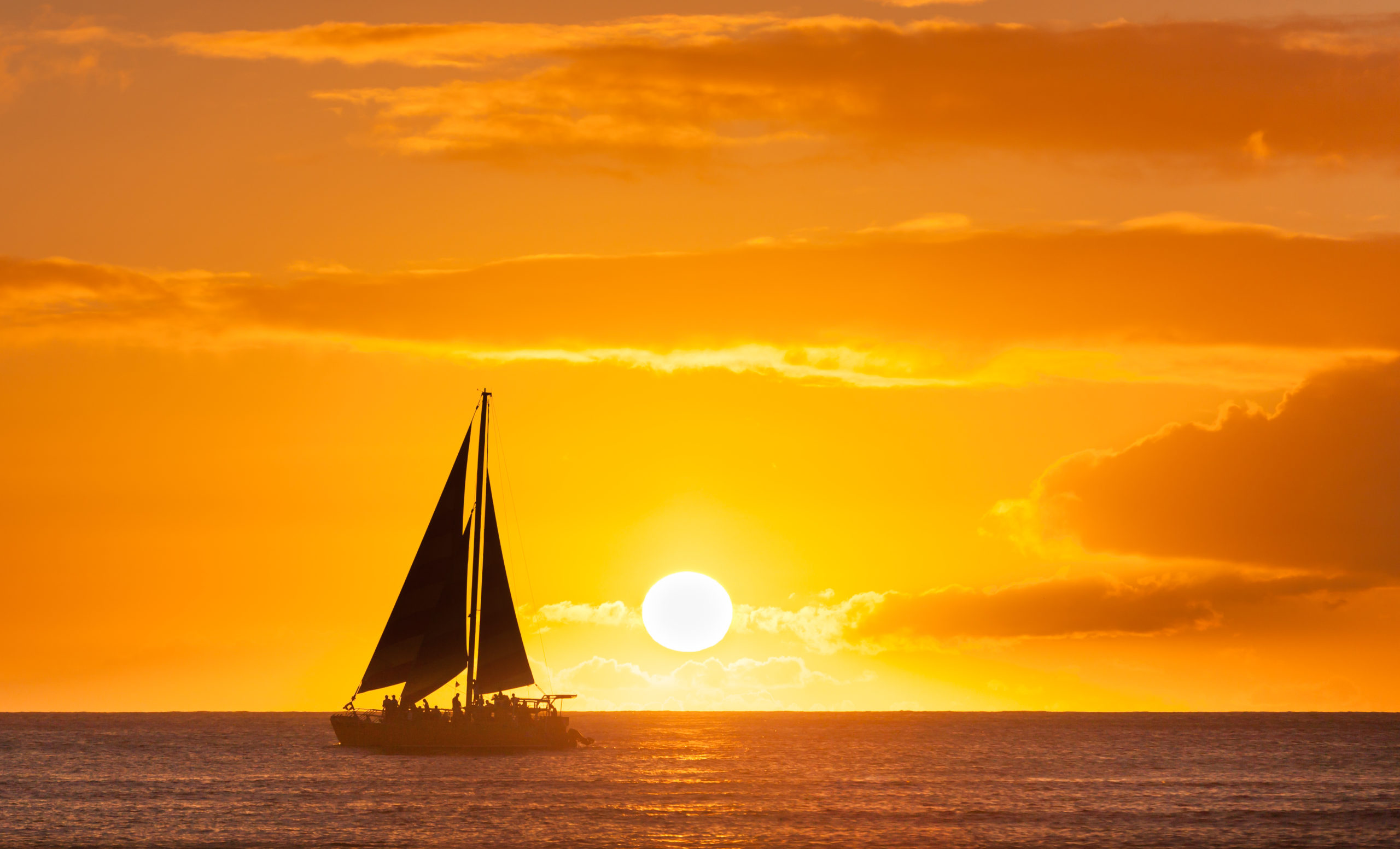 Manu Kai is a casual and fun catamaran sunset cocktail cruise at a mid-ranged price. You will be out on the water for 90 minutes, like most other sunset cruises. The boat holds up to 49 passengers, which is average compared to the other Waikiki sunset cruises.
Some sunset cruises are open bar and some are BYOB; Manu Kai meets you in the middle with 3 included drinks. This is one of the reasons why it is priced a bit on the less-expensive side compared to other similar cruises. But if you plan to have only 3 drinks anyways, then you might as well save some money and choose this one rather than the more expensive ones with open bars!
The Drink Menu
The drink menu, at least for me, is an important aspect of a sunset cruise. Personally, I am a beer kind-of-gal: as long as there is some type of beer on the menu, I'm gonna be happy!
Manu Kai has the drink options of Corona or MaiTais, two popular options that most people like. But if you are not a fan of either of those drinks you may want to consider a cocktail cruise with a more expansive drink menu.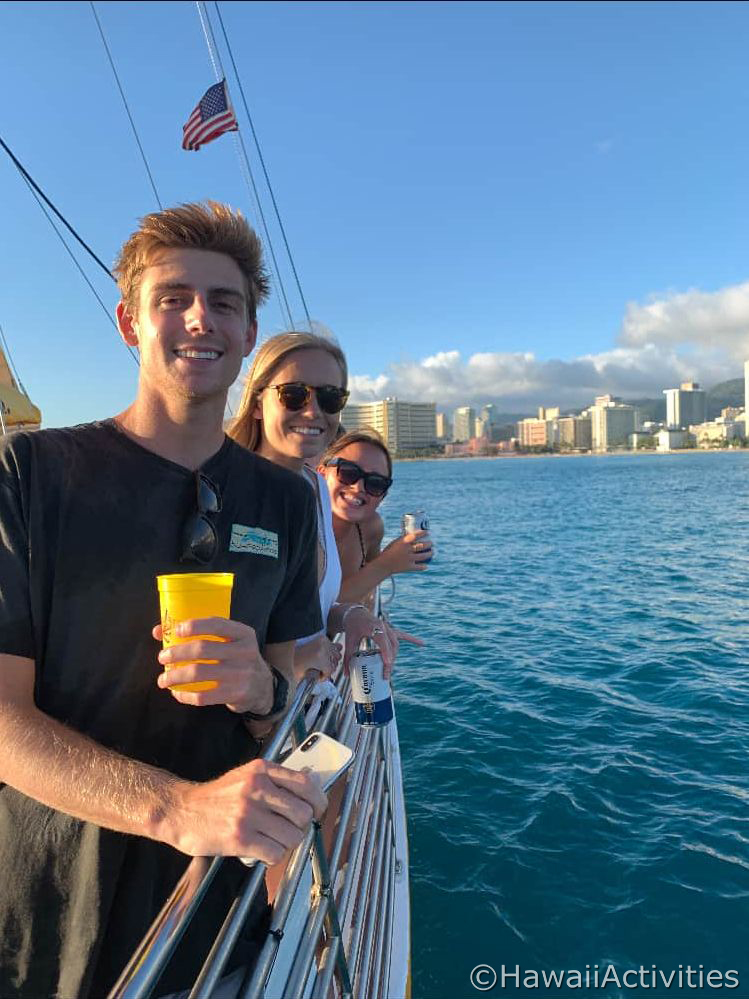 I would say I am extremely specific (aka picky) when it comes to Mai Tais. I like them less sweet, with fresh juice, and high quality rum. Like I said: I'm picky! Manu Kai's Mai Tais weren't quite up to my standards. But most people aren't as selective as I am, like my friends who enjoyed more than one.
Like I said before, I am a beer-lover so I had no complaints using up my 3 free drinks on Coronas!
The Vibe
Another way Manu Kai meets you in the middle is its overall vibe. Some cocktail cruises have a major party scene and others have a very relaxed atmosphere. Manu Kai does have upbeat music playing and a crowd that wants to have a good time, but you don't have to prepare yourself for a college kids gone wild booze cruise.
I enjoyed Manu Kai sunset cruise with my boyfriend and some friends, and it was the perfect way to spend our Saturday evening. It is great for all types of parties: couples, friends, or even families.
Boarding from the Beach
Manu Kai is one of the catamaran cruises that departs straight off of Waikiki beach, making it very convenient to get to since many hotels are within walking distance. It is located right on the beach-side of the famous Duke's Restaurant. For quickest access, just walk through the Outrigger Waikiki on the Beach hotel to get there.
We checked in right on Waikiki beach. Just look for the yellow and blue striped boat behind Dukes. When we arrived the boat was still not there, which meant it was still on its earlier sail. So we just waited at the little blue and yellow sign that says "Manu Kai" with the rest of the passengers.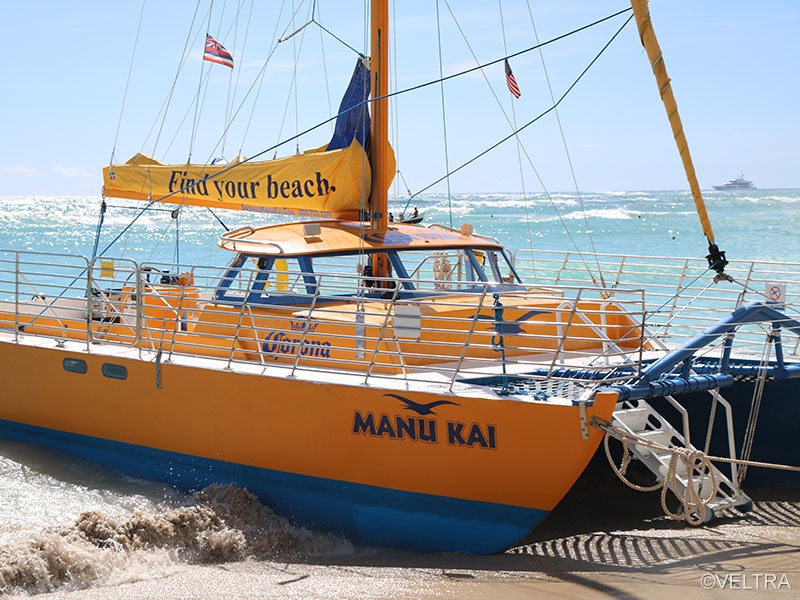 One thing to take into consideration though is the beach-boarding process of these types of catamarans. You wade through shin-high water and climb up the stairs to board the boat. The boat might move/rock during boarding as small waves are rolling through.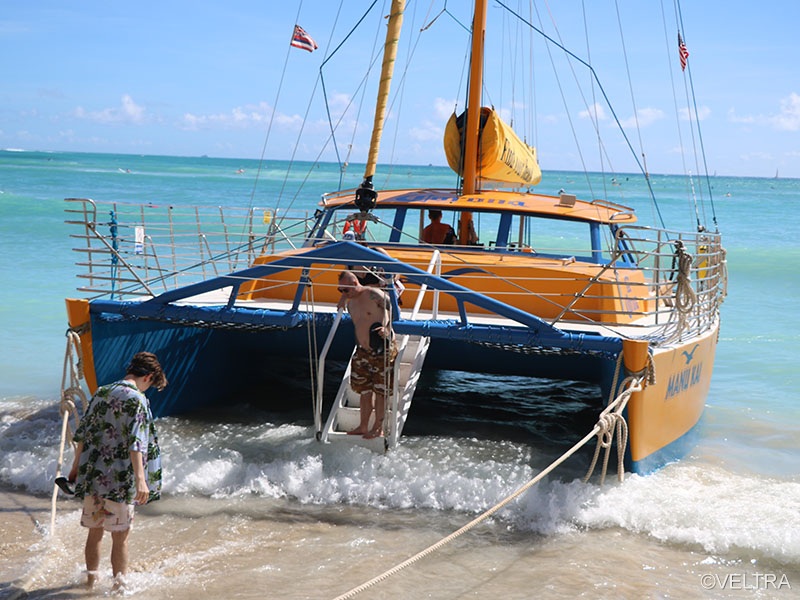 Most people have no problem getting on/off the boat, especially since the crew assists you as you walk up. But if you have elderly or disabled persons in your party who may struggle with this beach boarding, you may want to consider a sunset cruise that departs from a harbor so they have easier access to board.
During the beach boarding we got wet to just below our knees. Also, be prepared to get a little wet as the captain navigates past the breaking waves.
The day I went on Manu Kai, one of the deckhands gave us a warning as we approached a wave. The people sitting in the Splash Zone (directly behind the catamaran nets) got fairly drenched. Even if you get wet though, you'll dry off quickly in the wind as the catamaran picks up speed.
Sunset Catamaran Cruise in Waikiki
When I went on this cruise it was completely sold out, all 49 spots were taken. That being said, it was still comfortable on board and everyone had enough space to spread out. They do have seating in the back of the boat, but we preferred to stand at the front to take in the view.
Just getting past the waves is an adventure in itself. It feels straight out of a movie like Castaway or Moana as you start your journey into the sea.
Diamond Head (Leahi)
After we made it past the reef, it was smooth sailing ahead. We made our way towards Diamond Head and got the best view of Waikiki. I absolutely loved seeing Diamond Head (Leahi) from a different perspective.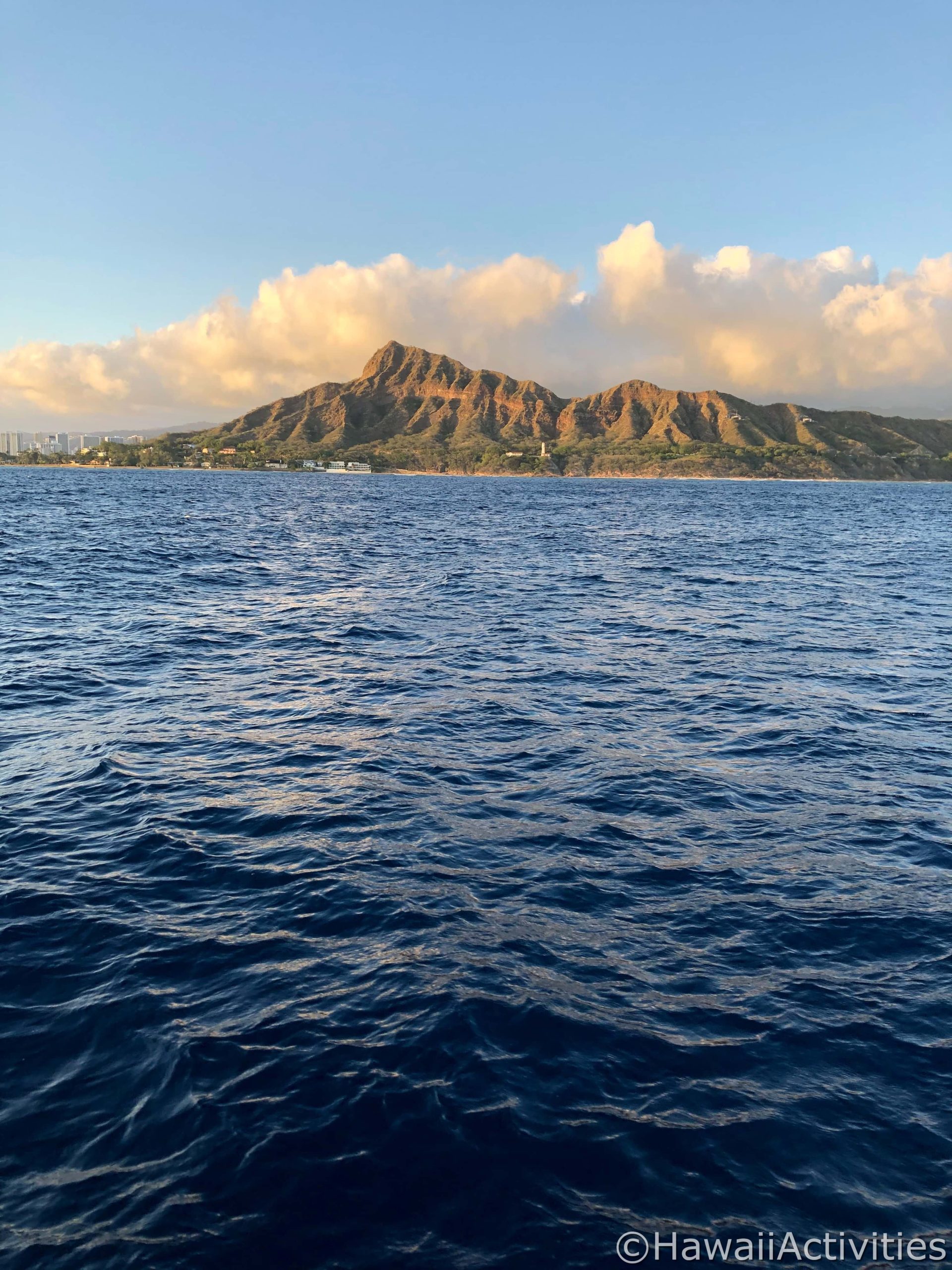 Leahi, in Hawaiian, means "brow of the tuna" because the profile of the crater looks like a tuna fish. In the 1900s it was named "Diamond Head" by British sailors who thought they discovered diamonds along the slopes. They quickly learned that those "diamonds" were actually calcite crystals that held no value.
If you would like to get another perspective of Diamond Head you can do the crater hike. Open daily from 6am to 6pm, admission is $5 per car and $1 per pedestrian.
The sun was setting as we sailed in front of Diamond Head, making for the most beautiful view. The sun highlighted the slopes of the crater with a warm orange glow, the clouds were pierced with sun rays, and the ocean was peaceful and quiet.
Seeing a Green Flash in Waikiki
The climax of my evening was…THE GREEN FLASH. This is something that I've been trying to check off my bucket list for years! It was the coolest thing to witness, a green glow appeared as soon as the sun disappeared below the horizon.
If the green flash is something you have been trying to experience, maybe Hawaii will also gift this experience to you on a sunset sail.
We slowly made our way back to the city as we sipped on our drinks and enjoyed each other's company with good music in the background.
What to Do After Sunset
We were off the boat by 7:00pm, perfect timing to get dinner right after. There are a ton of good restaurants nearby, like Duke's Waikiki, Hula Grill, and a variety of places to eat across the street at the International Market Place top floor.
Or if you got dinner before the sail, you can keep the party rolling by going to a bar nearby, like RumFire in Sheraton Waikiki, the Mai Tai bar in Royal Hawaiian Hotel, or The Beach Bar in the Moana Surfrider.
Conclusion
I have lived on Oahu for over 3 years and I cannot believe it took me this long to go on a sunset cocktail cruise! Manu Kai was the perfect first one to experience since many aspects of it are relatively in the middle compared to its competitors.
This is the absolute best way to spend your evening in Waikiki. Now I just have to try and stop myself from going on one every weekend!
If you want to have as much fun as I did on the Manu Kai, book your spot today on the HawaiiActivities website.
---
Born and raised in San Diego, Hawaii has always been Bailey's second home. She moved to Oahu four years ago and in addition to being a Hawaii travel expert, she enjoys spending time outdoors and cooking.
All author posts