The Hawaiian island of Oahu offers a variety of boat tours for visitors, including the ever-popular dinner cruises. Oahu dinner cruises depart in the evening to watch a beautiful Hawaiian sunset and enjoy a delicious dinner, all from aboard a comfortable cruise ship or catamaran.
But with so many options, it can be hard to decide which dinner cruise you'd like to go on. Do you want a family-friendly cruise when you're traveling with children or a romantic sunset dinner experience for you and your special someone? Maybe you're traveling with friends (or solo) and are looking for a more relaxed, casual cruise to meet people in a social atmosphere.
Whatever the case may be, read on to find the perfect Oahu dinner cruise near you in our list of the top dinner cruises on Oahu!
Top Oahu Sunset Dinner Cruises
| | | | | | |
| --- | --- | --- | --- | --- | --- |
| Cruise | Price | Departure Location | Entertainment | Dinner Style | Unique Feature |
| Star of Honolulu | $$ to $$$$ | Aloha Tower | Hawaiian music / Polynesian dancing /  live jazz | Buffet / 3-, 5-, or 7-course dinner | Multiple tiers of dining options |
| Majestic by Atlantis | $$ | Aloha Tower | Live music, hula dancing | Buffet dinner | Lounge seating |
| Prince Kuhio | $ | Kewalo Basin Harbor | Hula dancing, fire show | Steak & shrimp entree dinner | Affordability |
| Makani Catamaran | $$ | Kewalo Basin Harbor | none | Hot & cold buffet | Catamaran sail |
| Spirit of Aloha | $$$ | Hilton Hawaiian Village Pier | none | Gourmet buffet | Friday Fireworks sail |
| Ocean & You | $$ | Kewalo Basin Harbor | Live music, hula dancing | Multi-course island fusion | Social atmosphere |
| Ocean Joy Cruises | $$ (winter) to $$$ (summer) | Ko Olina Marina | none | Island-style buffet | Sunset snorkeling near Ko Olina |
Oahu's Most Popular Sunset Dinner Cruise: The Star of Honolulu
It's no wonder that the Star of Honolulu is the most popular dinner cruise on Oahu. Operating since 1992, this cruise vessel boasts a capacity of 1,500 passengers, featuring four separate decks that offer different experiences. The largest boat that calls Oahu home, the Star of Honolulu offers excellent service from start to finish. It's also the only fully-ADA accessible cruise on the island, making it the best wheelchair-accessible sunset dinner cruise in Oahu.
Choose from the casual Pacific Star to the elegant Five Star dinner, and enjoy a delicious dinner served hot, right on board. At sunset, take a stroll along the outer decks of the boat to watch the sun sink below the horizon and see the Waikiki skyline be covered in a warm glow.
Pacific Star Buffet Dinner
Located on the lowest deck, the Pacific Star offers a fun and relaxed atmosphere on the cruise ship. Enjoy a buffet dinner featuring a roast beef carving station while watching a colorful Polynesian show as you eat.
Casual Star Sunset Dinner
A step above the Pacific star, the Star Dinner offers a casual dinner cruise with the Star's signature "60 Years of Aloha" show. For a limited time, you can also enjoy all-you-can-eat crab legs! Don't miss this special deal on the Star of Honolulu!
Deluxe Three Star Dinner
Treat yourself to a sumptuous steak and lobster dinner as part of a 5-course dining experience that includes premium beverages. This is the most popular package on the Star of Honolulu, and is perfect for couples celebrating a honeymoon or anniversary looking for a relaxed evening at sea.
Elegant Five Star Dinner
Located on the exclusive top deck and featuring an extensive seven-course menu, the Five Star dinner boasts air-flown live Maine lobster and three super-premium beverages. Personal tables for two make this the superior choice for couples, and has both an age restriction and a dress code: cocktail attire for women, and collared shirts for men (formal evening attire encouraged), children under 12 not allowed. Your entertainment for the night is a live jazz trio, playing soothing melodies to set a romantic mood.
Oahu's Most Romantic Dinner Cruise: The Majestic by Atlantis Adventures
The sleek Majestic cruise ship offers a modern, luxurious cruise experience in a relaxed atmosphere that sets up the perfect romantic evening for couples on holiday. The boat features two air-conditioned decks with large windows for panoramic views, as well as an open-air top deck where you can feel the ocean breeze.
While the Majestic's sunset dinner cruise creates a luxurious atmosphere, the cruise experience itself is quite relaxed. The Majestic features open seating, so you can freely move around the vessel. A hula dancer and small live band playing music in the background provides your entertainment for the evening. Special mention goes to their lounge-type seating – they have couches!
If you'd like to spend a quiet evening at sea with your loved one, especially if you're on honeymoon or celebrating an anniversary, the Majestic offers an extraordinary experience.
Oahu's Most Affordable Dinner Cruise: The Prince Kuhio Cruise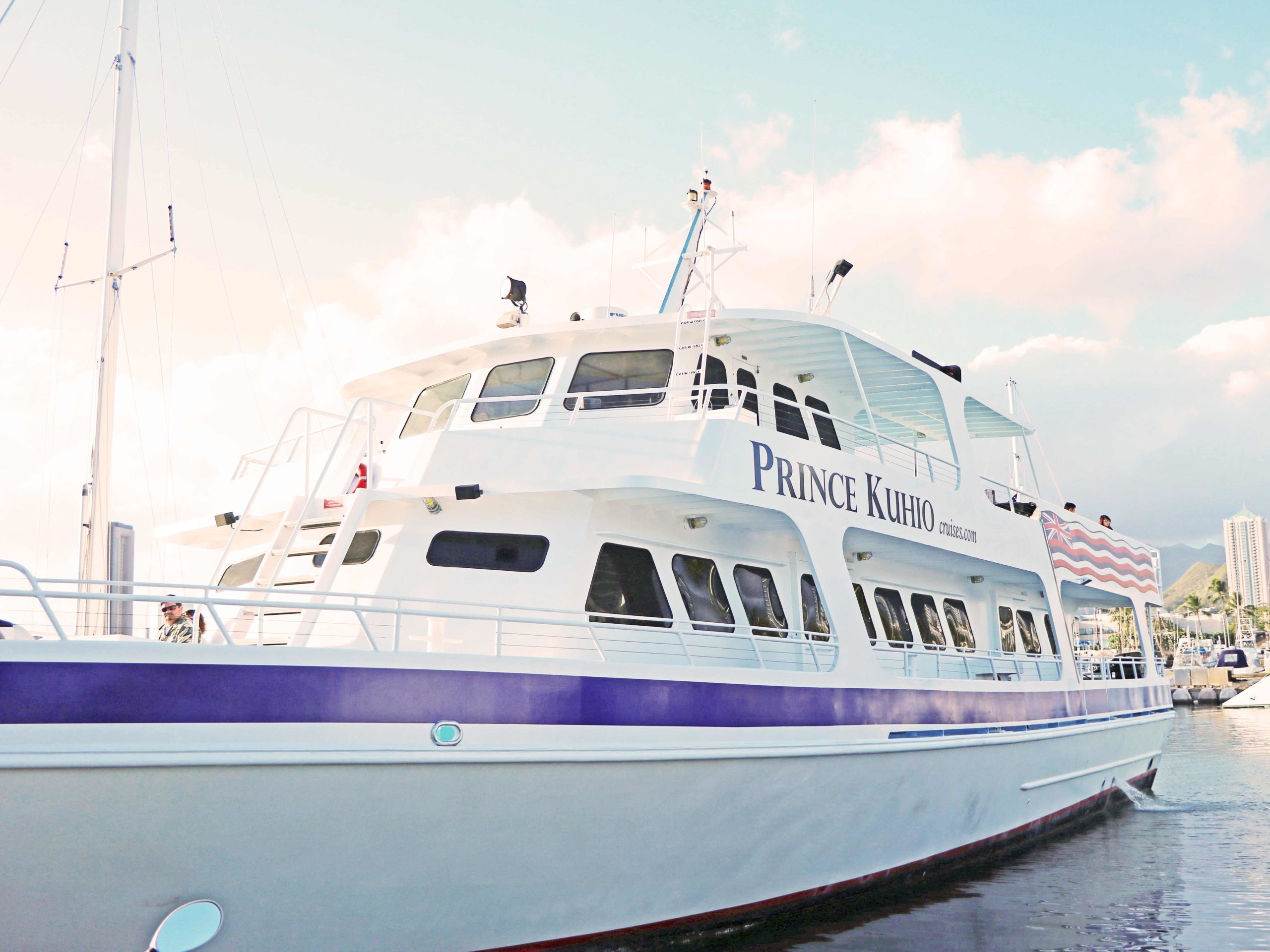 Prince Kuhio's dinner cruise offers a casual sunset dinner cruise on a mid-sized passenger boat. This affordable sunset dinner experience is great for families, groups of friends, or anyone else who just wants to enjoy a no-frills evening on the ocean.
This cruise offers a steak and shrimp dinner with roast vegetables, as well as a welcome Mai Tai and live entertainers, including a hula dancer and a fire show. A cash bar is also available.
The biggest feature of the Prince Kuhio is it's low price: it's the most affordable sunset dinner cruise in Oahu! For one low price, you get a sunset cruise, dinner, a welcome drink, and on-board entertainment. So if you're looking for a cheap way to get out on the water, Prince Kuhio's sunset dinner is the choice for you.
Oahu's Best Casual Dinner Cruise: Makani Catamaran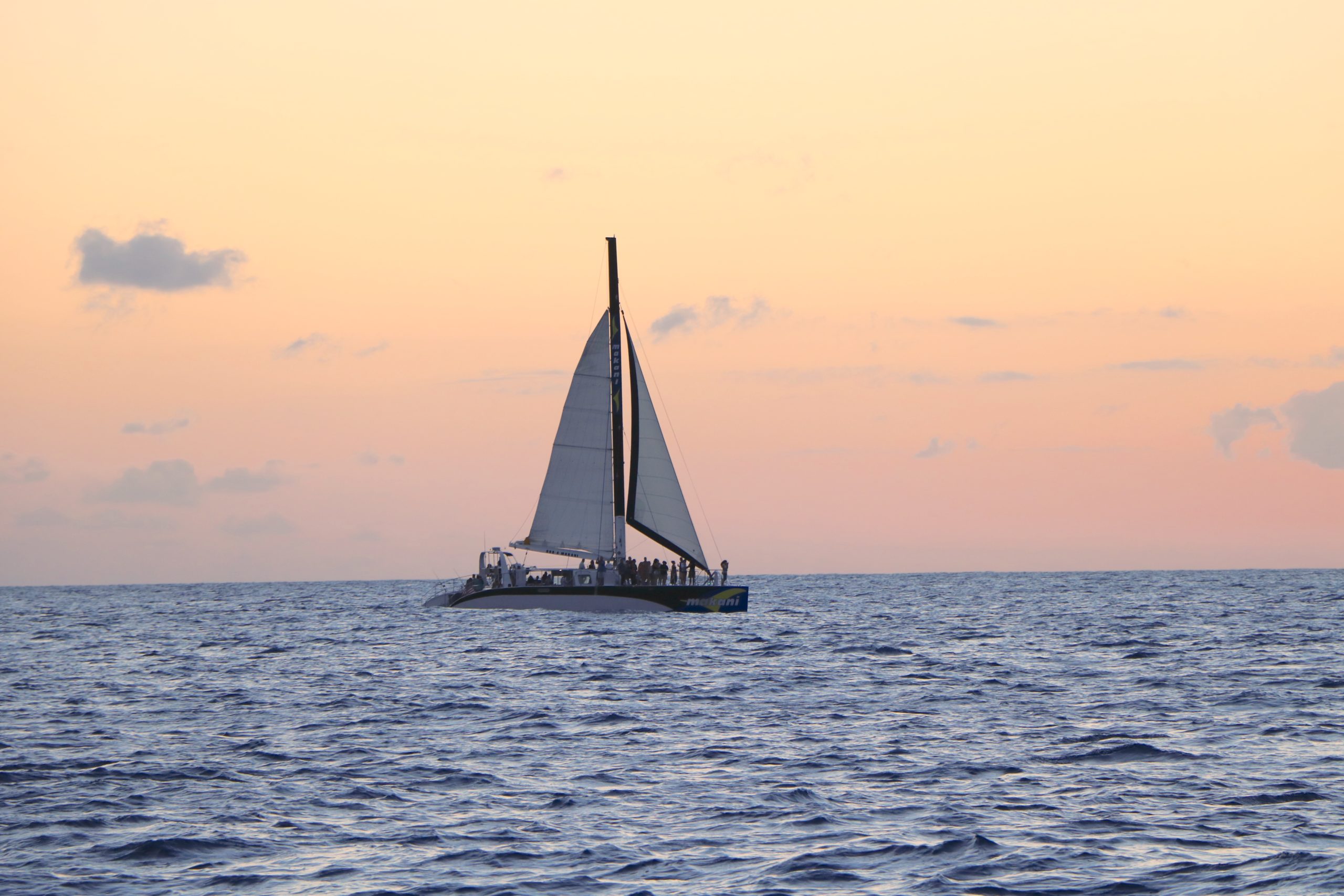 The first catamaran on this list, the Makani catamaran offers dinner and cocktails on this double-hulled sailing vessel. Smaller than the cruise ships listed earlier, this catamaran gives you a fantastic open air deck from which to enjoy panoramic views of Waikiki.
The dinner menu includes a buffet of hot and cold dishes as well as one complimentary alcoholic drink. A full cash bar is also on board, with reasonably priced drinks available.
As a catamaran sail, this dinner cruise option is stable and comfortable due to the double hull design of the vessel. The low-riding design also puts you closer to the surface of the water, making you really feel like you're on the ocean. And using wind power to operate, this cruise is more eco-friendly than larger motorized boats. As far as casual sunset dinner cruises go, you can't beat the Makani catamaran.
Oahu's Top Pick for Fireworks Dinner Cruise: Spirit of Aloha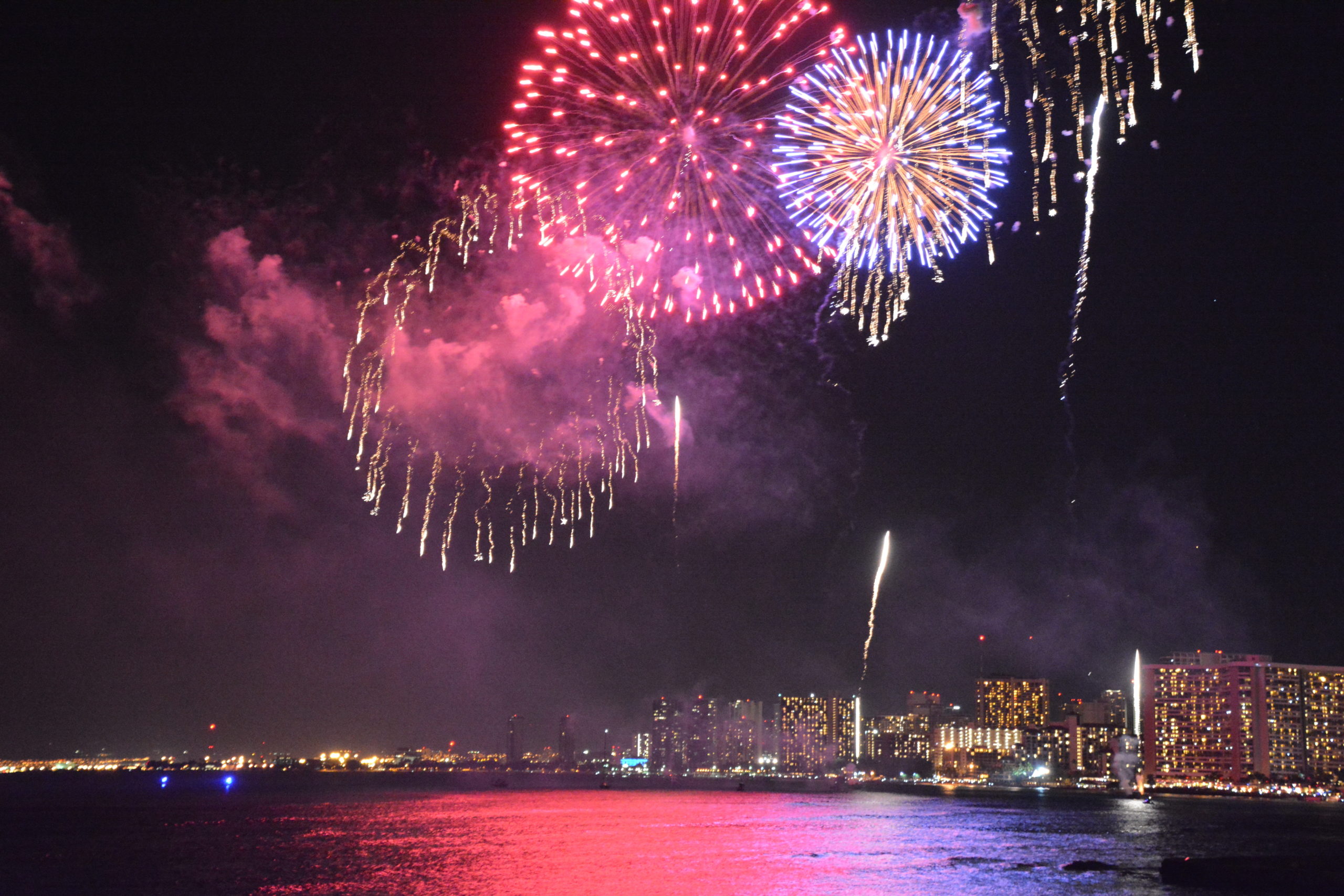 Another sailing catamaran, the Spirit of Aloha departs from the Hilton Hawaiian Village's own pier, which is also the place where the Hilton hosts their weekly fireworks show! Every Friday night in Waikiki, an aerial fireworks show is held by the Hilton, right on the beach by their resort. Waikiki's crowds get even more thick on Friday nights for this reason, which make fireworks cruises an attractive option for anyone who wants front row seats to see the sky show.
For front row seats, what better way than to depart right from Hilton's own pier? On the Spirit of Aloha, you'll be able to sail out for a beautiful sunset, enjoy you'r dinner cruise, and head back to the Hilton where you can enjoy the aerial show from a Friday night fireworks cruise before heading back to the pier.
The Spirit of Aloha catamaran cruise also includes a buffet dinner and two alcoholic drinks, making it a great choice for couples, families, or anyone who wants to experience a fireworks cruise in Waikiki.
Oahu's Best Social Dinner Cruise: Ocean & You
A newer option among dinner cruises in Waikiki, the Ocean & You sunset dinner cruise takes place on a small boat with an intimate social atmosphere. With live music and a menu prepared by Chef Elmer Guzman, this cruise is the perfect night out with friends, or the perfect way to make new friends!
The unique dinner menu consists of multiple courses, served over the course of the night. Each one has been hand picked by the award-winning Chef Elmer, using locally-sourced ingredients and prepared in the island fusion style that Oahu is famous for.
Much like the company's dolphin snorkel, "Dolphins & You," the Ocean & You cruise includes live entertainment in the form of music and hula dancing. The boat also features wraparound seating, a surround sound system, and mood lighting. All this and more helps to make a fun night with friends even more memorable on the Ocean & You dinner cruise.
Oahu's Top Pick for Dinner Cruises in Ko Olina: Ocean Joy Cruises
The outlier on the list, Ocean Joy Cruises isn't located in Waikiki like the other entries. Instead, they depart from the Ko Olina Marina, located on the west side of the island where Ko Olina resorts such as the Four Seasons and Disney Aulani are located.
Making it even more unique, this sunset dinner cruise features snorkeling! The pristine waters of Ko Olina are home to colorful coral reefs, green sea turtles, and wild spinner dolphins, which you'll be lucky to spot on your afternoon snorkel. All snorkeling equipment and instruction is provided, as well as flotation devices for those who aren't so confident in the water.
After your snorkeling tour in Ko Olina, you'll relax on board watching the sunset and enjoying a drink from the bar as dinner is served. Enjoy a local-style plate of island cuisine while taking in sights of the west coast of Oahu on one of the few sunset cruises in the area. Cruise, eat, and snorkel with Ocean Joy's Ko Olina sunset cruise.
Frequently Asked Questions About Oahu Dinner Cruises
As popular as sunset dinner cruises are in Oahu, there are many questions people have about them. It can be tough to know exactly what you're in for, especially if you've never been on a dinner cruise before. We've put together some of the most frequently asked questions we get from customers in order to hopefully answer your questions and make you more confident in booking an Oahu dinner cruise!
Q: What do I wear to a dinner cruise in Hawaii?
A: Aloha attire or smart casual, unless otherwise specified.
Hawaii's fashion trends to be a lot less formal than other places, reflecting the laid-back culture of the islands. It's also just not practical to wear a three-piece suit when it's 80 degrees Fahrenheit. Most dinner cruises are the same, having no dress code at all. For a booze cruise and many catamaran cruises, you could probably wear whatever you want.
Larger cruises like the Star of Honolulu, however, do enforce a dress code for higher-end cruise experiences, such as the Five Star dinner. Featuring a live jazz band and seven courses including live-flown Maine lobster and USDA Prime tenderloin, the Star of Honolulu encourages cocktail attire for their Five Star dinner and prohibits shorts, t-shirts, or slippers from being worn on the top deck.
An appropriate outfit for women could be a cocktail dress with heels, though you could dress down to resort- or summer-styles, as you are in Hawaii, after all. For men, a collared shirt is required, with a coat, dress slacks, and dress shoes highly encouraged.
Whatever the dress code, we recommend bringing a light jacket on your dinner cruise, as it may get chilly after sunset.
Q: Do I have to tip on a dinner cruise? Should I tip the captain/crew of the boat?
A: Tipping is always welcome, but never expected.
Workers on boats are generally paid in wages, so tips aren't an expectation for them in the same way it would be for most waitstaff in the United States. However, keep in mind that tips aren't usually included in the cost of your sunset dinner cruise. Giving a small tip won't hurt, and it would be highly appreciated by your captain, crew, waitstaff, or bartender!
Q: Does the type of boat matter? What's the difference between a catamaran and a cruise ship?
A: The type of boat you're on can make a big difference in your cruise experience.
Most cruise ships are fairly large, holding hundreds of people on multiple decks. This can often make it feel like you're in a floating restaurant, and people who get seasick or motion sick often report not feeling as queasy on larger vessels.
Catamarans, the most popular type of boat in Waikiki, are generally smaller, usually holding around 50 passengers, depending on the size. Their double-hull design allows them to be much closer to the surface of the water while still remaining stable. They have a deck and a often a cabin space where you can sit. However, the smaller vessels are more susceptible to the motions of the ocean, making it a risky choice for people who get seasick.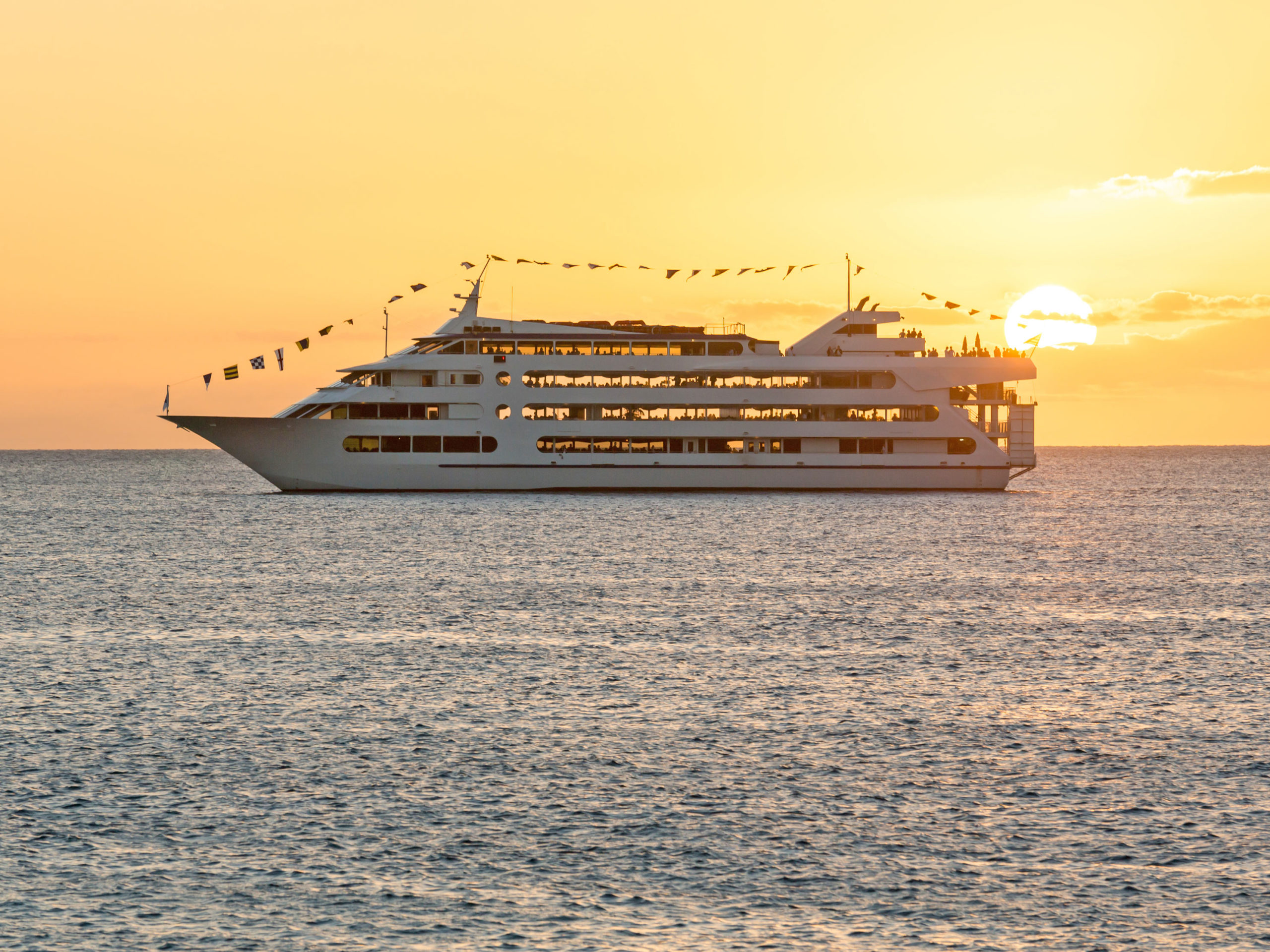 Q: Do I need to make reservations for a dinner cruise?
A: Yes, most dinner cruises require advance booking. Due to their popularity, they may be sold out if you try to book at the last minute.
We highly recommend booking your Oahu dinner cruise in advance in order to secure your spot. It's also recommended to plan your dinner cruise earlier in your vacation, just in case you can rebook it to a later date if necessary.
Q: Are there sunset cruises that don't include dinner?
A: Yes! You can book a sunset cocktail cruise in Waikiki before getting dinner at one of Oahu's amazing restaurants.
Sunset cocktail cruises are one of the most popular things to do in Waikiki. They are much like sunset dinner cruises, but include free drinks rather than a meal. Booking a sunset cocktail cruise is a great way to kick off your night in Waikiki.
Q: What's the difference between a dinner cruise and a cocktail cruise?
A: Dinner cruises include a meal and are a little longer in duration, whereas cocktail cruises are shorter and only include drinks.
Dinner cruises offer a convenient all-in-one package of beautiful sunset, relaxing cruise, and delicious dinner, which makes them a must-do activity for anyone visiting Oahu. Cocktail sails, also known affectionately as booze cruises, don't include dinner, but include a few free drinks, with some even hosting open bars. Generally, cocktail cruises are cheaper in cost and more laid-back (due to the cocktails), but you get a lot less in terms of your experience.
In short, if you want a fun happy hour experience and just like being on the water, book a cocktail cruise. If you want all that and dinner, too, you should definitely book a sunset dinner cruise!
Q: Should I book a dinner cruise if I get seasick?
A: It depends on how severe your seasickness is, among other factors.
The waters around Waikiki are fairly calm, so most cases of seasickness can be taken care of with Dramamine or ginger pills. If getting seasick is something you're worried about, we would recommend looking at larger boats like the Star of Honolulu, or the Majestic, In addition, the double-hull design of catamarans tend to help mitigate seasickness, as they are more stable and move more predictably than the "rolling" motion of single-hull ships.
When taking a motion sickness preventative such as Dramamine, remember to take it an hour before stepping on board the cruise ship. If you're really worried about seasickness, take an extra dose the night prior. Our lawyers require us to tell you that we are not actual doctors and can't give sound medical advice. As in all situations, use your own discretion based on what you know about yourself.
---
Having grown up in Honolulu, Jason writes for HawaiiActivities to help share the beauty of the islands with visitors.
All author posts