Dolphin Quest (Big Island)
Activity location
:
Big Island
Last updated: 2019/11/18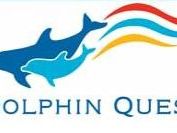 Dolphin Quest opened in 1988, creating a place where people and dolphins could share the wonder of close personal interaction. Today, Dolphin Quest is an international organization devoted to public education and to the conservation of marine wildlife. They are widely known for their creative approach to dolphin-human interactive programs, education, commitment to ocean wildlife research, exemplary animal health care and successful breeding programs. Our innovative encounter programs promote a spirit of connection to the marvels of the oceans.
Availability varies by date for all activities.