Makani Catamaran is the best sunset catamaran cruise if you're looking for ultimate relaxation. Nothing is more refreshing than a peaceful sail at sunset.
You want to go on a Waikiki sunset cruise, but there are so many to choose from. If you have narrowed it down to wanting a dinner cruise on a catamaran-style boat (rather than a yacht) then it is easier to choose the best option for you.
Picking a Catamaran Cruise in Waikiki
Compared to yacht style dinner cruises, catamarans bring a more adventurous and casual feeling to your evening.
Personally, I much prefer being on a catamaran sailboat rather than a large yacht. Something about being on an open deck with a gentle breeze gives you a great sense of freedom and peace as you sail across Waikiki towards Diamond Head.
To me, sailing on a catamaran is equivalent to having a spa day or taking a dip in the ocean. If you just want to clear your mind and feel rejuvenated, then give Makani Catamaran a shot.
Makani Catamaran is a great cruise if you are looking for a delicious dinner, bigger sized boat, casual theme, and harbor-departure.
The overall vibe of the Makani Catamaran sunset dinner sail is chill, relaxed, and romantic. Compared to some other catamarans that have more of a party scene, this one is more suited for those who just want to have quality time with loved ones and take in the amazing views.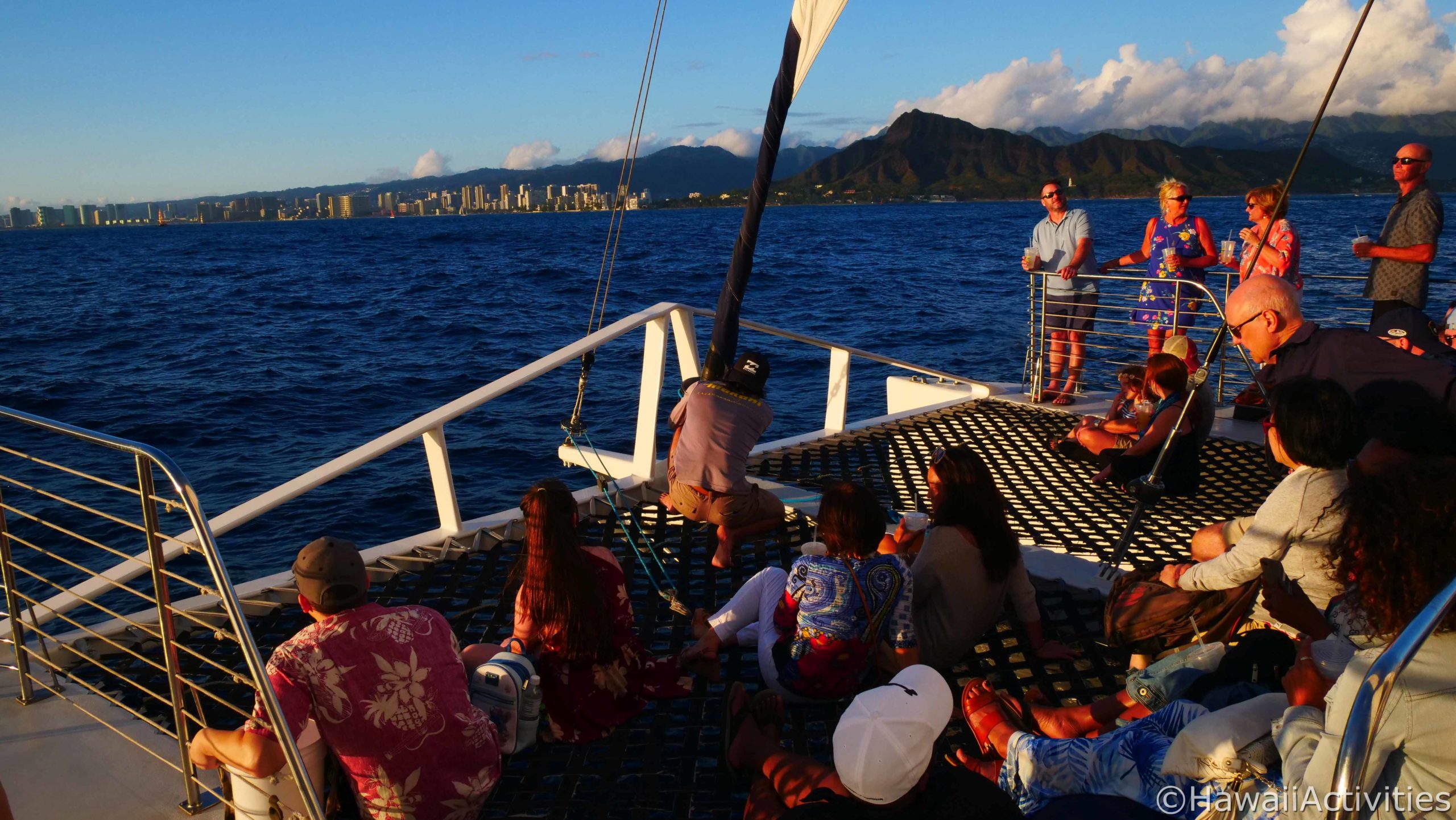 The Makani Catamaran Experience
My boyfriend and I went on this cruise together and we had the most amazing time. There is enough space on the boat to have your own private space but you can also chat with other passengers if you feel like socializing.
Getting There
We drove out to the check-in location at Kewalo Basin Harbor, which is a short drive from Waikiki. We were able to park right in front of Makani Catamaran and they have a little booth where you check in. The metered parking is very affordable at $1 an hour.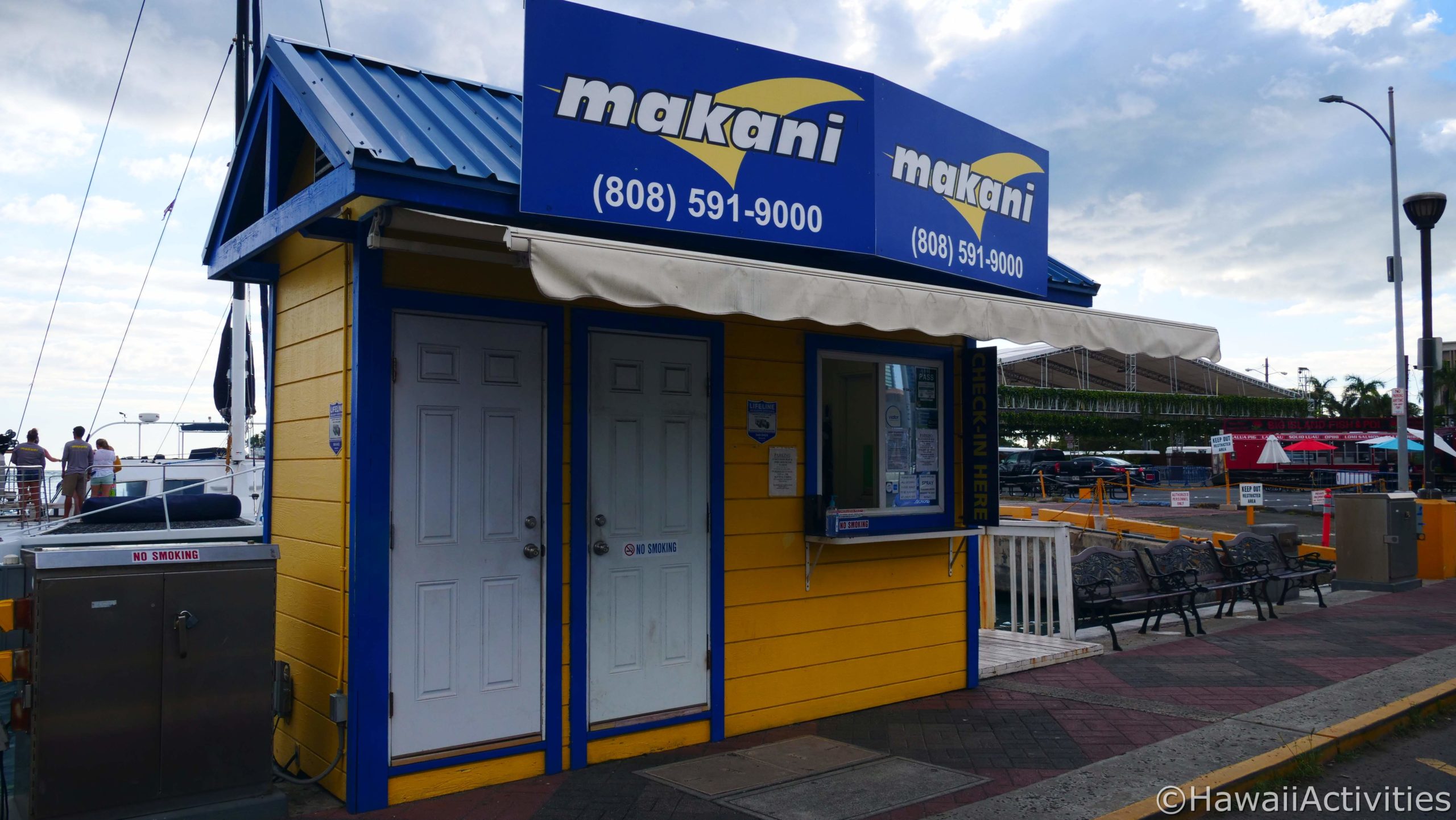 This is one of the very few Waikiki sunset sails that includes transportation from Waikiki! You don't have to worry about navigating through Waikiki or catching an Uber/Taxi; you can be picked up close to your hotel! Also, everyone in your party (over 21) can enjoy drinks on the cruise without having to worry about driving after.
Since you depart from the harbor, the boarding is much easier compared to other catamaran cruises that depart straight from the beach. There's also a ramp for easy (and dry) access onto the boat.
The Boat
Makani is a very nice, clean, and elegant 65 ft sailing catamaran. There is an abundance of space to spread out across the boat: bean bags to sit on, nets to lounge on, railing if you prefer to stand, and plenty of indoor cabin seating with tables. This makes for a very spacious and comfortable sail so you can have a romantic time.
Most of the time we were hanging out on the front of the boat either standing on the side or lounging on the comfortable nets. It was so enjoyable and peaceful to soak in the beautiful views.
We avoided the inside cabin area because (pro-tip) if you are prone to seasickness like me, being inside the cabin will just make things worse! Try to stay outside where you get fresh air and can look out to the horizon.
The only time we spent time inside the cabin was when we were eating so we didn't have to worry about the wind and holding onto our plates. It was so great that they have the option of this indoor space with easy seating in case you have older folks or children in your party.
Dinner
They served dinner about 20 minutes after departure, after getting the sail up and the boat on its way towards Diamond Head. The dinner was great. They set up a little buffet with dish heaters to make sure the hot-food was staying warm.
The main dishes include island style chicken, beef & vegetable medley, and curried tofu vegetable wraps. They did a great job of making sure to represent different dietary options in the buffet as well, including vegan and gluten free dishes.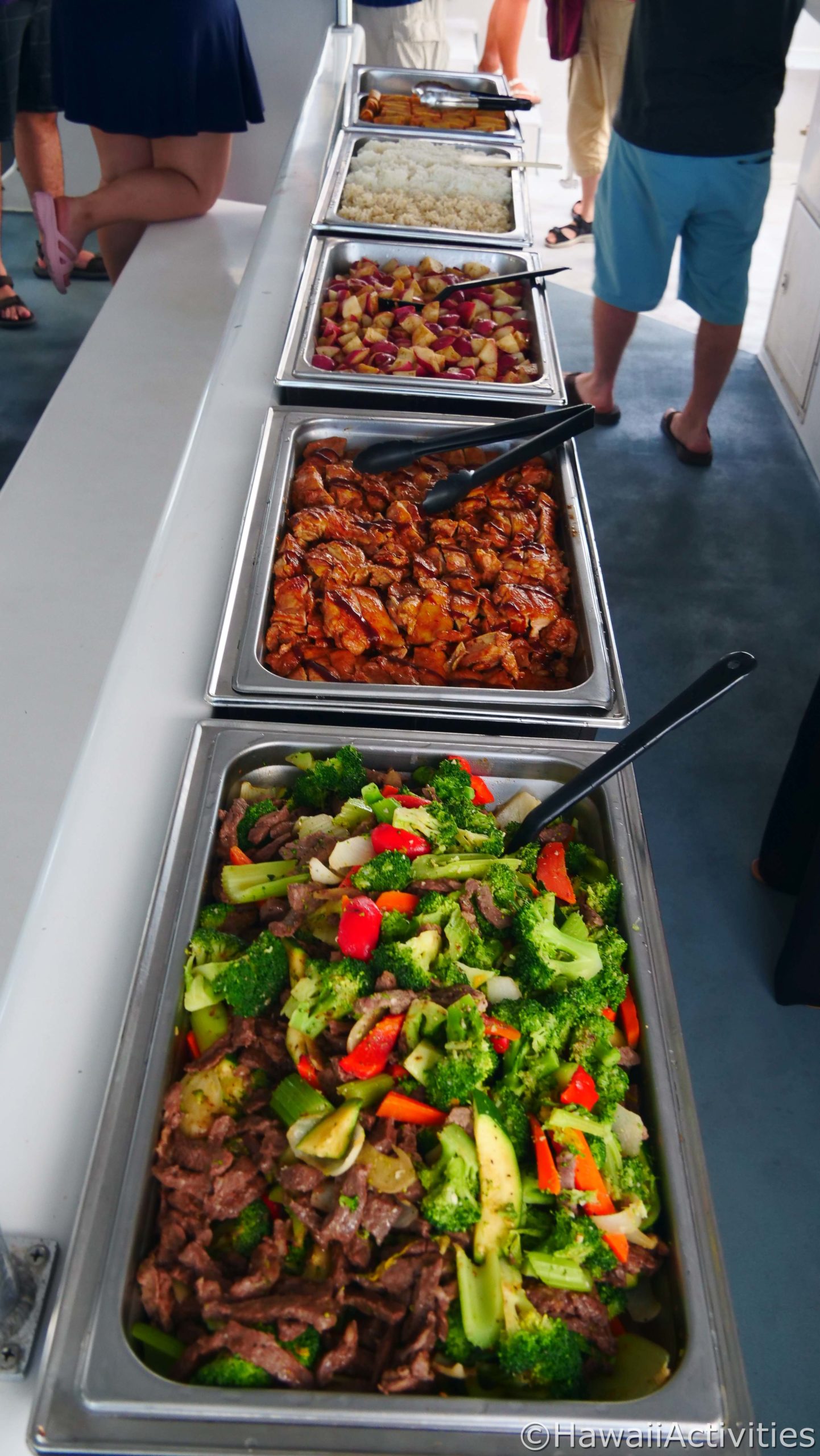 It was the perfect island style meal to enjoy out on the water. I suffer from a never-ending sweet-tooth, so the macadamia nut chocolate chip cookie was my favorite part.
Drinks
Makani Catamaran hosts a full bar with cocktails, wine, and beer. Every passenger gets one free drink ticket, but after that you can purchase drinks at a reasonable price.
I love a good beer, so when I found out they served Maui Brewing Co Big Swell IPAs, I was very excited. If you haven't tried any of the locally-brewed beers of Hawaii like Kona Brewing Co or Maui Brewing Co, I highly recommend them!
Located right in the middle of Waikiki is Maui Brewing Co restaurant which is a great place to taste some local beer with great food and a fun atmosphere.
The crew was very welcoming, helpful, and friendly. They were all eager to help us take photos and they chatted with us a bit too. There were plenty of amazing photo opportunities during this sail.
In the service industry, it is very obvious to notice workers who actually enjoy their jobs because then they are usually really good at it. You could tell that the crew of the Makani Catamaran truly loved what they were doing, which makes the whole experience better.
The Sunset Cruise
We went all the way from Kewalo Basin Harbor to Diamond Head, and the sail was so smooth despite some swell. The views are breathtaking as you see the city and crater from a new perspective.
We witnessed the sky change colors as the sun dipped below the horizon. As the sky began to turn dark and the breeze chillier, we made our way back to the harbor.
On Fridays, Makani stays out later so you can view the Hilton Hawaiian Village Fireworks Show as well! Weather permitting, this firework show happens every Friday right in Waikiki. The best spot to view is from the water! After enjoying your dinner and the sunset, you end the night watching the fireworks show from the ocean. Whether you're a local or tourist, this is a unique way to spend your Friday evening.
What to Bring
This is a casual sunset dinner cruise so wear whatever you'd like! That being said, I did regret wearing a sundress since I had to hold it down the whole time because of the wind. So I'd recommend ladies wearing either a long dress, shorts, or pants for a more comfortable time.
It may get a bit chilly out on the water with the cool breeze as the sun goes down, so you might want to bring a sweater as well! And don't forget sunglasses or else you'll be squinting the whole time!
Another thing you are welcome to bring is your camera! In contrast to beach departures on smaller catamarans, there is basically no chance of your camera getting wet from ocean spray because the boat is large and departs from a calm harbor!
So bring your camera if you would like to take amazing photos. In the chance that it starts raining, you always have the option to keep your camera dry in the covered cabin.
Like I mentioned earlier, I am usually prone to seasickness. So I decided to take Bonine prior to this cruise. I was completely fine for the whole duration of the cruise and had no sense of seasickness!
If you are prone to seasickness or are not sure if you are, I would recommend taking preventative measures because trust me, it is not fun to be seasick on a boat.
You can take over the counter preventatives, seasickness prevention bracelets, or other natural remedies like ginger. You'd rather be proactive rather than reactive when it comes to this!
Conclusion
Waikiki has a wide selection of different sunset sails to choose from varying in many different aspects.
A few highlights of Makani catamaran are that it includes a buffet dinner, the catamaran is larger than most others, you depart from a harbor (rather than a beach departure where you wade through water), and the duration is 2 hours which is longer than many others.
The price is on the higher end compared to other sunset sails but you really get what you pay for if you are looking for a larger/nicer boat and a great dinner.
I think a sunset sail is a must-do for visitors staying in Waikiki! Book the Makani Catamaran for the best way to get the most out of a casual sunset sail. It has tasty food, a great crew, and a beautiful boat.
---
Born and raised in San Diego, Hawaii has always been Bailey's second home. She moved to Oahu four years ago and in addition to being a Hawaii travel expert, she enjoys spending time outdoors and cooking.
All author posts