Oahu is a popular go-to destination for relaxation and tranquility. It's the perfect place to go when you need to escape the cares of life. The clear skies, azure waters, and breathtaking natural wonders provide a sense of peace and fulfillment. These conditions make the island of Oahu ideal for hosting memorial services like an ash scattering or burial at sea.
Hawaiian Burial at Sea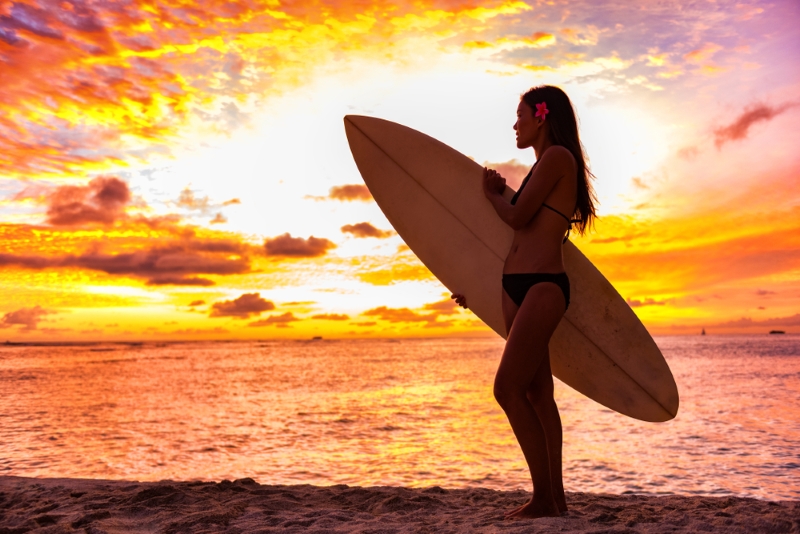 Cultures around the world have practiced burials at sea for thousands of years. But each culture has its own unique rituals and traditions for laying to rest their loved one's ashes.
Hawaii also has its own version of a burial at sea. To this day, family and friends will paddle out on surfboards and canoes before proceeding with the service. Once at the burial spot, they place the ashes, along with lei and flowers, in the water. Family members unable to paddle out or withstand a canoe ride typically wait on the beach.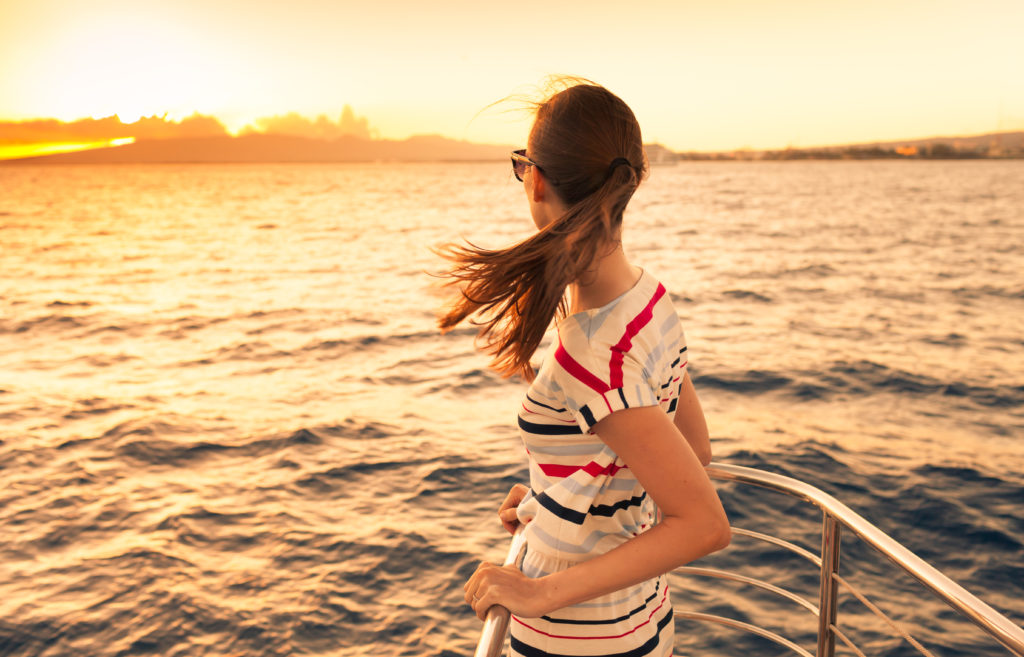 Larger vessels make the process more accessible for Hawaiians and visitors alike. Private boat charters ensure a safe voyage for a burial at sea and can accommodate more guests. Most catamaran charters on Oahu can take up to 30 or 50 passengers. So whether you want to keep the ceremony small and intimate or invite the whole `ohana, there's enough room for everyone to say aloha and pay their respects.
The island's natural beauty draws people from all over the world to honor their deceased loved ones with a Hawaiian burial at sea. If you're one such visitor, you may have a lot of questions about the process and how to go about arranging a burial at sea ceremony. Below are the answers to all of your questions along with a vessel comparison table to help you choose the right boat.
Is scattering ashes at sea legal?
Ash scattering in Hawaii is legal as it poses no health risks. However, the practice is regulated and there are rules that have to be followed.
According to the US Environmental Protection Agency, all burials at sea or ash scattering services must be 3 or more miles from land. The EPA requires notification within 30 days following the ceremony by filling out an online form. This form can be completed by anyone in the family or by member of the crew or charter company. Also, any wreaths or flowers you place in the water must be biodegradable so as to not harm marine wildlife.
What permits do I need to secure?
You do not have to obtain any special permits. The Marine Protection, Research, and Sanctuaries Act (MPRSA) general permit is specifically for people who own or operate vessels that transport the cremains. Charter companies are responsible for obtaining necessary permits.
Where on Oahu can you have a burial at sea?
Most burial at sea charters on Oahu depart from Kewalo Basin Harbor and Waikiki Beach. However, there are other departure options through companies that focus on ash scattering charters.
Kewalo Basin Harbor
Kewalo Basin Harbor is located on Oahu's southern shore. The harbor is 3 miles from Waikiki and 7 miles from Daniel K. Inouye International Airport. From Kewalo Basin Harbor you can easily access Oahu's southern and western shores, providing more options for burial at sea locations. The advantage to choosing a charter from Kewalo Basin Harbor is that you would board the boat while it's docked. Boarding at the dock is easier for elderly family members who may struggle to board on the beach.
Waikiki Beach
The other option is a departure from Waikiki Beach, easily one of the most frequented beaches on Oahu. Waikiki Beach is world famous for its white sand and clear blue water. Charter boats come and go throughout the day providing various services – ash scattering ceremonies being one of them. The beach, known for its calm waters and captivating views of Diamond Head (Mount Leahi), provides a breathtaking backdrop for a burial at sea.
Ash scattering ceremonies are not limited to Waikiki. Charter companies like Hawaii Ash Scatterings can take you to your destination of choice from almost any harbor on Oahu. Their main burial at sea locations include Mamala Bay, Maunalua Bay, Kaneohe Bay, and the Waianae Coast.
Choosing the right charter and location for a burial at sea in Hawaii is always a personal and significant decision. Many people choose to hold the burial at sea ceremony at a place that holds the most meaning for their family. If you have a specific location in mind, you are welcome and encouraged to ask the charter provider if the spot is accessible ahead of time.
How much does it cost?
Rates for private boat charters vary depending on the type of vessel, its amenities, and the duration of the charter. To give you a clearer idea of how much a boat charter can cost for a burial at sea, we gathered five of the most popular private boat charters on Oahu:
| | | | | |
| --- | --- | --- | --- | --- |
| Cruise Company | Price | Departure Point | Capacity | Unique feature |
| Na Hoku |  $$$ | Waikiki Beach |  49 | Spacious seating, open bar |
| Captain Bruce's  |  $$$$ | Kewalo Basin Harbor |  8 | Small, elegant boat |
| Royal Hawaiian Catamaran |  $$$ | Kewalo Basin Harbor |  30 | Spacious deck, eco-friendly |
| JJ Yacht Charters |  $$$$ | Kewalo Basin Harbor |  6 | Fully customizable, private catering |
| Makani Catamaran |  $$$$ | Kewalo Basin Harbor |  80 | Huge vessel, covered cabin seating area |
Charters for a small burial at sea service:
Captain Bruce's Private Yacht Charter and JJ Yacht Charters are perfect for those who prefer to keep the number of guests to a minimum. Captain Bruce's 40-foot luxury speedboat, named Moana, can comfortably carry up to 8 passengers. The Moana has several amenities including a kitchen, a bathroom, and a sleeping area. You can also choose the duration of your charter for the burial at sea, and when you want to set out.
JJ Yacht Charters are also suited for small groups. With a maximum capacity of 6 passengers, you can spend this important time with the ones closest to you. The boat, Punawelewelekai, is a 42-foot sailing catamaran that has a large indoor seating area. This luxury boat also includes a kitchen and bathroom. The duration of the cruise is entirely up to you and you can choose either a daytime or sunset sail.
Charters for large burial at sea service:
If you have a lot of family and friends who wish to attend the ash scattering ceremony, there are several charter options that can accommodate a large number of guests.
Na Hoku II offers private boat charters from Waikiki Beach aboard their spacious 45-foot catamaran. The boat has a maximum capacity of 49 passengers and amenities include a bathroom, plenty of seating, and an open bar. From Waikiki Beach, you will be journeying several miles passed Diamond Head to a spot where you can hold the ceremony.
Royal Hawaiian Catamaran, a premiere 52-foot catamaran can accommodate groups of up to 30 people. The Royal Hawaiian features a spacious and luxurious deck with a separate kitchen and dining area, and also has a bathroom. Additionally, Royal Hawaiian Catamaran is an eco-friendly business by eliminating single-use plastic and providing only reusable dinnerware.
Makani Catamaran is one of the biggest vessels among these choices, boasting a maximum capacity of 80 passengers. This luxury boat has a covered cabin and open-air seating area, an LCD TV and even pilothouse seating. If you're looking to invite more than just family, then this private catamaran is your best option.
How should I prepare ashes for a burial at sea?
Once you've received the cremains (cremation remains), you can transfer them to an urn of your choosing. If you choose to do a burial at sea rather than scattering the ashes on the surface, by EPA regulation the urn must be biodegradable to protect the marine wildlife and environment. Here are some popular biodegradable urns designed for burial at sea:
Journey Biodegradable Earthurn – this is a best-selling urn due to its economical price and simple yet alluring design. Made out of Mulberry tree bark paper and reclaimed cardboard, it makes for a great water burial urn as it dissolves rapidly once submerged. It also contains a water-soluble plastic to hold the ashes before it dissolves.
Himalayan Rock Salt Burial Urn – Apart from its remarkable design, this urn crafted out Himalayan salt (which is also known for its healing properties) is ideal for sea burials. Upon release into the sea, it will only take hours for the urn to dissolve, unlike for land burials which could take months.
Eco Water Urn – This cylindrical all-natural urn is one of the more innovative urns currently available on the market. It is completely biodegradable, made from recycled plant materials and bound only by heat and water. It also comes with a bamboo container for easier transportation.
How is a burial at sea conducted?
The captain and crew will be there to assist you in any way, from boarding, to playing your choice of music over the sound system, and serving food and beverages if you wish to include that in your charter.
After family and friends have boarded the boat, the captain and crew will give a short safety briefing before getting underway. You'll then set sail and head out into the clear blue Hawaiian waters. Unless you request to have the ceremony at a certain location, the burial site will be at least 3 miles off the coast of Diamond Head.
You can arrange the burial at sea service according to yours or your loved one's wishes. A family member or friend can deliver the eulogy, you can sing a group song or have music played over the speakers, or have someone recite a prayer or poem.
How you place the ashes in the water is also up to you and the wishes of the deceased loved one. You can scatter the ashes or lower the urn into the water and let it sink – a method that ensures the cremains make it into the ocean safely without any blow-back from the wind. If you choose to scatter the ashes, the captain will position the boat where the wind is less likely to blow the ashes back into the vessel. You can place flowers, wreaths, or lei in the water afterward to make an area that commemorates the burial at sea.
Why should I choose a burial at sea?
The practice of scattering ashes at sea is a beautiful way of honoring the people we loved and lost. Many prefer it over a land burial for religious reasons or for the relaxed and natural atmosphere. Burial at sea is also a common choice for military service members, especially for those in the Navy. burial at sea accomplishes traditional funeral rites without compromising the solemnity of the event.
A burial at sea aboard a private boat also gives the family time to exchange stories and memories of the departed, and the flexibility to conduct the service how you wish. And just like with a land burial, you can return to the site of the burial at sea if you request to do so through the same charter company.
So whether it be a personal wish of the deceased or the family's decision, a burial at sea amidst the beauty of nature provides the respite needed by the family at such a time. Say your final goodbye among family and friends, surrounded by the warmth of Hawaii and comforted by the spirit of aloha.
---
Janie is a travel writer and Hawaii tourism specialist who travels the world sharing the aloha aina message. You can often find her on the trail or at the beach with her husband, her dog, and a camera.
All author posts