Hawaii is a top destination for all kinds of travelers, corporate groups and adventure seekers alike. With a natural beauty you'd be hard pressed to find anywhere else, the Hawaiian islands draw in millions of visitors each year. The best way to experience that beauty is on a private boat charter.
Many visitors come to Hawaii for special occasions. Whether celebrating a family reunion, having a destination wedding, or hosting a corporate event, a private boat charter is perfect for all the above.
Surrounded by crystal blue water with easy to access harbors, Oahu is an ideal destination for your special event.
There are numerous private boat charters to choose from on Oahu. So here's a guide to make your decision making process a little easier!
Best Private Boat Charters on Oahu
Sail away on the largest passenger vessel in Hawaii, the Star of Honolulu. This spacious 230-foot luxury cruise ship features a private reception room fit for any occasion. If you're looking to host a classy event, this is the vessel for you.
One of the many great things about the Star of Honolulu is that it's the only ship in Hawaii that is ADA compliant. With boarding ramps and two elevators, this ship is fully wheelchair accessible.
On this top Waikiki cruise there are two different private charter packages to choose from. Both packages include dinner and entertainment:
Five Star Private Reception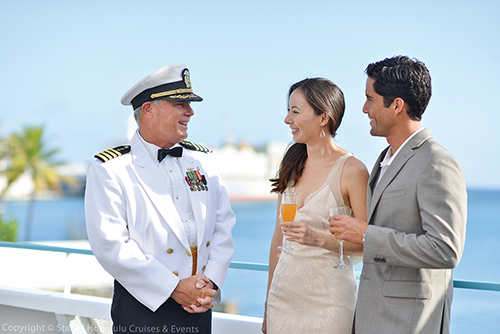 Begin your five star evening with a welcome toast on the observation deck. The captain himself will give the toast and then you can enjoy appetizers and Bellinis.
Also included in this package is three super premium beverages (per person) and a 7-course signature dinner. During the meal you can enjoy live jazz music to set the mood for a classy evening. You can also commemorate the evening with a memory photo and a delicious cake.
Three Star Private Reception
Don't let the number of stars fool you. The Three Star Private Reception is equally elegant. Your evening will begin with a hula greeting followed by a complimentary glass of sparkling wine.
For the meal, you can look forward to a 5-course lobster & steak dinner along with two premium drinks per person. Throughout the evening you'll be entertained by live Hawaiian music and Hula, and also live jazz music.
If you're looking for a private boat charter that's a little more casual, the next few options might be for you.
Departing right from the beautiful Waikiki Beach, the Na Hoku is easily accessible for anyone staying in Waikiki. Boarding takes place right on the beach so prepare to get your feet wet. Then sail away into the crystal clear waters of Waikiki.
You can choose from either a sunset or daytime cruise depending on your interests and the nature of your occasion. Either way, you'll have breathtaking views of Diamond Head and the Ko'olau Mountains on this private boat charter.
Along the way you can enjoy complimentary beverages from the open bar. Sip on a cocktail and enjoy the view. You're also welcome to bring food or a cake on board if you're celebrating a special occasion.
Manu Kai is the sister boat to the Na Hoku and also leaves right from Waikiki Beach. While the Manu Kai doesn't have an open bar, they do provide three complimentary alcoholic beverages.
You're also welcome to bring your own food or cake to enjoy on board.
In addition to a daytime or sunset cruise, the Manu Kai also offers a private fireworks cruise and a private snorkel tour. Every Friday night the Hilton puts on a free fireworks display for all to enjoy. The beaches can get a little crowded for the show, so the best way to see it is from a private boat on the water.
If you're interested in the snorkel package for your private boat charter, all snorkel gear is included. You'll depart from Waikiki Beach and sail out to turtle canyon. At this reef you're likely to see Hawaiian green sea turtles and numerous types of tropical fish.
Ko Olina Ocean Adventures is more than just a private boat cruise—it's an ocean adventure. Departure from Ko Olina marina makes this private boat adventure a perfect option for guests staying in the Ko Olina resort area.
Along the way to the snorkel location, you can enjoy stunning views of Oahu's remote and mountainous west coast.
On this private dolphin watch and snorkel cruise you'll get to see some of Oahu's marine life residents. Swim with sea turtles and watch for spinner dolphins who frequently make appearances by spinning out of the water. Add the SNUBA package to enhance your underwater experience!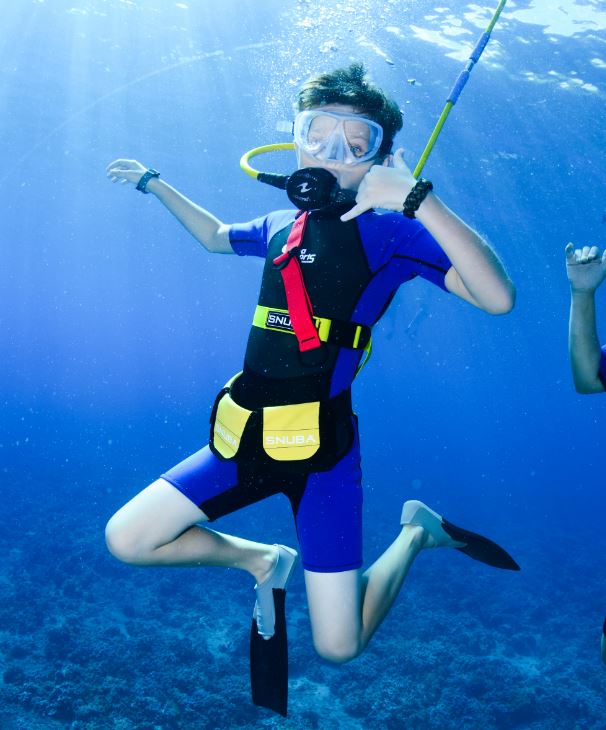 For an additional fee you can add food and beverages to make your cruise even more enjoyable. The menu consists of Hawaiian style pulled pork or teriyaki chicken sandwich, or a veggie burger. And sides include chips, fresh fruit, and hot and cold drinks. You can also add an alcoholic drink package.
One of Oahu's best kept secrets is the Kaneohe Sandbar. Located in the middle of the Kaneohe Bay on Oahu's windward coast, this sandbar is the island paradise of your dreams.
Cruise out to the sandbar on a luxury boat and take in breathtaking views of the rugged Ko'olau Mountains. You can choose from either a luxury speedboat or a deluxe ocean pontoon.
Both vessels can accommodate up to six passengers and a light meal is included. This cruise is BYOB, so sip on your favorite beverage while you soak in the view. Snorkel gear is also included so you can swim with sea turtles!
Going back over to the west side, this private boat charter is all inclusive and takes you on a scenic cruise along Oahu's west coast. A delicious lunch, water activities galore, and Hawaiian entertainment are all included!
Once you reach the snorkel location you can snorkel and swim or partake in one of the many other water activities. Kayak, use a stand up paddle board, or take a ride on a 20-foot water slide!
After all the fun in the water, sit back and relax with a delicious lunch consisting of cheeseburgers, chips, fresh pineapple, water and lemonade. As you enjoy your lunch the crew will entertain you with hula dancing and ukulele music.
Set out on a luxury yacht and enjoy your day in paradise exactly how you've dreamed. That's right, you can customize this private boat charter to fit your interests and needs.
You can choose everything from the time of day to the departure location. For the time of day you can select a morning, afternoon, sunset cruise, or Friday night fireworks cruise. And you can depart from either Waikiki or Ko Olina.
If you choose a daytime cruise you can decide how you spend your time during the cruise. You're welcome to lounge on the boat, take in the views, and watch for marine life sightings. Or you can dive in and snorkel in Oahu's warm waters.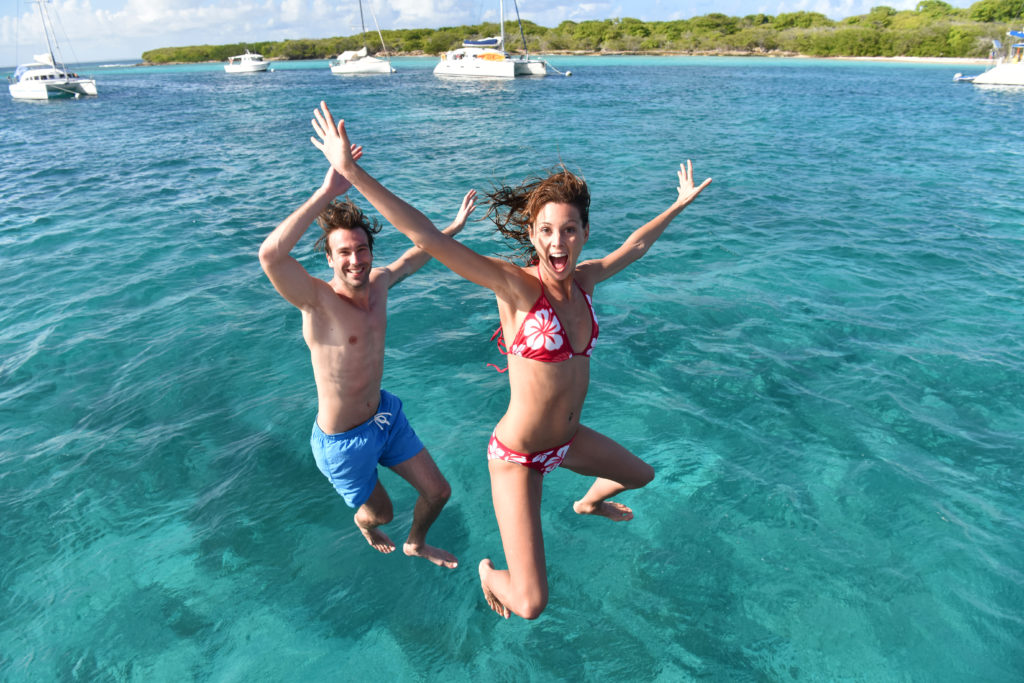 For those interested in taking their underwater experience to the next level you can add on a SeaBob rental! A SeaBob is a motorized scooter that can be used on the surface or underwater.
Another cruise feature you can customize is the menu. You can select the appetizer menu that comes with the charter, or you can upgrade to a full meal prepared by a private chef on board.
Combine luxury with fun and comfort on this Waikiki private boat charter. The Royal Hawaiian Catamaran is arguably the most elegant and stylish vessel in Waikiki.
With mahogany accents and plenty of deck space, this boat is ideal for weddings, vow renewals, or photo shoots. The Royal Hawaiian Catamaran private boat charter isn't limited to any events in particular, but imagine the exquisite photos you could get on this boat!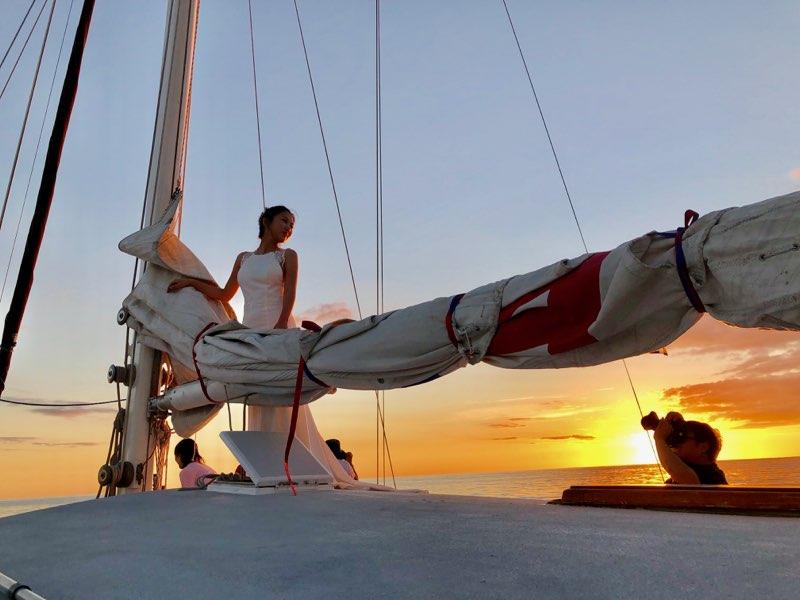 Whether you're celebrating a wedding, a corporate event, or simply want to have fun with your ohana (family), the Royal Hawaiian Catamaran is an excellent choice.
Choose from either a private snorkel cruise, a private daytime or sunset sail, or a private Friday night fireworks cruise. No matter which time of day you select, you can add on a Mediterranean menu, a taco bar, or have a private chef on board to make fresh sushi.
Depart from Kewalo Basin Harbor and sail along the Waikiki coast in comfort and style.
A private boat charter is simply the best way to enjoy what Oahu has to offer, whether you're visiting or kama'aina. Let us help you create an unforgettable day in paradise with one of these private boat charters.
---
Janie is a travel writer and Hawaii tourism specialist who travels the world sharing the aloha aina message. You can often find her on the trail or at the beach with her husband, her dog, and a camera.
All author posts