The Star of Honolulu is the most popular dinner cruise that Oahu has, and also the largest boat for sunset cruises. Their most popular dinner package is their Three-Star dinner cruise, which is what I experienced. I couldn't wait to find out what it was about this cruise that everyone is constantly talking about!
Getting There
I decided to go with a friend of mine, though this dinner cruise would be a great romantic date night.
We met at the pier: she drove there, while I used the provided transportation, which picked me up in Waikiki.
Their check-in location is at the Aloha Tower Marketplace which, depending on traffic, is only about a 15-20-minute drive and very easy to find. Star of Honolulu will validate onsite parking as well, so feel free to drive out if you want.
Their transportation is quite nice, though. My pick-up location was at the Sheraton in Waikiki at their Aloha Bus Depot. When I arrived, there was already a large group of people waiting.
The Star employee was very easy to find, though. He was wearing a vest with Star of Honolulu logo clearly visible on it. He handed me a sticker to wear which stated which package I had for the evening, which was the Three Star Dinner Cruise.
They escorted everyone onto the bus, which was a very nice Motor Coach with on board restrooms and TVs.
The Royal Star company, which works hand in hand with Paradise Cruises, provides all transportation.
These companies offer not only the Star of Honolulu dinner cruise, but a variety of other activities as well. They have a whale watch cruise, a dolphin watch and snorkel cruise, a circle island tour, and even tours to Pearl Harbor.
It wasn't long after loading everyone on the bus and we were on our way! We made a couple more pick-ups at other nearby hotels before finally arriving at the Aloha Tower Marketplace.
How to Get to the Star of Honolulu
We arrived on site and were immediately able to see this big white boat with Star of Honolulu written on it in blue. You won't have to worry about getting lost: you definitely can't miss it!
We were greeted by other Star team members that directed us toward where everyone was boarding the boat.
At the ramp, we were greeted by hula dancers! Star of Honolulu has a dockside hula show every night to greet passengers.
But you don't have to be going on the boat to watch, so if you're at the Aloha Tower Marketplace around 4:30 p.m., check it out!
Boarding the Cruise Ship
The hula dancers directed us inside and showed us our seats. The package you book decides which deck you'll be eating on as well as your seating, so there's no need to worry about it when boarding. The Three Star Dinner package I booked put us on the second deck.
The tables were already set when we got there, most of them being small tables seating only two people each. It was very cold in the cabin so I would recommend bringing a light sweater if you get cold easily like I do!
My first impression was that the interior was a little outdated. It was still very nicely kept up, being clean, neat, and well-furnished, but it looks like they haven't made any decor updates in a few years.
We sat along the window at a small table with just the two of us. There were other people sitting nearby, but not right beside us. There were also big round tables in the middle as well, for larger groups or families.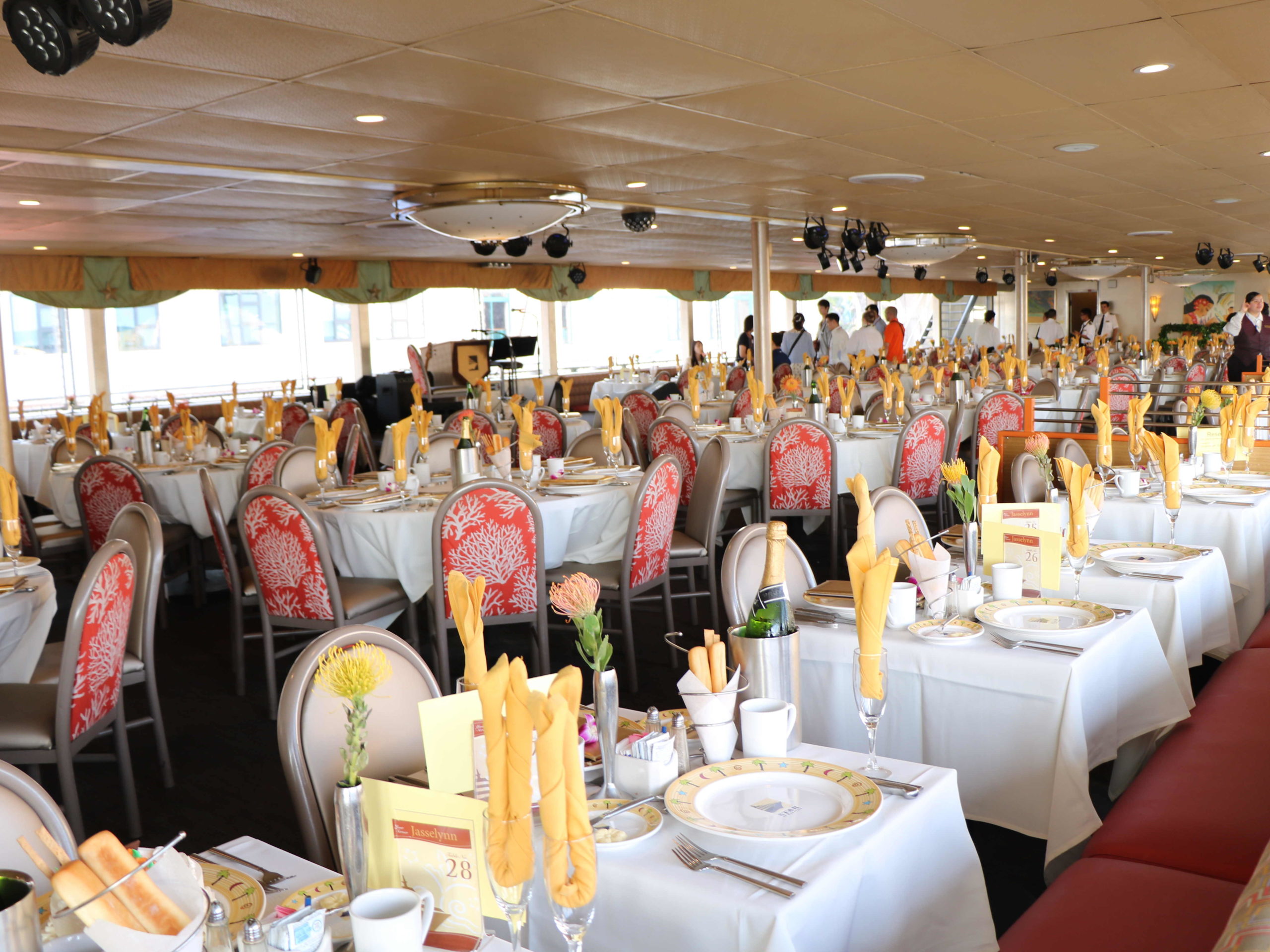 Our server greeted us with a champagne toast. Since the champagne is a part of the dinner, of course we couldn't turn that down!
A short Bon Voyage hula dance started onboard to kick off the evening. Afterwards, there was live Hawaiian music playing for us to enjoy.
A Five-Course Dinner
This was a nice way to start off the relaxing vibe for the evening and we sipped on our champagne while trying to decide what to order next!
The Three Star Dinner package includes two drinks in addition to the Champagne toast. They have a wide variety to choose from including different cocktails, liquor, a few beers and one option for red or white wine.
The first course is a variety of cheeses, crackers and fresh tropical fruit that is on a display.
Unlike the other courses, you grab the appetizers yourself and bring them over to your table. The on-board waitstaff serves everything else.
The second course is the seasonal salad dish. Ours consisted of Hawaiian greens, purple endive, Waioli baby romaine, and grape tomatoes, with a lilikoi Tarragon vinaigrette.
The Steak & Lobster
Our seafood course followed the salad, as we were served a whole Nova Scotia Maine Lobster! It was served with fresh lemon, butter & citrus ponzu.
A waiter came around to offer us help cracking the shell, which I thought was good service. The lobster was so delicious, but that was only the beginning!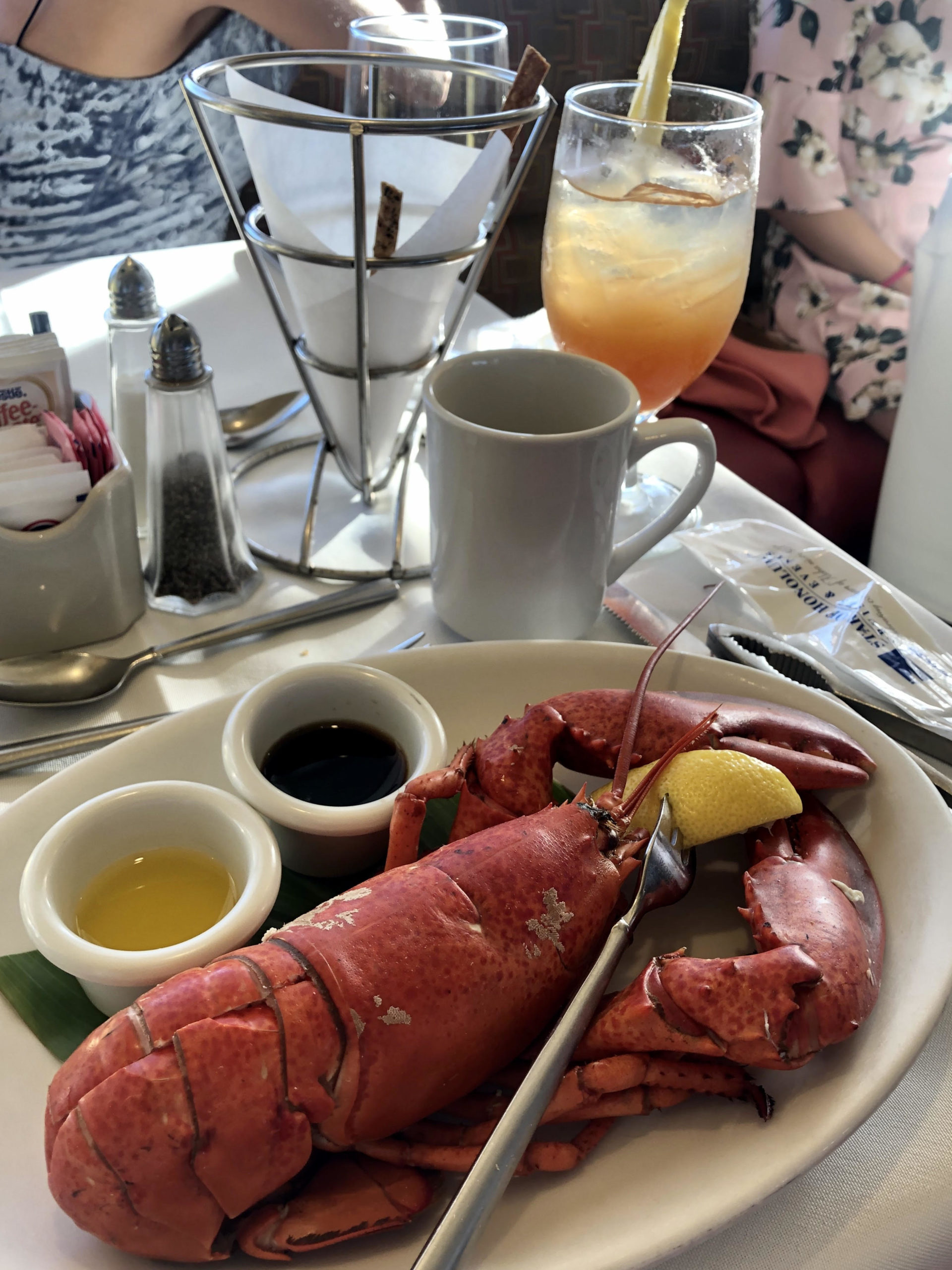 The third course might have been my favorite!
We were served a tenderloin steak with a sweet Madeira wine sauce, Idaho russet and Big Island Okinawan mashed potatoes and sautéed fresh seasonal vegetables.
The steak was so tender, and I loved the paired wine sauce.
The vegetables didn't have quite enough seasoning for me but it didn't matter because the steak was so great!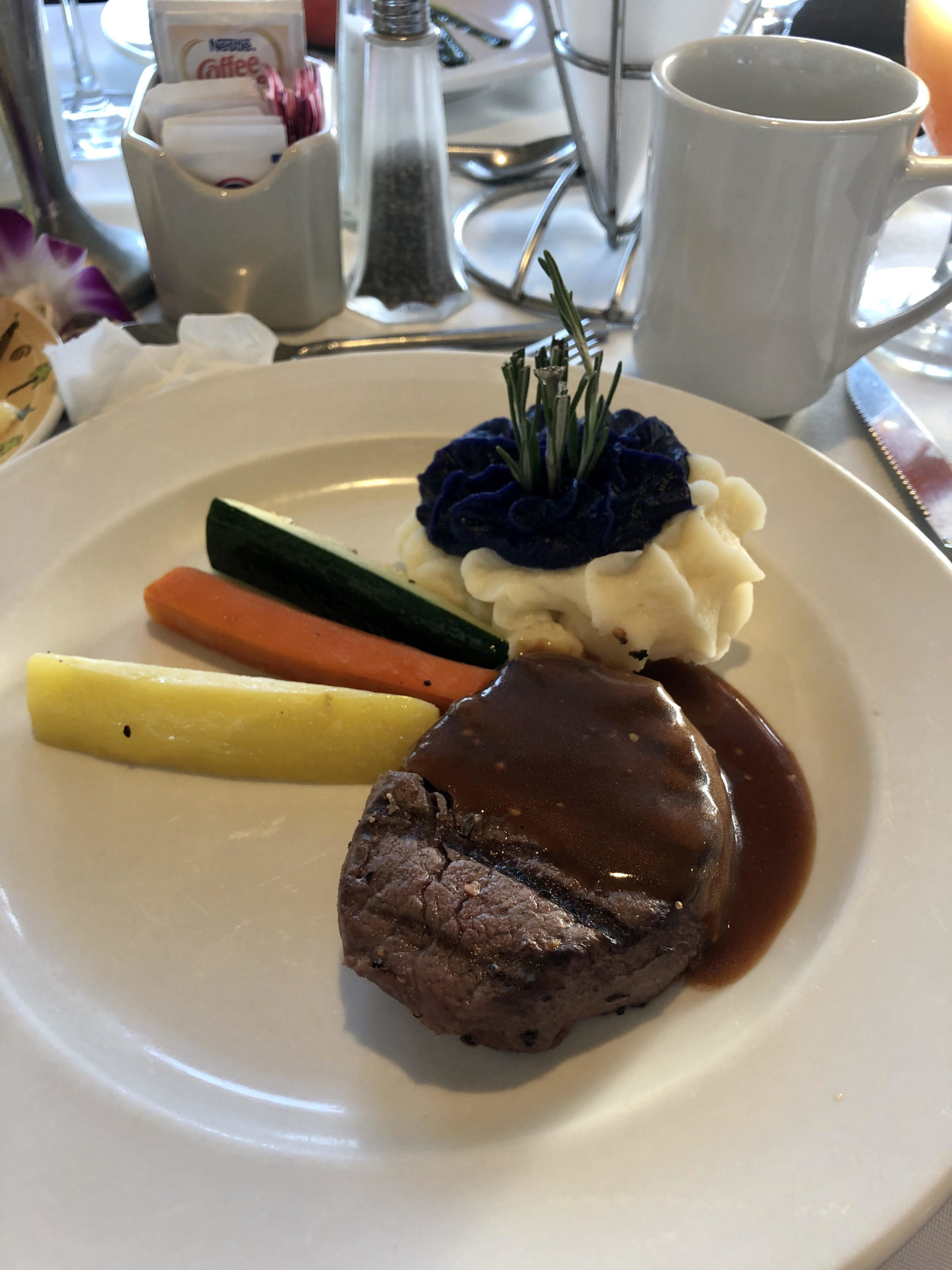 Throughout dinner they switch to live Jazz music that you get to enjoy which was a nice touch!
The last course we ate was dessert, which is usually my favorite part of meals. We had a piece of mango mousse cake with white chocolate garnish.
Sadly, I'm not a huge fan of mousse cake, but if you are then you're in luck!
Enjoying the Sunset
We got up a couple of times in between courses to get a closer look at the sunset and to walk around the Star of Honolulu a bit.
The biggest perk of being on a boat is being able to walk around the deck, so I wouldn't be shy about doing that at all!
We had a gorgeous sunset, so we didn't want to miss out on getting that classic sunset picture!
Luckily, with our table right by the window, we could easily see the sunset from our seat, so that was nice to have as our backdrop during dinner.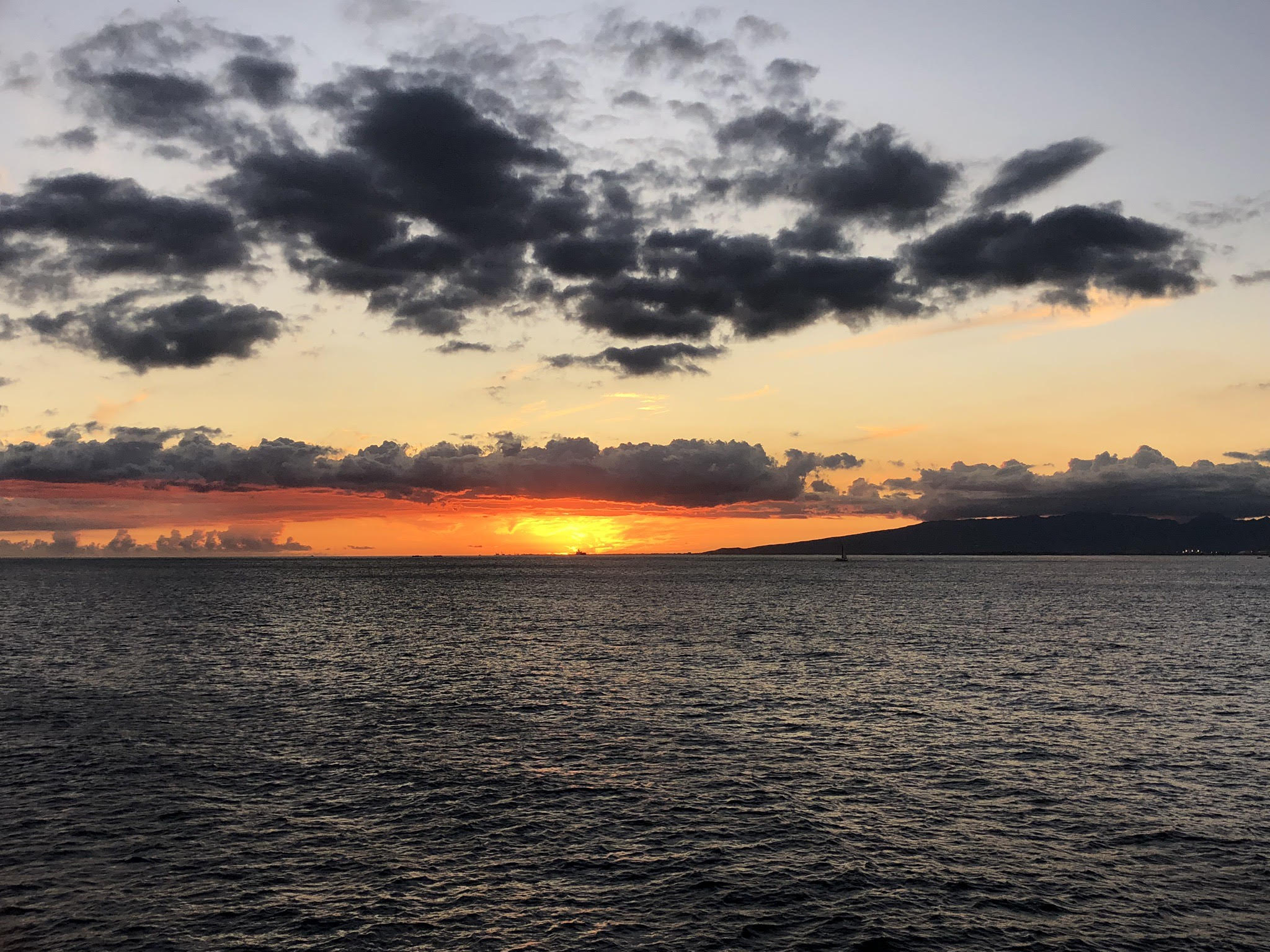 To conclude the evening is their 60 years of Aloha show that the Star of Honolulu puts on!
This show mixes traditional and modern dances found throughout Polynesia.
The dancers invited the audience to come up and dance, too, which added a fun twist! They even called out for anyone celebrating their honeymoon or anniversary for them to have a dance which was so sweet to watch!
Conclusion
Overall, we had a great time and I would definitely recommend this cruise!
The food and service were great and we got to enjoy it while witnessing the most gorgeous sunset!
Star of Honolulu also offers a couple of different things for special occasions! You can choose to add a private window table if you'd like. A cake and bottle of champagne are also available if you really to make it even more special!
They also have the option to add a professional photo that they will take of you as well which is something  nice to have to be able to look back on to remember the evening.
I would definitely recommend looking into these if you are celebrating something special or if you just want to make it a special dinner!
Book the Star of Honolulu Three-Star package on HawaiiActivities, or check out the Five-Star, Star, or Pacific Star packages today!
---
Moving from Alabama to Hawaii, Ashton is excited to share her experiences of traveling throughout the islands. When not helping guests book their dream vacation as a resident Hawaii travel expert, you can find her on the beach, hiking or doing yoga!
All author posts