Rock-A-Hula is the most unique show you'll find in Hawaii. Mixed between a luau and a concert, this entertaining night show will not disappoint you. There is nothing quite like it!
What is Rock-A-Hula?
This unique show incorporates pop hits from the 1920s to the present, while tying in traditional Polynesian dances throughout it all.
Rock-A-Hula is not a traditional luau. Rather, it is more of a night show.
If you are looking for a more authentic Hawaiian experience, I would recommend luaus in Oahu like the Hilton Hawaiian Village Starlight Luau or Chief's Luau.
I was able to experience Rock-A-Hula with some co-workers. We had the "Green Room & Backstage Tour with a 4-Course Dinner" package.
This is the ultimate experience and the most expensive option; basically it has all the bells and whistles.
Before the Show
When we first arrived at Rock-A-Hula, we were welcomed with a hula dance with live music.
They showed us to the Green Room where we enjoyed complimentary champagne in the lounge area and took photos with the star of the show.
After sipping on the champagne and chatting, we began the backstage tour. It was very interesting to see what goes on behind-the-scenes at Rock-A-Hula.
We saw the props and costumes up close and were given the chance to try them on to take photos.
The guide was informative and explained the operations of the production. The tour made me more appreciative of the workers behind the stage.
After the exclusive Green Room tour and Backstage Tour we were brought to our table for the rest of the night.
Rock-A-Hula is held in a large indoor theater, with rows of seating up above in the mezzanine section and tables/chairs at stage level.
The mezzanine seating is for the standard luau package or the show only package. With this view you will be able to see the show from above.
The VIP stageside seating is for the Green Room package and the VIP package. This seating area is located closest to the stage, which lets you see the performers up close. However, it makes it harder to take in the views of the show as a whole.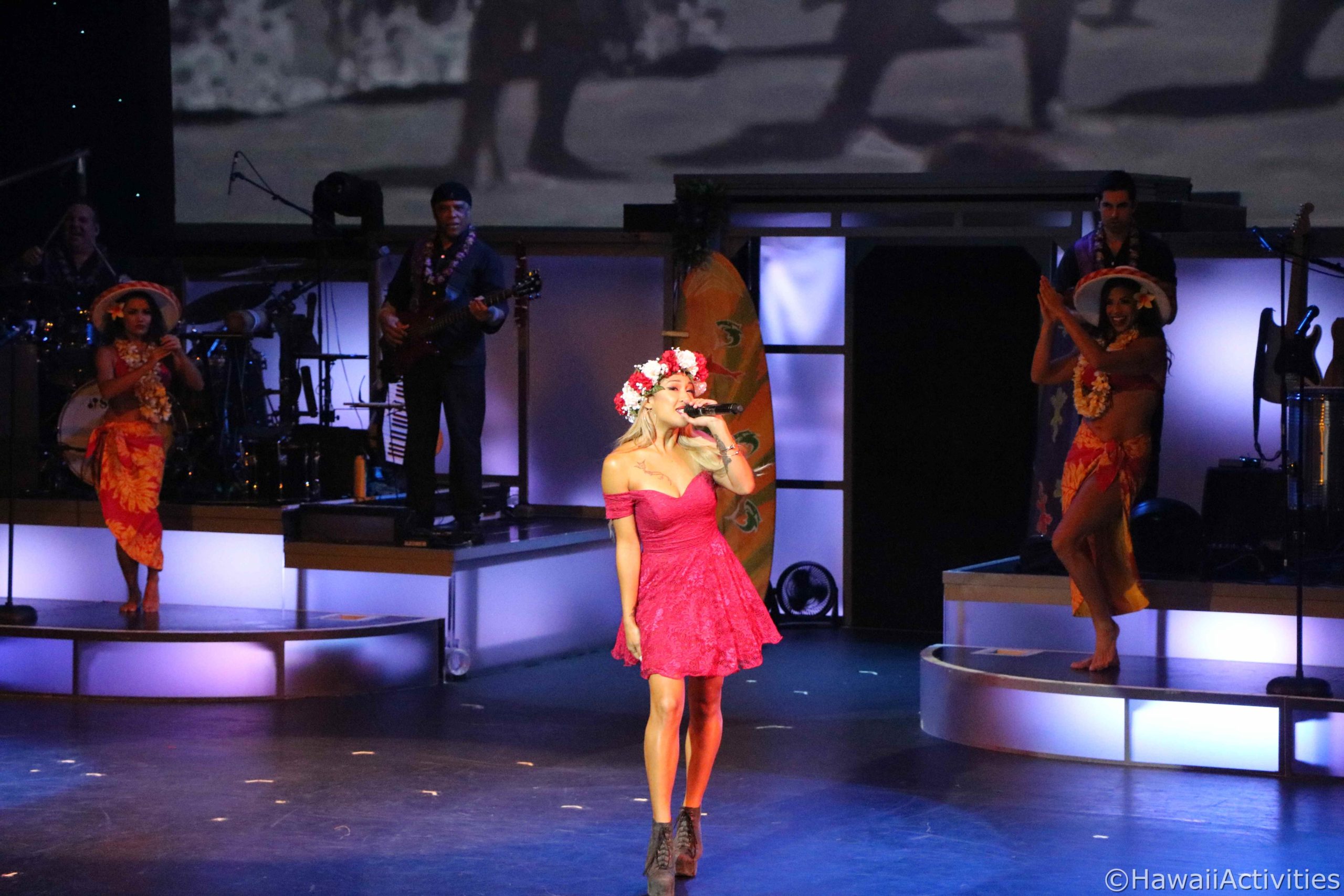 Different Ways to Rock-A-Hula
With the "Green Room & Backstage Package," we had a full 4-course dinner. It included Maine lobster, tenderloin of beef, Alaskan salmon, sauteed vegetables, black truffle mashed potatoes, and a pineapple/macadamia nut dessert. In addition, Coffee and tea as well as one cocktail are complementary with dinner.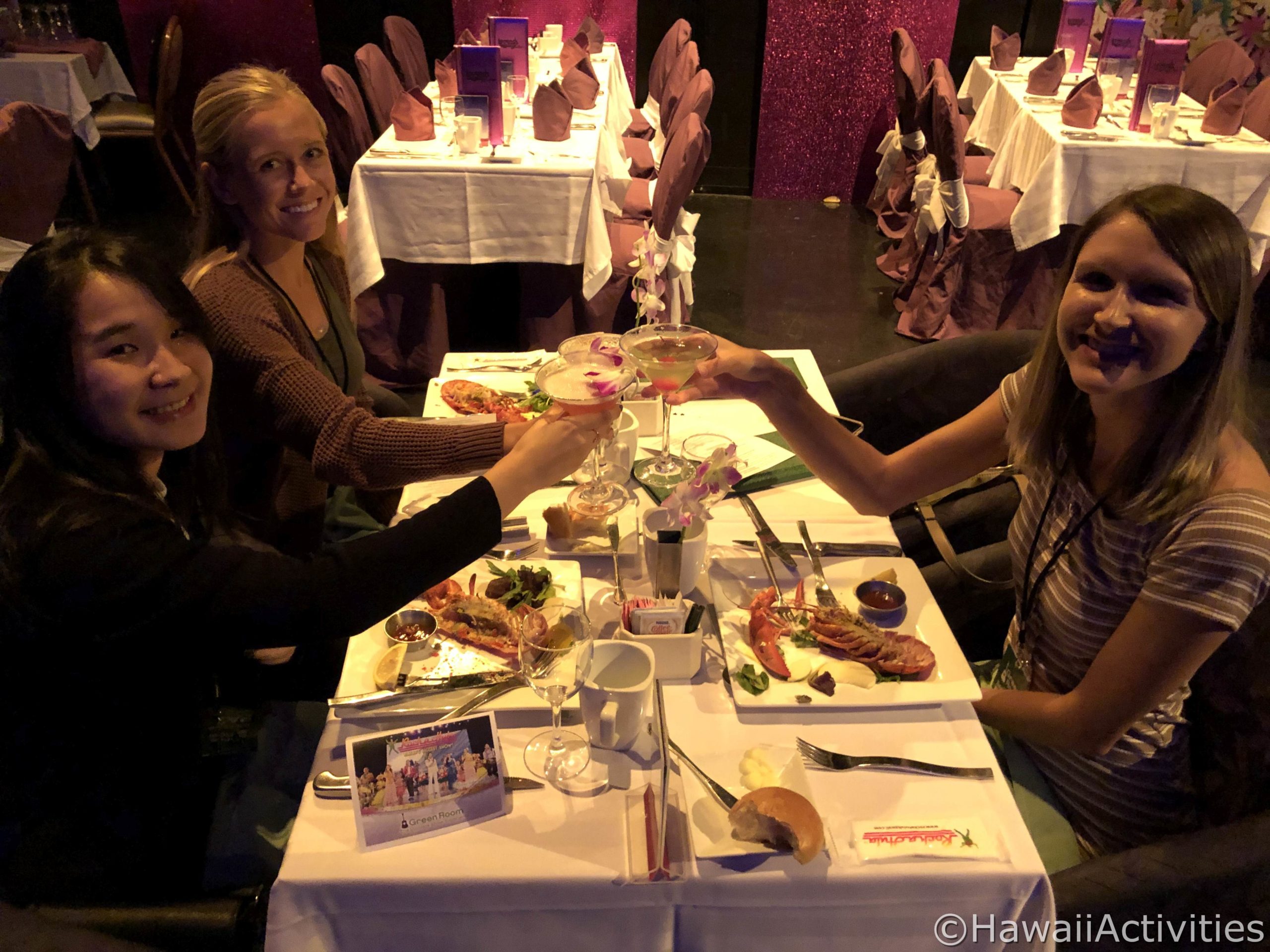 There's also a "VIP Package" if you're looking for an upgrade. This package includes a 4-course dinner, 2 cocktails, VIP table seating, and a VIP reception.
The VIP reception includes 30 minutes in a private lounge. Here, you can enjoy your welcome Mai Tai and chat a bit before dinner.
After this, you will sit at your stageside table where you will enjoy dinner prior to the show. The 4-course dinner is the same as the "Green Room Package."
Also available is the "Luau Package," which includes a luau buffet dinner with live Hawaiian music, a welcome Mai Tai, and premier seats in the mezzanine section.
The luau dinner is held at the open-air TreeTop Lanai on the top floor with views of the Waikiki skyline.
In contrast to the VIP dinner, the dinner buffet includes a large spread of popular Hawaiian luau dishes. You'll be treated to a buffet of local favorites such as a whole roasted pig, huli huli chicken, and island fish.
The "Show Only" package is the only one that does not include dinner. Therefore, if you're booking this package, I would recommend making a reservation at a restaurant to enjoy a nice meal in Royal Hawaiian Center prior to the show.
There is also a large selection of different add-ons you can purchase with this show: variety of wines, cakes, or a souvenir photo. These are small additions that can make your night a little more special!
The Rock-A-Hula Experience
The stars of the show are Elvis Presley (Johnny Fortuno), Michael Jackson (Brandon Jones), and local artists who sing covers and their originals!
Rock-A-Hula lets you see Elvis perform some his most famous songs right here in Hawaii, his favorite place. Likewise, you will take a step back to the 80s and see Michael Jackson perform his hit songs and famous dance moves.
Not only do you get to experience the King of Rock and the King of Pop, but also a variety of Polynesian performances and dances. The performers are very multi-talented in pop acts as well as Hawiian hula, Tahitian dance, and fire knife dancing.
The show itself lasts 75 minutes and is a very exciting, fast paced performance. Afterwards, everyone has the opportunity to meet the cast and take photos with them!
Where is Rock-A-Hula?
Before I went to Rock-A-Hula, I would have never guessed that a large theater like this was located right in Waikiki! It's conveniently located and easy to find.
At the Royal Hawaiian Center, follow the directory to the Royal Hawaiian Theater. It is located on the fourth floor of building B.
There are plenty of shops to browse through, if you would like to shop around before or after the show.
Located near the shopping center is Royal Hawaiian Hotel and Sheraton Waikiki, both with very beautiful properties.
If you have time to kill before the show, you can walk around these hotel grounds or grab a drink at one of their bars.
MaiTai Bar is located beachside at the Royal Hawaiian Hotel. Sheraton Waikiki has a casual bar overlooking the water called "Edge of Waikiki" as well as the popular RumFire Waikiki.
Out of these 3 options, I would recommend RumFire the most. They have a beautiful inside atmosphere as well as outdoor seating to take in the views of Diamond Head and Waikiki beach. Their Lilikoi Martini is my favorite!
If you're booking the show only package, I also recommend getting dinner at a nearby restaurant beforehand.
One recommendation is Doraku, which serves very delicious sushi. I love the fun atmosphere inside.
On the other hand, if you'd prefer a menu with a wider selection, Cheesecake Factory is also located in Royal Hawaiian Center.
Alternatively, there is also Wolfgang's Steakhouse, PF Changs, and Noi Thai Cuisine all located nearby if you'd like to have dinner before the show!
Rock-A-Hula offers transportation available for $15 from Waikiki and $34 from Kahala.
But before purchasing transportation, take a look at how far away your hotel is from Rock-A-Hula. There is a good chance that it is within walking distance if you are staying in Waikiki!
Who will enjoy Rock a Hula
This show is open for all ages. Since it is so vibrant, colorful, and exciting,I think most kids would be able to sit down and enjoy the show for its entire duration.
If you plan to bring younger children I would probably recommend the Luau package. This way, your kids will be able to get some energy out prior to the show, then be in the theater right before the show starts.
The "VIP Package" or "Green Room Package" might be more difficult to manage with children. Kids are probably uninterested in the VIP reception, backstage tour, or green room tour. In addition, the 4-course dinner lasts 1.5 hours, which is a long time to have a kid sitting at a table before the show even starts!
Conclusion
If you travel to Hawaii frequently and feel like you have seen everything it has to offer, think again. Rock-A-Hula is the most unique show you will find in Hawaii, and it is a great way to have an exciting evening.
Mixed between a luau and concert, this show tells a collective story through pop hits from the past 100 years. After the show, Michael Jackson and Elvis Presley will most likely be the soundtrack for the rest of your trip.
Book your seats for Rock-A-Hula today with HawaiiActivities.
---
Born and raised in San Diego, Hawaii has always been Bailey's second home. She moved to Oahu four years ago and in addition to being a Hawaii travel expert, she enjoys spending time outdoors and cooking.
All author posts