The Polynesian Cultural Center is like no other luau on Oahu.
Located on the North Shore, they offer way more than just a luau where you watch a show and eat dinner. You can literally spend all day here if you want to!
Getting to Polynesian Cultural Center
Since they're a bit out of town, they offer transportation from Waikiki. If you drive yourself, be prepared to drive about an hour or so depending on traffic!
It's a nice drive out though! If you haven't been to the North Shore yet I would definitely recommend spending the day up there.
It's a nice change of scenery from the crowded Waikiki beaches and there is so much to do!
You could make a stop at the popular shrimp truck, Giovanni's, or venture into Haleiwa which is full of cute shops, restaurants and cafes.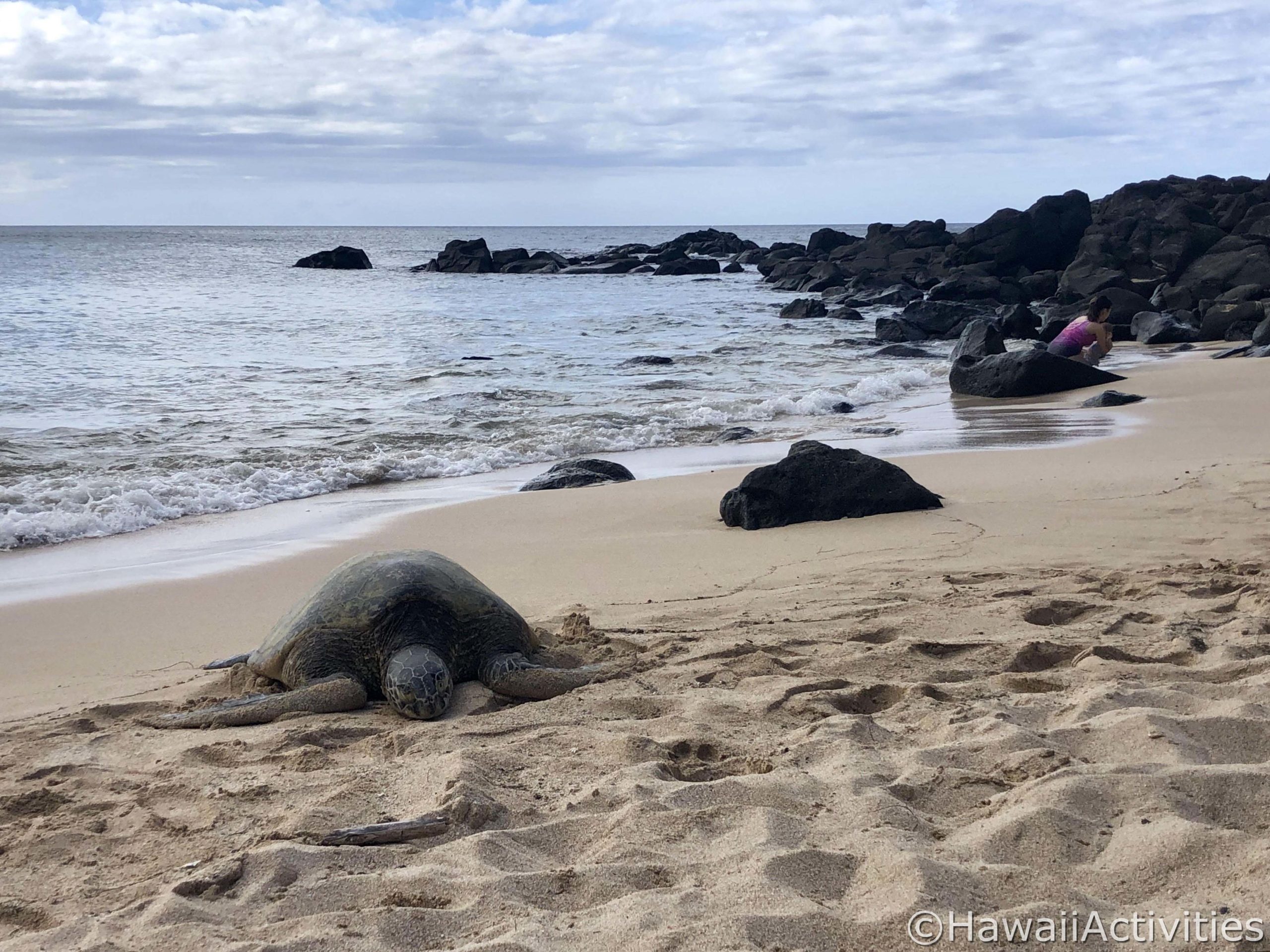 I would also recommend stopping at Laniakea beach which is a prime spot to be able to see sea turtles!
There is usually at least one turtle that will be lounging on the beach. Just remember that they are illegal to touch or handle, so just look from afar and snap as many photos as you would like!
Sharks Cove is a popular snorkel spot that is close by as well. The bay is about 8-15 feet deep and is a really calm place to snorkel during the summer.
If you're feeling really adventurous you could swim with some sharks while you're here!
There are several companies that operate shark tours out of Haleiwa small boat harbor. They taking people out to swim in a cage or even out of the cage if you're feeling super adventurous!
What's at Polynesian Cultural Center?
Well I could go on and on about the North Shore, but I'll get back to PCC now!
The Polynesian Cultural Center has 6 different Pacific island villages that you can walk through. At each village, they share entertaining presentations and traditions of their islands.
The six villages are Hawaii, Tahiti, Fiji, Samoa, Tonga, and Aotearoa.
Each island also has their own activities that you can do as well, such as games, canoe paddling, fire starting and cooking!
They also have a movie called the "Hawaiian Journey" presented in an-conditioned theater, so it gives you a chance to cool off a bit!
If you're tired of walking, you can always take a canoe ride across the lagoon. This ride conveniently takes you back to the park entrance, where you will be enjoying the rest of your evening.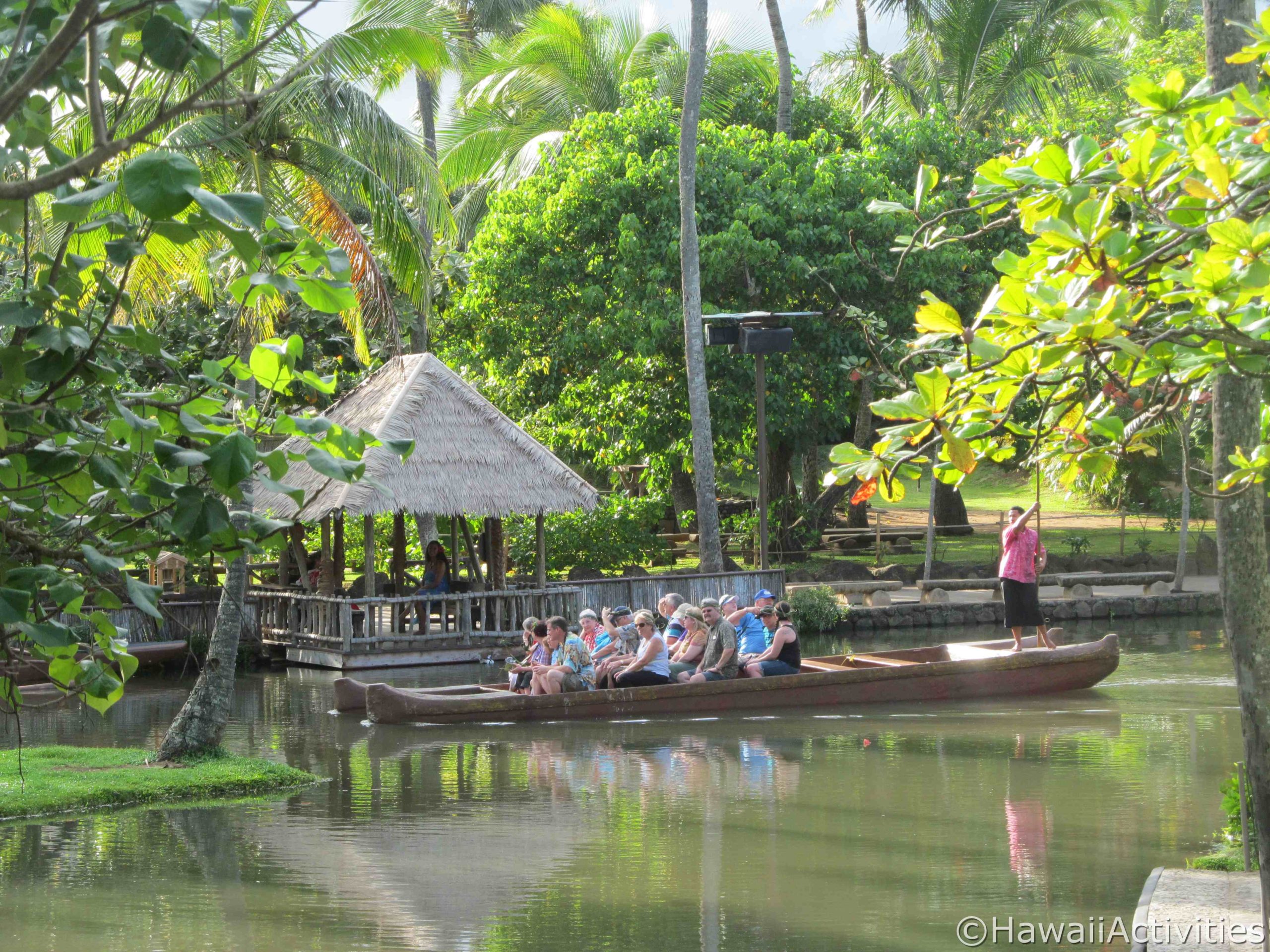 Before dinner you can take a short tram tour of the Laie area so that you can see the community that created the Polynesian Cultural Center.
Now do you believe me when I say there is a ton to here? All of this is done before dinner and the day isn't over yet!
Of course, you don't have to do all of this if you don't want to, they do have the option of just doing just the dinner and show if you don't want the full day pass!
Dinner at Polynesian Cultural Center
The Polynesian Cultural Center offers a couple of different dinner options depending on what package you get.
My friend and I did the Ali'i package, but you can choose between the Ambassador and Super Ambassador as well.
For the Ali'i package, they had a buffet dinner with a luau show. The menu had Kalua pork, island chicken, baked chicken, roasted white fish and teriyaki braised beef along with a fresh poke bar.
You also have a variety of sides to choose from of white rice, fried rice, honey roasted sweet potatoes, mixed vegetable medley and taro rolls with a salad bar as well.
I did like the variety of desserts they had at this luau. You could choose from pineapple bars, chocolate cake, bread pudding, cheesecake, haupia with toasted coconuts and fresh fruit.
The Alii Luau Dinner Show
While you are enjoying dinner, they are also performing on stage!
You will get to witness the Royal Court procession and other traditional dances that they put on.
There's also the presentation of the imu, which is an underground oven, where you can see them remove the roast pig!
All of this is held in their covered outdoor area with waterfalls and a lush garden in the background.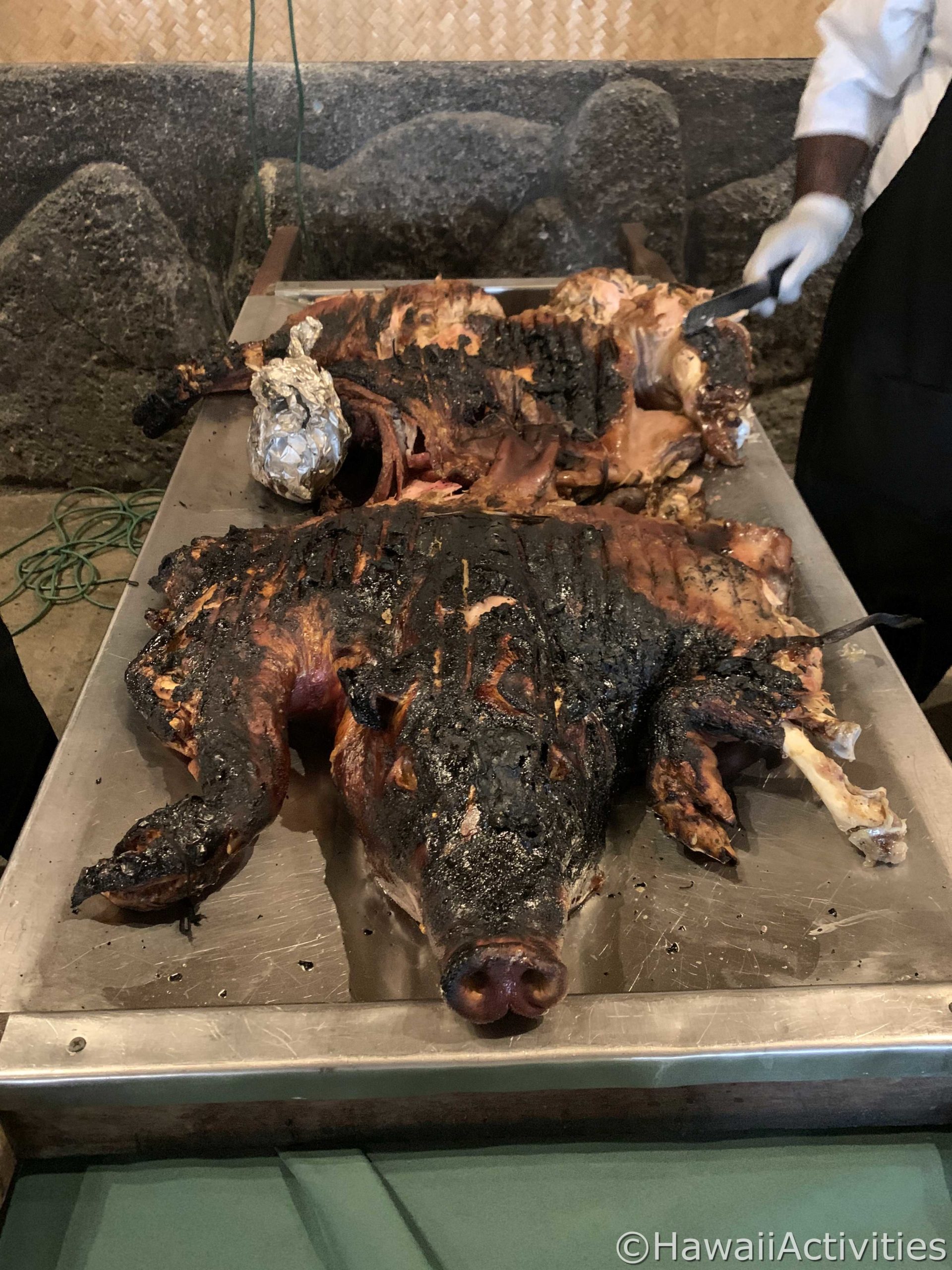 Browsing the Hukilau Marketplace
After dinner we had a little bit of time to walk around the Polynesian Cultural Center before heading into the "HA: Breath of Life" night show.
This was a great time for us to check out the marketplace! They had a variety of different stores, along with different stands that had local crafts and souvenirs.
There was an art gallery that we went into that had some of the prettiest paintings!
I also found a store that had the best variety of Christmas ornaments. I have several people in my family that like to collect Christmas ornaments, so that was a great place to get souvenirs.
They also have a couple of food stands and a restaurant as well if you get hungry during the day.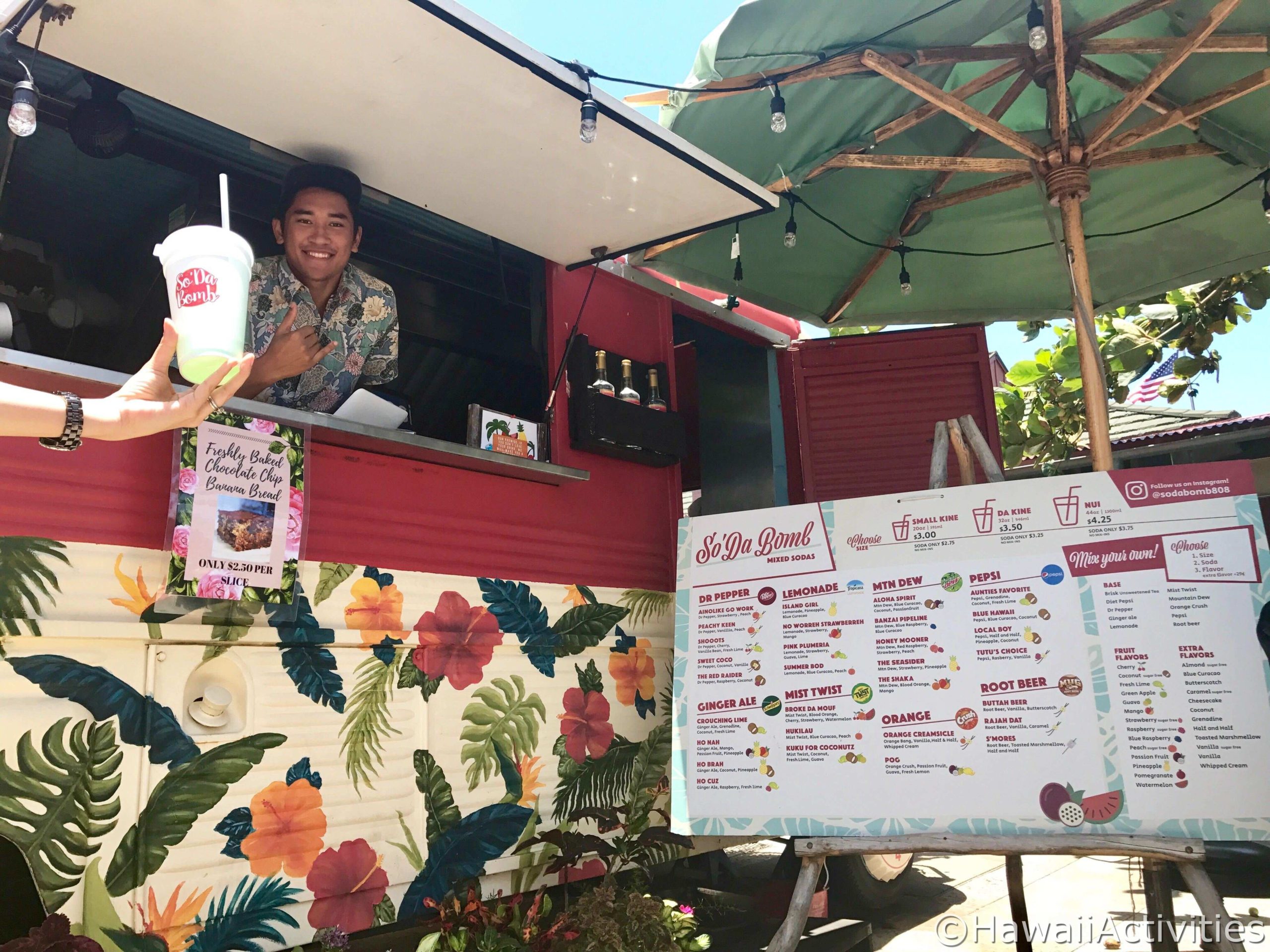 We had some guacamole at the Mexican food stand when we first arrived and it was so yummy!
I can't pass up an opportunity for some guacamole and it definitely hit the spot.
Now it was time to head to the night show!
The HA: Breath of Life Night Show
This was my favorite part of the whole night at the Polynesian Cultural Center. We had a great view in our section with the Ali'i package.
Seating for the night show is based on which luau package you purchased.
They put on an amazing show that features over 100 Polynesian performers along with a variety of special effects.
The show tells the story of Mana, a young Polynesian boy.
Over the course of the show, Mana visits each of the the different cultures of Polynesia. At each island, he learns something and grows into a man.
It was a very entertaining show; I loved seeing all of the different types of costumes that they used.
They even have fire knife dancers at this luau as well. With this being the first luau that I went to, I was amazed!
I think they had about ten fire knife dancers that night. It was fascinating to watch them be able to spin them so fast and throw them so far! It was a highlight of the night for me for sure.
Conclusion
Well, the night at the Polynesian Cultural Center was over now and it was time to head back to Waikiki. You will be getting back pretty late after the show. HA: Breath of Life ends at around 8:45 pm, and it's an hour drive back.
If you're anything like me though, you will just take a nap on the bus after the eventful day! Most people on our bus had the same idea, so we weren't the only ones.
This is definitely a good way to spend one of your days while you're here. It's great for families, too, since there is so much to do!
You can either choose the 12:00 or 2:00PM start time or you can just do the dinner and show. I would definitely suggest doing it all if you want the full effect!
Whatever option works best for you, you can compare and book on HawaiiActivities to find the perfect way to experience the Polynesian Cultural Center.
---
Moving from Alabama to Hawaii, Ashton is excited to share her experiences of traveling throughout the islands. When not helping guests book their dream vacation as a resident Hawaii travel expert, you can find her on the beach, hiking or doing yoga!
All author posts