Hawaii is a beautiful and diverse place, rich with natural resources and unlike any other place in the United States.
That's why it's such a popular destination for visitors. It's so different from what many travelers are used to.
All these facts combine to make it an amazing backdrop for any movies or shows that are looking for a natural setting, and not just tropical settings, either, since the Big Island alone has 8 of the 13 Koppen climate zones in the world.
Beginning in the 1950s, Hollywood studios started taking full advantage of this.
The first films to be produced in Hawaii were piggybacking on the increased attention that Pearl Harbor received during World War II (From Here to Eternity).
Later, films would go on to cover the history and culture of Hawaii (Hawaii) as well as take advantage of the romantic atmosphere (South Pacific, Blue Hawaii).
Finally, films with larger production budgets would start using the natural landscape and undeveloped parts of the island for movies set in "untamed wilderness" (Raiders of the Lost Ark).
All the while, Hawaii was becoming more and more popular for visitors as its market appeal grew and travel became more affordable.
The coincidence of increasingly popular films being set in Hawaii actually magnified this effect, bringing in a new type of tourist that would come to Hawaii to visit the locations where their favorite films were shot.
An increased number of television series being produced in Hawaii helped as well, with shows such as Magnum P.I., the original and remake of Hawaii Five-O, and the more recent drama Lost.
Film tourism has become a major travel trend, and it's a great reason for people to come and experience the beauty of Hawaii.
We've put together a list of major films and TV shows that were set in Hawaii, as well as listed the specific places they were shot (where possible).
If you're planning to visit the islands and are a fan of any of these shows, take the time to visit the locations—you won't regret it!
We've added links throughout the article to help you find tours and activities in each area. You can also check out movie-themed sightseeing tours on Kauai and Oahu, which take you around the island to visit locations made famous by Hollywood.
From Here to Eternity (1953)
Remembered for the famous kiss on the beach between Burt Lancaster and Deborah Kerr, From Here to Eternity, based on the novel of the same name, is famous for its honest portrayal of military life during peacetime.
Filmed on Oahu, the aforementioned scene was set at Halona Cove, a popular tourist attraction even today.
Other locations featured in the film are Schofield Barracks, Waialae Country Club, and the Royal Hawaiian Hotel.
South Pacific (1958)
Based on the musical, South Pacific topped the box office its release year, despite criticisms of the film's use of color.
Arguably the most memorable number is Bali Ha'i, a haunting melody about a mysterious and off-limits paradise. In the film adaptation, the volcano Bali Ha'i is portrayed by Mount Makana on the north shore of Kauai, with the scene being shot on Hanalei Bay.
Even today, Mount Makana is often referred to as "Bali Ha'i."
Blue Hawaii (1961)
The first of the Elvis films to be shot in Hawaii, and an influential film that brought Hawaii into the limelight as a major tourist destination, Blue Hawaii is a musical romantic-comedy that also had ties to military.
Set mostly in Waikiki and around Diamond Head, several scenes were filmed around the Hilton Hawaiian Village.
Much of the film was shot at the Coco Palms Resort, which has since been abandoned due to damage from Hurricane Iniki in 1992. The Resort is scheduled to be reopened after restoration in 2018 under Hyatt.
Gilligan's Island (1964 – 1966)
One of the first TV series to use a tropical setting, Gilligan's Island ran for three seasons and was shot mostly in a studio.
The scenes they couldn't pull off in-house, however, were filmed in Hanalei, on the north shore of Kauai.
The footage for the opening theme was taken in Honolulu Harbor and in Kaneohe Bay, with Mokuoloe (Coconut Island) visible in the background.
Hawaii (1966)
An epic drama and the first of many Hollywood films to discuss Hawaiian culture, Hawaii tells the story of a missionary and his wife (portrayed by Max von Sydow and Julie Andrews) as they move to Hawaii in the 1820s.
Set in Lahaina and Honolulu, the film was shot in multiple locations around Oahu.
Hawaii Five-0 (1968 – 1980)
Combining the popularity of police procedural dramas with the increasing marketability of Hawaii, Hawaii Five-0 was, at the time, the longest-running police drama on American TV.
It was also one of the few major filming projects in Hawaii at the time, a fact that the cast and crew felt keenly as many locals who were hired to work on Hawaii Five-0 were forced to learn on-the-job due to lack of previous experience or training.
Despite the logistical issues, almost every episode of the series was shot in Hawaii on location or in studios at Diamond Head and Pearl City, with each episode proudly proclaiming that it was "filmed entirely on location in Hawaii."
Raiders of the Lost Ark (1980)
While not set in the islands, the original Indiana Jones film owes Hawaii more than just a few locations: the film only began to materialize when George Lucas and Steven Spielberg discussed making an action-adventure film while on vacation in Hawaii.
Much of the forest-based scenes were shot on the island of Kauai, including Huleia River in Kipu Ranch.
Magnum, P.I. (1980 – 1988)
Another popular crime-related series filed on location in Hawaii, this time focusing on a private investigator that takes cases he wants and lives as a guest in someone else's beachfront mansion.
Said mansion is actually a real residence in Waimanalo, on the southeast side of Oahu, and was recently sold for a cool $8.7 million.
Other locations featured in the show include Ala Wai Harbor, Bellows Air Force Base, the airport, and various locations around Chinatown and Waikiki.
Jurassic Park (1993)
Another Spielberg film, Kauai was chosen for the location of Jurassic Park in part due to past work done there for Raiders of the Lost Ark.
In a stroke of misfortune, filming in 1992 was interrupted by Hurricane Iniki, which hit Kauai hard on September 11, becoming one of the costliest hurricanes the U.S. had seen so far.
On the plus side, some of the storm footage in the film was created by the hurricane itself.
Filming resumed in Kualoa Ranch on Oahu (where you can still do a film tour), with additional scenes also completed in Haiku on Maui and on the (private) island of Niihau.
50 First Dates (2004)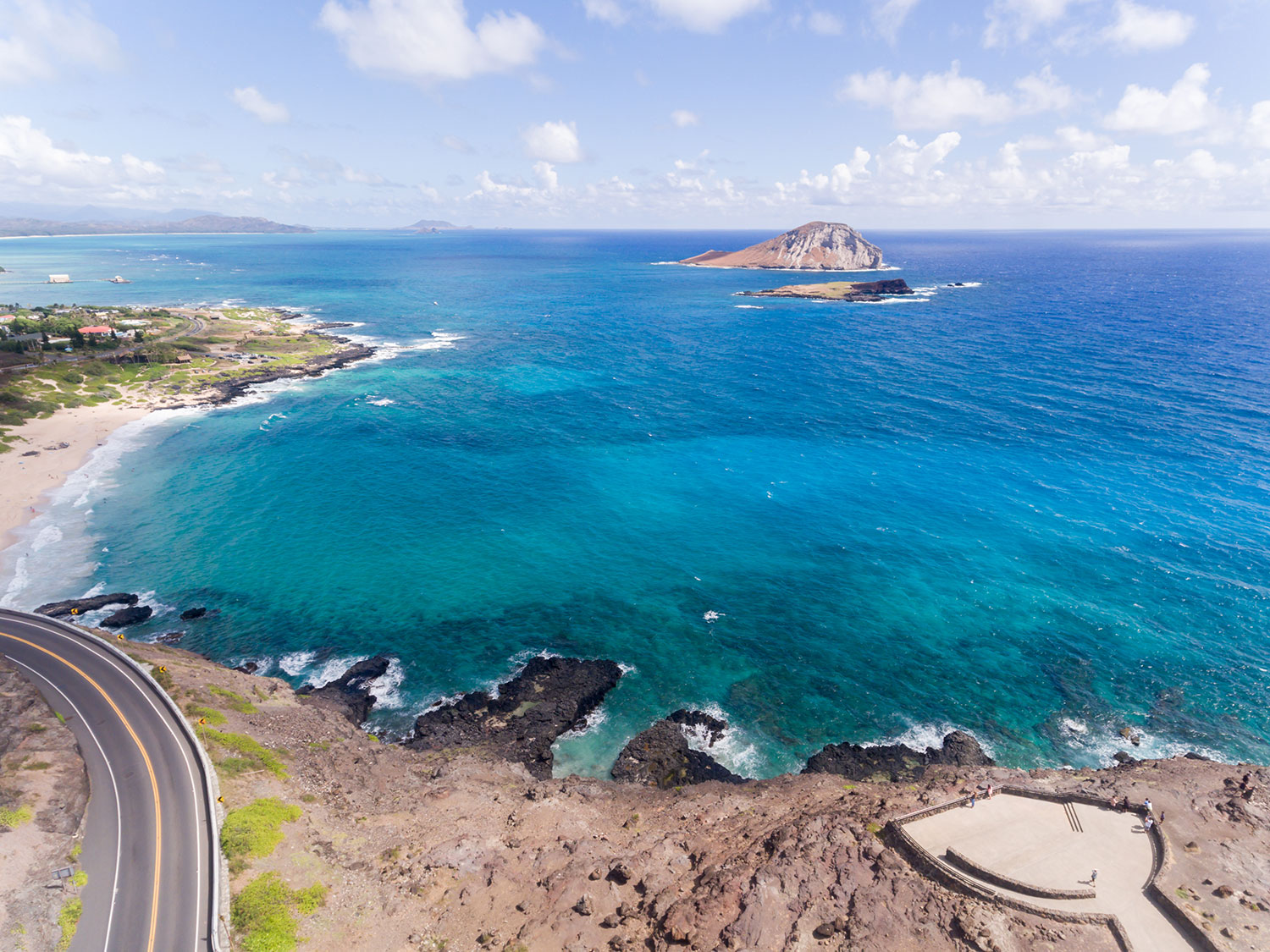 A romantic comedy starring Adam Sandler and Drew Barrymore, 50 First Dates is both set and filmed in Oahu, incorporating real-world places such as Sea Life Park, Waimanalo, Kaneohe, and Makapu'u.
Lost (2004 – 2010)
A supernatural drama series, Lost is set on a mysterious tropical island and features victims of a plane crash trying to find a way to escape.
The show was filmed almost entirely on Oahu, promoting various North Shore beaches for the scenes set on the island. In addition, various areas around the city of Honolulu were used as stand-ins for international locations, with creative usage of props and special effects.
Forgetting Sarah Marshall (2008)
Yet another romantic comedy set and filmed in Hawaii, though this one's a little less family-friendly.
Forgetting Sarah Marshall is set and shot specifically at the Turtle Bay Resort on the North Shore of Oahu, where the main character goes on vacation to forget his ex-girlfriend, only to find that she's also visiting Turtle Bay with her new boyfriend.
Filming was done entirely on-location in Hawaii and Los Angeles.
Tropic Thunder (2008)
A satirical comedy set in Vietnam, Tropic Thunder chose Kauai for the majority of its filming due to its thick tropical forests.
Director Ben Stiller is reported to have spent over a month exploring the island land, sea, and sky, before choosing it as a location over Mexico or Southern California.
Moreover, Tropic Thunder was one of the largest film productions on the island to date, contributing more than $60 million to the island's economy.
Hawaii Five-0 (2010 – 2020)
A remake of the original television series, the new Hawaii Five-0 has been ongoing since 2010.
Filming continues around Oahu, closing off select areas around the island for short times while new seasons are being shot.
The popularity of the series has helped boost various local businesses, including more visitors to Pearl Harbor, more shave ice sales, and rising popularity of Kona Brewing Company beers (Steve's favorite).
There are also sightseeing tours that cater specifically to Hawaii Five-0 fans!
Soul Surfer (2011)
Soul Surfer is a biographical drama that tells the true story of Bethany Hamilton, a surfer that lost her arm in a shark attack at 13, but was determined to continue surfing and goes on to compete in surfing competitions despite the loss of her arm.
Hamilton, born and raised on Kauai, was heavily involved in the production of the film with the rest of her family. The majority of the filming occurred in Hawaii, with Hamilton herself doing the surfing scenes.
The Descendants (2011)
A drama film starring George Clooney, The Descendants focuses on family, relationships, and legacy—themes that resonate strongly with the chosen backdrop of the Hawaiian islands.
Clooney plays a Honolulu-based attorney who is the sole trustee of 25,000 acres of land on Kauai.
Most of the film was shot in Hanalei Bay on the north shore of Kauai, with additional scenes filmed at Kipu Ranch on Kauai and in Honolulu, Oahu.
---
Having grown up in Honolulu, Jason writes for HawaiiActivities to help share the beauty of the islands with visitors.
All author posts