Hawaii is a magical paradise that invites millions of visitors each year, and even though the weather is usually balmy and beautiful, and the beaches inviting, it can often be difficult to find family friendly activities that are suitable for all ages. Luckily one of most quintessentially Hawaiian activities is also one that is great for those young and old…a traditional luau!
With its combination of delicious food and unforgettable entertainment, a family friendly luau is one of the most popular activities to do when visiting the islands of Hawaii. Not only is it a fantastic way to experience Hawaiian and Polynesian culture, but also a great way to celebrate special occasions, or simply have a wonderful evening out with friends and family of all ages.
What is a Hawaiian luau?
First and foremost, a luau is a celebration, a party filled with food an entertainment. It is said that the first rendition of the modern day luau began back in 1819 when King Kamehameha II ended the segregation of men and women eating together. He also allowed food that was once only allowed for royalty to be eaten by commoners. Once men, women and children could eat together, and all of the many food delights could be eaten by everyone, the iconic Hawaiian celebrations or "luau" began.
In modern times, a luau is often held by families for birthdays, graduations, weddings, and other big events. It is often a huge event where family and friends from across the state and beyond come to celebrate, and with lots of live music and dancing, it is normally a full day of food and fun.
For those coming to visit the islands of Hawaii, you may not have the opportunity to experience a local luau. However there are authentic luau that can be found all across Oahu for you to experience!
Which luau are best for kids?
While adults often enjoy luau for their entertainment, food and drinks, kids can often find themselves looking for things to do to keep themselves entertained. One of the good things about the family friendly luau that we have chosen are that these top-rated Oahu luau are not only fun for adults, but also great for kids too. We have hand selected the best luau for you and your family to have the time of their lives while on Oahu!
When we chose these luau, we wanted to be sure that you and your whole family would have fun. With such a wide variety to choose from. we have selected the best authentic luau in Hawaii that both kids and parents will always remember. Get ready to get a taste of the islands from these amazing Hawaii luau choices:
Paradise Cove Luau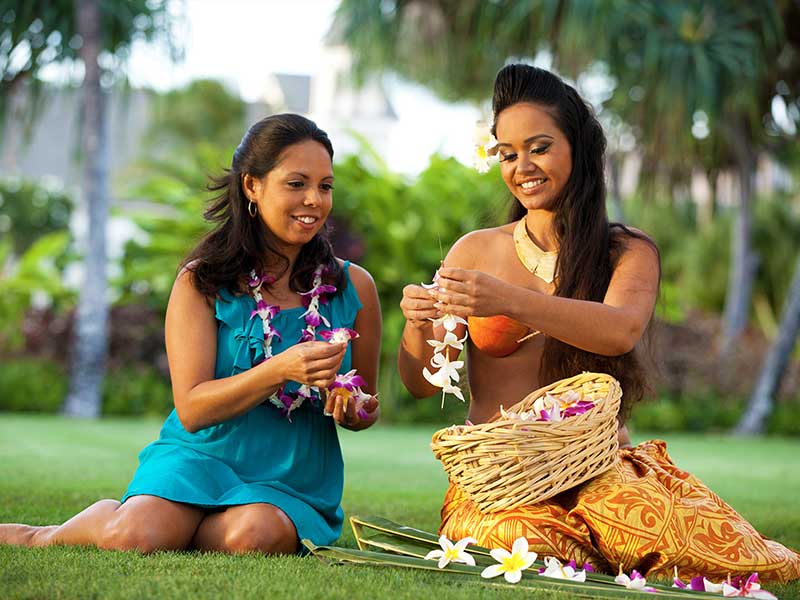 Located on the west shore of O'ahu in the Ko Olina resort area, the Paradise Cove Luau is one of the few beachfront luau on the island. One of the great things about this authentic Hawaiian family friendly luau that makes it great for kids are the pre-dinner activities. There are many things for kids to enjoy while at the Paradise Cove Luau, including games, crafts, and more. Keiki, or children in Hawaiian, will find themselves with lots to do once you check-in.
Canoe Rides: Hop on a canoe, and enjoy a quick canoe ride around the calm and sheltered bay. Not only is this a great way to experience one of the ways that ancient Hawaiians explored the ocean, but you and the kids can do it in a safe and secure way.
Lei Making: Although you will receive a lei when you arrive, the kids can also learn how to make one themselves! Sit down with one of the cultural experts and see how these beautiful garlands of flowers are made.
Polynesian Tattoos: Don't worry parents, these aren't permanent! But kids will have lots of fun getting their arms decorated with Polynesian designs, and they make for great photo opportunities as well.
Hawaiian Games: Kids will have lots of fun as they take part in traditional games like Ulu Maika which is similar to bowling. Take a try O'o Ihe which involves throwing a spear at a target.
Key Point: Lots of activities for kids to enjoy!
Waikiki Starlight Luau
Waikiki is definitely the most bustling area of O'ahu, and also has most of the islands resorts and hotels. Most guests to O'ahu choose to stay in Waikiki due to it's convenient location and beautiful beaches. For the families that choose Waikiki as their vacationing spot, the Waikiki Starlight Luau is one of the best choices for families with kids.
The luau is conveniently located within the Hilton Hawaiian Village, and is a quick walk from many Waikiki hotels and vacation rentals. Instead of having to wrangle the kids for an hour long bus ride, you can either walk or take less than a five minute car ride to one of the best luau in Hawaii.
Once you are there, kids will enjoy some pre-show activities like lei making or learning how to dance a hula. The main perk of this luau and what makes it great for kids is that there is a separate buffet tailor made for kids! The more exotic choices of kalua pork (Hawaiian-style pulled pork) or lomi lomi salmon (salmon and tomato cevice) can sometimes be too much for the keiki. With that in mind, the kid's luau buffet includes BBQ meatballs, teriyaki chicken bites, tater tots, corn on the cob, and fresh fruit.
Now everyone who attends can be sure to find something tasty to eat before enjoying the amazing Polynesian performance!
Key Point: A separate kids buffet is available!
Toa Luau
Waimea Valley, an area in O'ahu's famous North Shore, has been a popular destination for residents and visitors for decades. Both an Audubon center and a botanical garden, Waimea Valley features one of the best collections of Polynesian plants in the world, and a waterfall where you can safely swim and explore.
The Toa Luau has its home in this amazing location, and not only do you get a free day pass to explore the area before the luau, but the luau features a number of activities that are sure to keep the kids having fun and entertained.
Depending on how early you arrive, keiki will have plenty of time to have fun before the luau begins. For the kids that are feeling adventurous, arrive at least two hours in advance, and they will have time to jump into the water and splash under a waterfall. You parents and guardians won't have to worry since flotation devices are required, and there is a place to rinse off and change as well.
Once the luau begins, there will be a number of hands on crafts and activities like weaving a headband from coconut fronds, learning how taro is pounded to make poi, and twirling poi balls. No matter how young or old, your group will be sure to have tons of fun.
Key Point: Includes a day pass to Waimea Valley for outdoor adventures!
Polynesian Cultural Center Luau
If you are wanting a full day of family-friendly fun, there is no better place than the Polynesian Cultural Center. One of O'ahu's most popular attractions, the Polynesian Cultural Center provides a unique opportunity to experience the many cultures and traditions of Polynesia.
In one day you can visit Samoa and see how coconuts are picked and husked, and then head to New Zealand to lean how to do the haka or use poi balls. There is still more since there are areas to learn about Tahiti and Fiji, and even one of a kind canoe pageant in the afternoon.
If the kids start to get tired, you can escape the heat with one of the many IMAX movie presentations which make for a perfect respite during your exploration and adventures.
With so many activities, kids will be sure to find lots of fun things to do, and that doesn't even include the luau with all of its yummy food and incredible performances.
Key Point: Lots of activities from all across Polynesia to keep everyone in your group happy and entertained!
Frequently Asked Questions About Hawaiian Family Friendly Luau
Q. What makes a luau "family friendly"?
A. When selecting these luau, we made sure that they completed the following criteria. Does the luau have activities that would be entertaining for kids? Is there food that children with pickier or simpler tastes would enjoy? Would we want to take our own children, nieces, nephews and little cousins? If the luau answered "Yes," to at least two of those questions, they made it on to the list! We want to make sure that all family members have a fun and exciting time at the luau.
Q. What should I wear to a luau?

A. What you should wear is to a luau is actually quite simple. Since the weather in Hawaii is usually quite warm and balmy, you can leave the cold weather clothing at home. Instead, take your pick of some of these options when attending your choice of family friendly luau
Aloha or resort attire: Now is your chance to wear colorful aloha print or tropical clothing. You can even find matching sets for the whole family!
Contemporary casual: Do you have a cute sun dress that you have been looking forward to wearing? How about those new jeans and snazzy new t-shirt. Both a great options
Foot wear: Since most of the luau are held outdoors, shoes with high and thin heels are discouraged as they can sink into the grass and sand. Now is the time for some flip flops, sandals, or flat loafers and sneakers. Those attending the Polynesian Cultural Center will want to wear comfortable walking shoes since you will be spending some time walking and exploring the area
Outer wear: Even though O'ahu boasts amazing weather almost all year round, the evenings can sometimes get a bit chilly, especially if the tradewinds pick up. It is always recommended that you bring a light jacket or hoodie to wear just in case you get cold.
Q. What is there to eat at a luau?

A. Food is one of the featured aspects of any family friendly luau. You will be sure to find many mouthwatering dishes while you are there. Some of these yummy delights include:
Kalua pork: This is one of the most popular dishes and is often accompanied by the famous "imu ceremony." The is where the pig is cooked in a pit lined with heated lava rocks, well salted with sea salt, and then covered in leaves. This unique cooking method is often unveiled in a ceremony where guests will see the pig in all its glory. The pork is shredded and served to you!
Lomi lomi salmon: It is a delicious mix of fresh salmon, sea salt, sweet onions and green onions. Similar to ceviche, lomi means to rub in Hawaiian and all of the ingredients are mixed and rubbed together!
Poi: Made from taro root, poi is a staple of Hawaiian cuisine. Similar to potatoes and rice, poi was the main starch for many Hawaiians. The root is steamed or boiled, and then mashed into a paste. While the taste and texture isn't for everyone, you should definitely try it at least once.
Poke: While poke is making headlines around the world, authentic Hawaiian-style poke can often be found at a luau. Poke means a "cut piece" or "small piece," and features cubed raw fish that has been marinated in something as simple as sea salt and seaweed, to spicy mayonnaise. The simplicity is the key to Hawaiian poke!
What do others have to say about family friendly luau?
All of the amazing team members at HawaiiActivities.com personally attend and vet each and every activity on our website. We want to be sure that what we offer is the very best and what better way than to experience it ourselves.
Check out some of the experiences and reviews for first hand accounts of these family friendly luau:
COMING SOON!
---
Lani, our resident Travel Agent Relations Manager, as well as a Website Content and Hawaiian Cultural Specialist, is originally from Tokyo, and now splits her time between New York City and Honolulu. When she isn't hard at work, she can always be found dancing hula, finding her inner mermaid while swimming, and baking up storm!
All author posts