After months of waiting, the islands of Hawaii will once again reopen for tourism for guests arriving from the mainland United States with pre-travel testing.
With many airlines working in conjunction with testing facilities, travelers can now avoid the Hawaii's mandatory 10-day quarantine.
Here is a "how to" on what you will need to do to prepare for your Hawaiian vacation.
Step One: Book your flight
The first thing you will want to do is book your flight on one of the many airlines currently flying to Hawaii.
Take a look at the safety measures that the airline is putting in place for flights. This will ensure that you and your fellow travelers will arrive into Hawaii safe and sound.
Here are just a few ways how some airlines are keeping you safe:
To help create more distance between guests and employees, agents will scan a boarding pass from six feet away whenever possible.
Guests can print bag tags and check-in "touch-free" using the airline's mobile app or online.
Hand sanitizing wipes that are 99.9% effective at killing germs will be provided for all guests.
The aircraft have been equipped with with systems that contain two HEPA filters. These filiters are 99.9% effective or greater in removing particulate contaminants, including viruses like COVID-19.
To allow social distancing on-board, the amount of guests booked will be limited.
Learn more about Alaska Airline's Next-Level Care.
PURELL® Advanced Hand Sanitizer dispensers have been placed before security areas in select locations.
Aircraft interiors will be treated with SurfaceWise®2. This coating provides protection by killing of 99.9% of viruses, including COVID.
Face coverings are required for all employees and guests.
You can scan your mobile or printed boarding pass to limit physical interactions.
Hand sanitizer will be available on all flights.
Learn more about American Airline's Our Clean Commitment.
All travelers must wear a mask. For those who do not have one, masks will be provided at check-in.
Airport kiosks will be wiped down and sanitized frequently.
Plexiglass shields have been added to all airport counters to protect both employees and guests.
Lavatories are cleaned and sanitized regularly throughout the flight. Flight attendants will also remind guests to social distance while in line.
To give you more space, middle seats have been blocked and the total number of customers per flight has been reduced.
Learn more about Delta Airline's CareStandard.
Hawaiian Airlines airport employees are required wear face masks when interacting with guests.
Guests are required to wear a face mask or covering that completely covers the mouth and nose while boarding, throughout the duration of the flight and while deplaning.
Masks or face coverings with vents or exhalation valves, mesh face coverings or other obviously transparent cloth coverings will not be considered acceptable forms of face coverings.
Face shields cannot be used in lieu of a face covering, but may be used in addition to an appropriate face covering.
Guests will not be allowed to book middle seats.
Learn more about Hawaii Airlines's Keeping you safe.
Guests are required to complete a "Ready-to-fly" checklist at check-in.
There are temperature checks for employees and flight attendants working at hub and line stations.
For regularly scheduled flights that are expected to be fairly full, you can change your flight with no change fee or receive a travel credit for your trip.
Individual hand sanitizer wipes for customers will be provided.
The airline will be boarding and de-planing in groups of five rows at a time to reduce crowding.
Learn more about United Airlines United CleanPlus.
Both an electrostatic disinfectant and an anti-microbial spray are applied on every surface of the aircraft, killing viruses on contact and forming an anti-microbial coating for 30 days.
Middle seats will remain open unless booked as a group through November 30th.
Customers are required to wear a face covering over their nose and mouth at all times.
Hand sanitizer is available at the check-in kiosks, ticket counters, and gates. Wipes will be available for onboard guests.
Guests will board in groups of 10 to allow for physical-distancing on only one side of the boarding poles.
Learn more about Southwest Airline's Southwest Promise.
These safety measures are subject to change, and you should always check the airline website for the most up-to-date safety information.
Step Two: Sign up for the Safe Travels online program
The state of Hawaii requires all incoming travelers to sign up for the Safe Travels online program.
This digital form will allow travelers to provide their required health and travel information before they arrive at the airport.
Not only will this allow the state officials to contact those who are required to be in quarantine, but also contact those in need of secondary testing.
Please do the following:
Sign up for an account


Click HERE to sign up for a Safe Travels account.

Fill out the Hawaii Travel and Health Form

Step Three: Take a COVID-19 test within 72 hours from the final leg of departure
Travelers wanting to bypass the mandatory 10-day Hawaii quarantine must test negative for COVID-19 with a FDA-authorized Nucleic Acid Amplification Test (NAAT) from a certified CLIA lab.
This test must be taken no earlier than 72 hours prior to your departure for non-stop flights, or the departure of your final leg of your travels for flights with a layover.
Currently a number of airlines and even airports are offering testing services.
Pre-travel testing can only be completed by Trusted Testing and Travel Partners. Test results from providers other than those listed on the Hawaii State Trusted Testing and Travel Partner will NOT be accepted.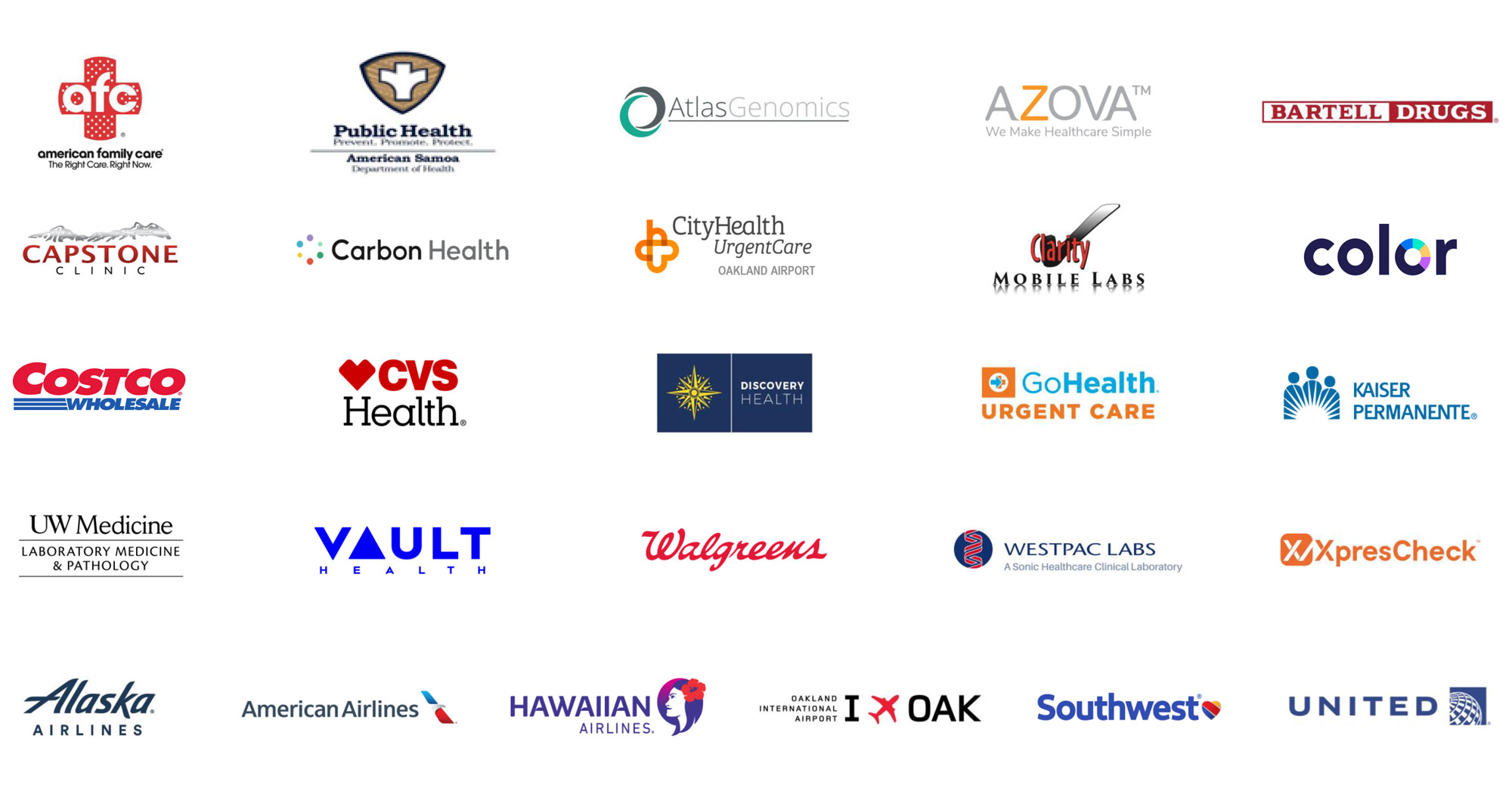 Make sure that all travelers in your party, including minors 5 years old and older, are tested.
Antigen and antibody tests will not be accepted.
Travelers who are vaccinated will still need to complete the pre-travel testing requirements.
Step Four: Fill out the Safe Travels Travel Health Questionnaire
24 hours prior to your flight, log into your c account and, if available, upload your negative test results and fill out the Travel Health Questionnaire.
You will receive a QR code upon completion which you can either display on a mobile device, or print up and bring with you on your flight.
If you have not received your test results before your departure and Hawaii arrival, you will need to quarantine for the mandatory 10 days.
Should you have any trouble with the Safe Travels system, you can call the service desk at 855-599-0888 from 10:00AM to 10:00PM HST or visit the FAQ site.
Step Five: Hawaii airport arrival procedures
Upon arrival at a Hawaii airport, you need to go through a secondary screening which will include a temperature check.
You will also need to have your Safe Travels QR Code ready to be scanned as well, and you must have your negative test result uploaded prior to arriving into Hawaii.
Your Safe Travels account contains all of the necessary information needed by the State of Hawaii, but additional paperwork may need to be filled out upon arrival.
If you do not receive your negative test result prior to your arrival, you will need to complete the mandatory 10-day quarantine. This quarantine must be completed even if you receive your negative test result during your quarantine.
Step Six: Secondary testing options (post-arrival)
Currently the state of Hawaii, and specifically the islands of Maui, Kauai, and the Big Island have post-arrival secondary testing requirements and recommendations.
State of Hawaii
The State of Hawaii will implement a statewide surveillance testing program that will test up to 10% of random incoming arrivals four-days after arrival at no cost to the traveler. This test will be optional.
Maui and Kauai
A voluntary post-arrival COVID-19 test can be taken three days after arrival at no cost to the traveler.
Big Island of Hawaii
Visitors to the Big Island of Hawaii will be required to take a second COVID-19 test upon arrival to avoid the mandatory 10-day quarantine.
This second test will not be a replacement for the pre-travel test. This will be a rapid antigen test that will be given at no cost to the traveler.
Experiencing & staying safe in Hawaii
There are still many things to do in Hawaii during COVID-19, and even though Hawaii has some of the lowest numbers of Corona virus cases, be sure to follow safety measures to keep both visitors and residents safe.
For instance, the city and county of Honolulu on the island of Oahu has implemented a tier system for reopening, and this tier policy will determine what sectors and businesses will be open and what capacity.
Be sure to check the group and area restrictions depending on which island you are going to.
Tours and activities are also reopening in Hawaii every day. To make the most of your Hawaii vacation, be sure to book in advance!
Take a look at our vast collection of available tours and activities.
If you have any questions, feel free to email us at support@veltra.com at anytime, or call us at (808) 690-9990 Monday through Friday from 8:00AM to 5:00PM HST, and Saturday and Sunday from 8:00AM to 12:00PM HST.
---
Lani, our resident Travel Agent Relations Manager, as well as a Website Content and Hawaiian Cultural Specialist, is originally from Tokyo, and now splits her time between New York City and Honolulu. When she isn't hard at work, she can always be found dancing hula, finding her inner mermaid while swimming, and baking up storm!
All author posts