What sort of vacation would it be if you didn't take the time to relax?
Boat cruises are the best way to unwind during your stay in paradise, but dinner cruises are often too formal and require prior reservations.
For a relaxing, casual experience, you want a booze cruise.
Otherwise known as cocktail sails, catamaran cruises, and party boats, these boat cruises take you out onto the water for a fun, relaxing time in Waikiki. Most such cruises include complimentary drinks, with some having an open bar. Most depart directly from Waikiki Beach, so they're easily accessible.
This list of Hawaii boat cruises includes all catamaran sails from Waikiki Beach, as well as a BYOB cruises from Kewalo Harbor, and something a little different for the seasick-prone.
(Author's note: Dramamine and alcohol DO NOT go well together)
The Top 10 List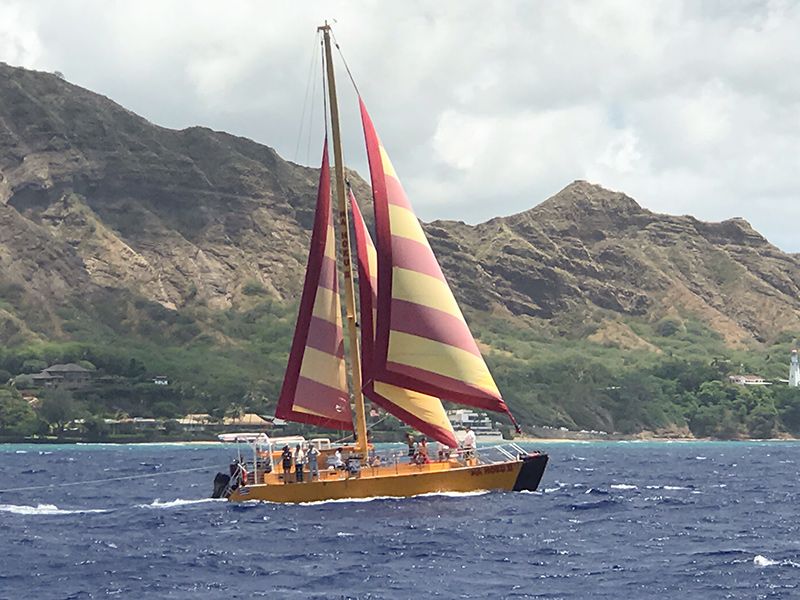 Na Hoku Catamaran Booze Cruise from Waikiki Beach – Daytime Diamond Head Sails
The Na Hoku II's daytime sail departs from the beach directly in front of Duke's Bar & Restaurant, Waikiki. This party boat features an open bar, making it great for groups of friends on vacation looking to have fun in Waikiki.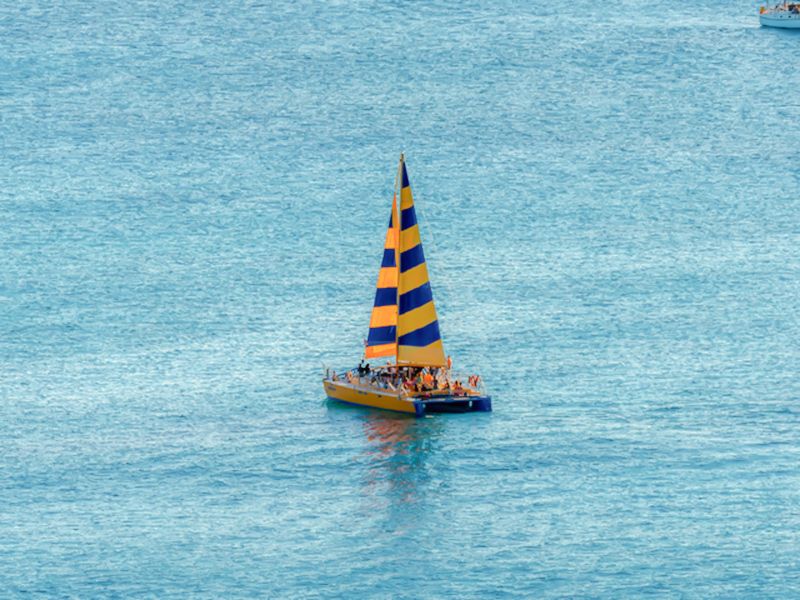 Manu Kai Catamaran Waikiki Boat Tour – Daytime Diamond Head Sail with Cocktails
The slightly older, more responsible sister vessel to the Na Hoku II, the Manu Kai sails in the afternoon and is more family-friendly. Adults over 21 get three drinks on the house, while those under get a discounted rate. Kids 4 & under sail for free!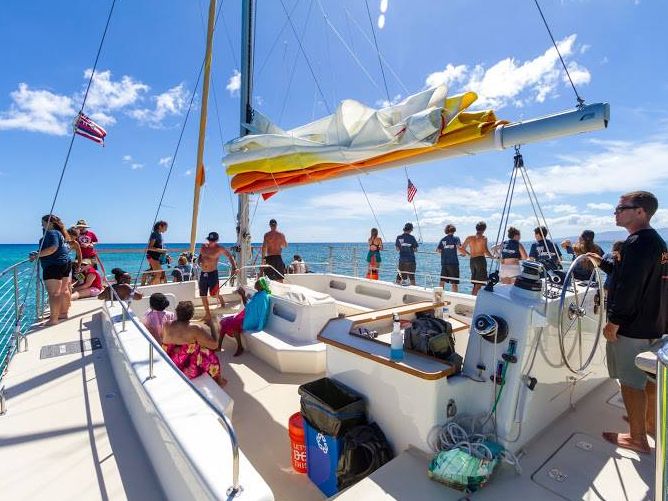 Holokai Catamaran – Waikiki Sunset Cocktail Sail with Open Bar
Waikiki's most popular sunset sail departing right from the beach, the Holokai Catamaran includes an open bar featuring the world-famous* Holokai Hooch, a local cocktail that will make any night go from "frumpy" to "fun" in a single plastic cup!
*(not really)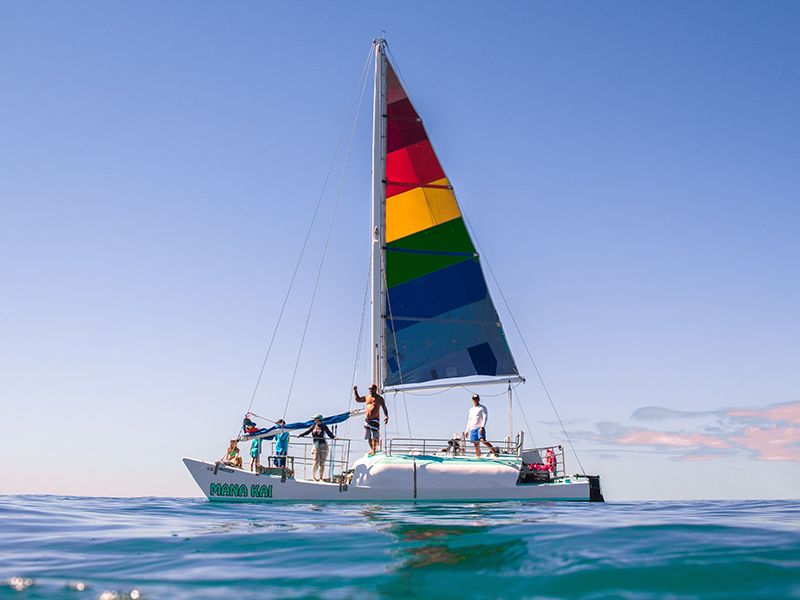 Mana Kai Catamaran – BYOB Sunset Cruise from Waikiki Beach
A top contender for most popular sunset cruise, the Mana Kai (not to be confused with the Manu Kai—look for the rainbow sail) lets you bring on your own food, drinks, and music and takes you all the way to Diamond Head. Added bonus: you even get the chance to jump in the water during your cruise!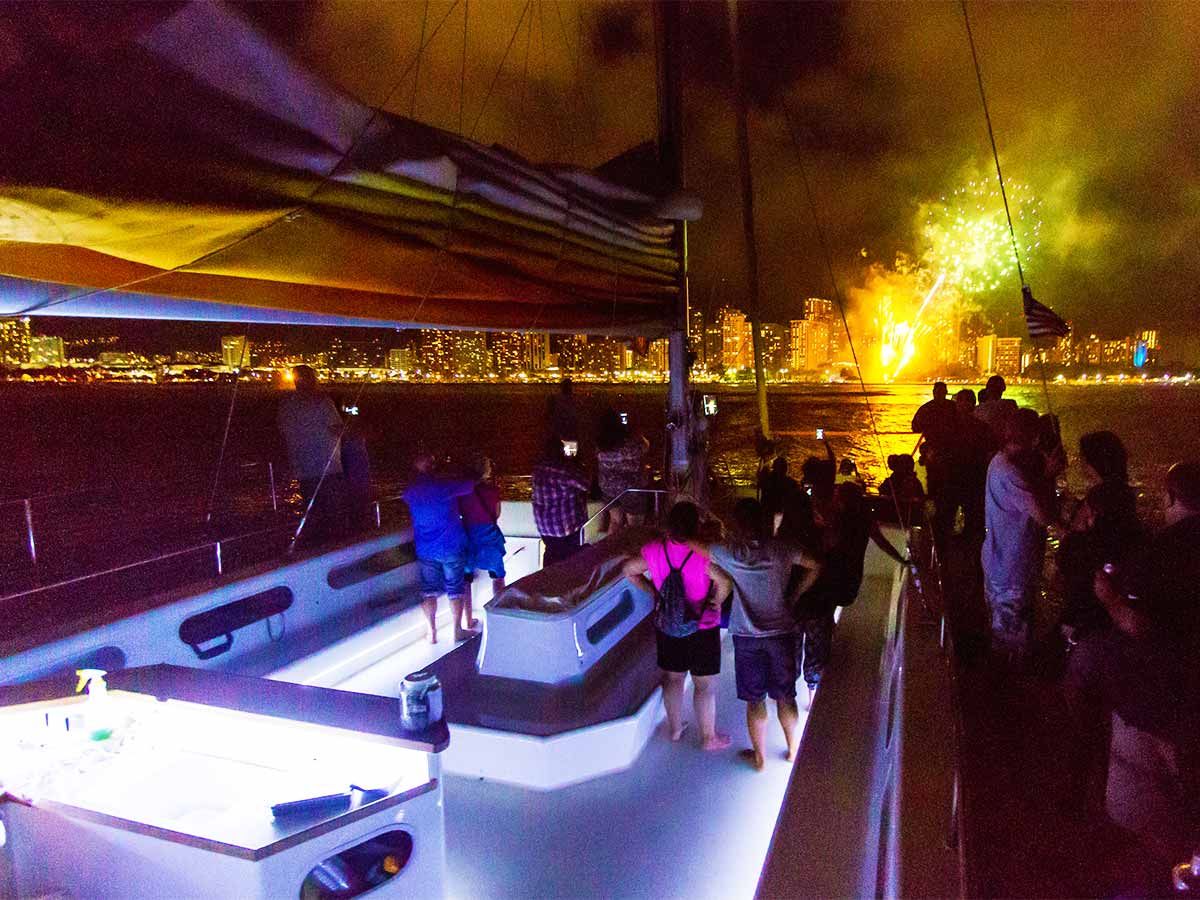 Holokai Catamaran – Waikiki Fireworks Sail Cruise with Open Bar (Friday Only)
Every Friday in Waikiki the sky is lit up with fireworks, courtesy of the Hilton Hawaiian Village, to celebrate the end of another week in beautiful Hawaii. The beaches get crowded with people trying to catch the show, so the best way to watch is to go on a fireworks cruise where you'll have an unobstructed view. Holokai's fireworks cruise departs after sunset and includes an open bar.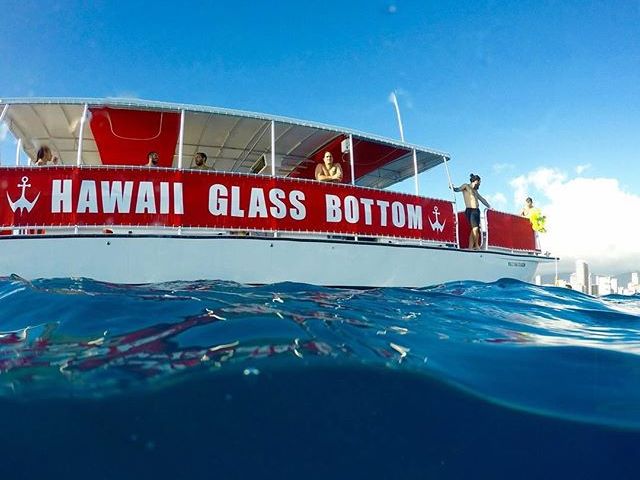 Waikiki Glass Bottom Boat – Casual Sunset Cruise with Friendly Local Crew
This BYOB casual cruise serves beer and features four glass-bottom viewing ports, letting you peer into the reefs of Waikiki as you cruise along. Shout-out to the crew for being friendly and always maintaining the aloha spirit—you'll be welcomed aboard like family.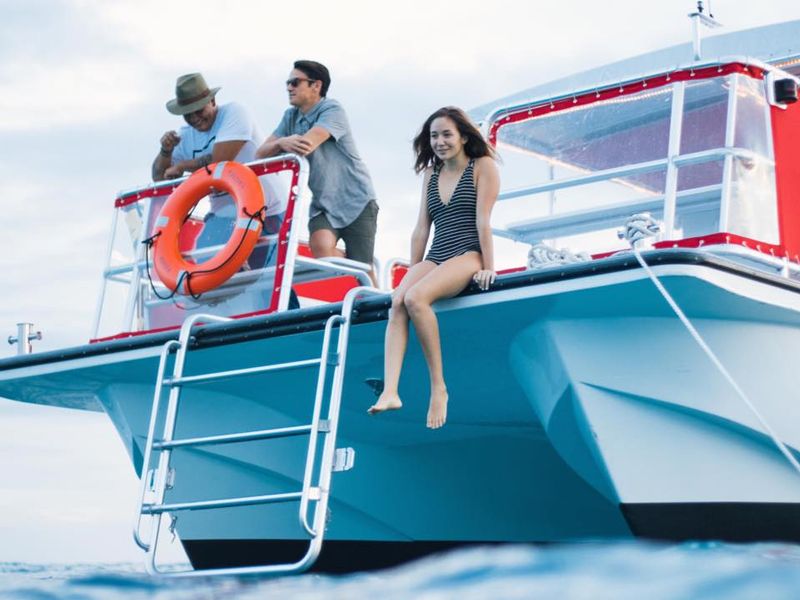 Waikiki Glass Bottom Boat – Afternoon Tropical Reef Cruise & Marine Life
This glass bottom boat cruise departs in the afternoon for a fun, family-friendly cruise where you can watch the marine life in the daylight with the vessel's underwater viewing ports. They serve beer and soft drinks, but also provide coolers so you can BYOB.
Waikiki Pirate Ship Nightclub Dance Cruise – BYOB Party Boat with Live DJ
A unique tour in Hawaii, this BYOB cruise on a pirate ship comes with a dance floor and live DJ to create a Hawaii's most exciting 21 & over nightclub. Pirate costumes optional.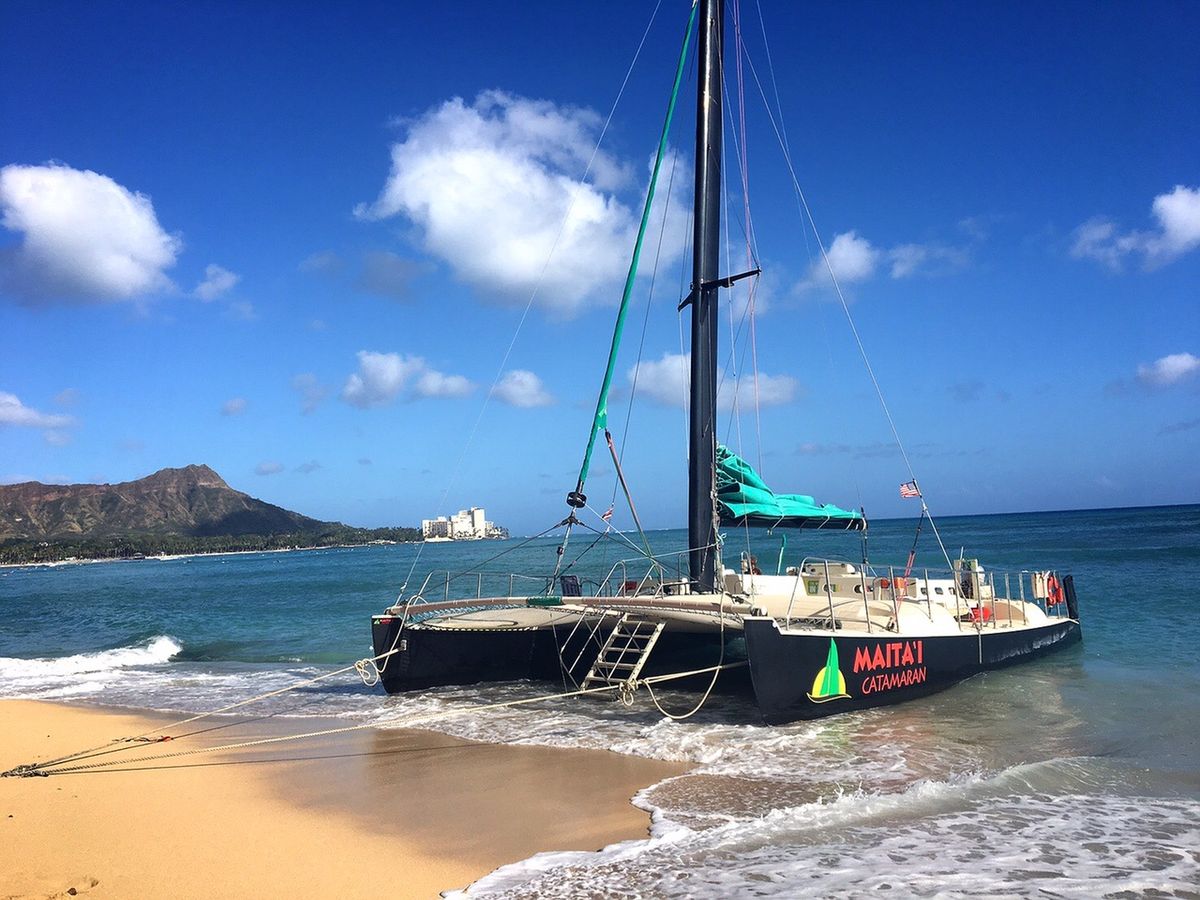 Maitai Catamaran – Waikiki Sunset Sail & Friday Fireworks Cruise with Open Bar
Another catamaran cruise departing from Waikiki Beach, the Maitai Catamaran's distinct green sail invites you to start your evening right with an open bar and beautiful sunset. Perfect to whet your appetite before getting dinner at House Without a Key, or pre-gaming before partying at RumFire.
Honolulu Party Bike – Kakaako Bar Crawl Tour
If you're crew really wants to go on a booze cruise, but you've got one seasick landlubber that just can't do boats, consider this awesome bar crawl in Kakaako! The Honolulu Party Bike is a 15-passenger bike that visits three different bars and breweries in the Kakaako Area between Waikiki and Downtown Honolulu. Drinks not included.
That's our list! If you'd like to browse or book one of these activities, you can do so on the HawaiiActivities.com site!
---
Having grown up in Honolulu, Jason writes for HawaiiActivities to help share the beauty of the islands with visitors.
All author posts