What is a vacation in Hawaii without going to a luau?
An evening with family, friends, culture, and amazing food is the highlight of any trip!
Oahu has some great options for authentic Hawaiian luaus, like Chief's Luau!
Chief's Luau at Wet'n'Wild
Located at Wet n Wild Waterpark in Kapolei, Chief's Luau is fun and engaging.
Chief Sielu is the host for the night, known for his great humor and fire-knife talents.
It's great for any type of party. For families, the kids will love the pre-luau activities and will be entertained during the exciting show. For couples celebrating honeymoons or anniversaries, you are invited to the stage to share a romantic dance.
I went to Chief's Luau with my boyfriend and it was the perfect first luau for him to experience.
Getting to Wet'n'Wild
Kapolei is about a 45 minute drive from Waikiki, but there is usually heavy traffic in the late afternoon. If you are driving on your own, you might want to give yourself a bit of extra time, just in case.
Arriving at the luau was quite a treat as we were welcomed with a complimentary Mai Tai and a beautiful fresh orchid lei.
Experiencing the "Royal Package"
Depending on which package you choose, you may be greeted with a flower lei, kukui nut lei, or shell lei.
I love getting a fresh flower lei because it makes the night extra special and their fragrance is amazing.
On the other hand, a kukui nut or shell lei is a souvenir that you can keep forever.
We were then shown to our place to sit. Since we had the "Royal Package" they sat us in the very first row!
I highly recommend going for the Royal Package. You have the absolute best seating closest to the stage.
Not only does this give you a better view of the show, there are more opportunities for you to interact with the performers.
For example, we got lucky and were given a hand-woven basket made out of palm fronds.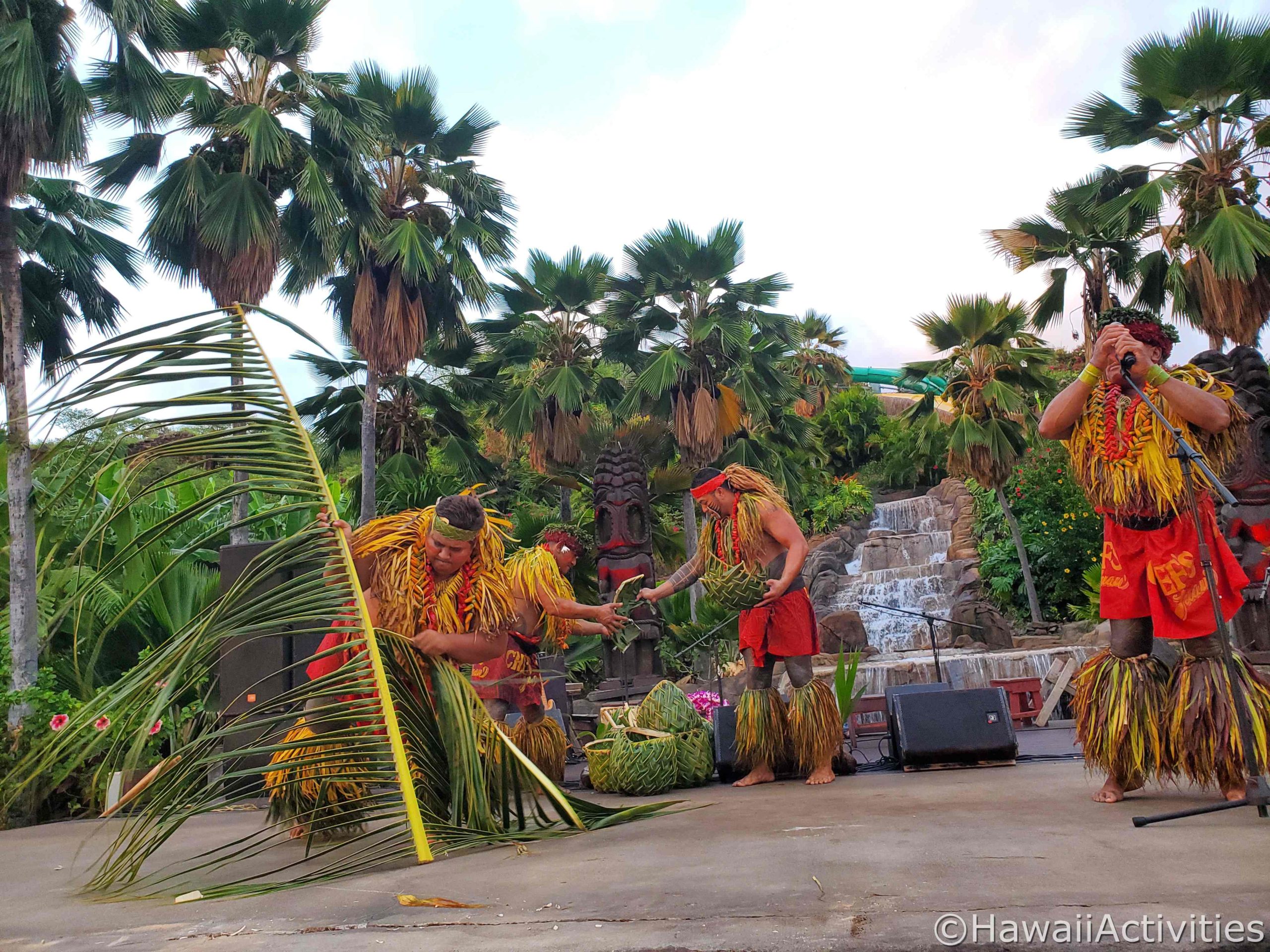 There are different seating areas for the three different packages.
Your spot within your designated package area is determined on a first-come-first-serve basis as you arrive.
Before the Show
Everyone was seated side-by-side at long tables. We took this opportunity to connect with other guests and chat a bit!
Since this is such an audience-engaging luau it was so enjoyable to meet new people.
We met some friendly folks from Australia, Texas, and Florida.
It made the whole night even more wholesome to share stories with people you just met and learn about where they're from.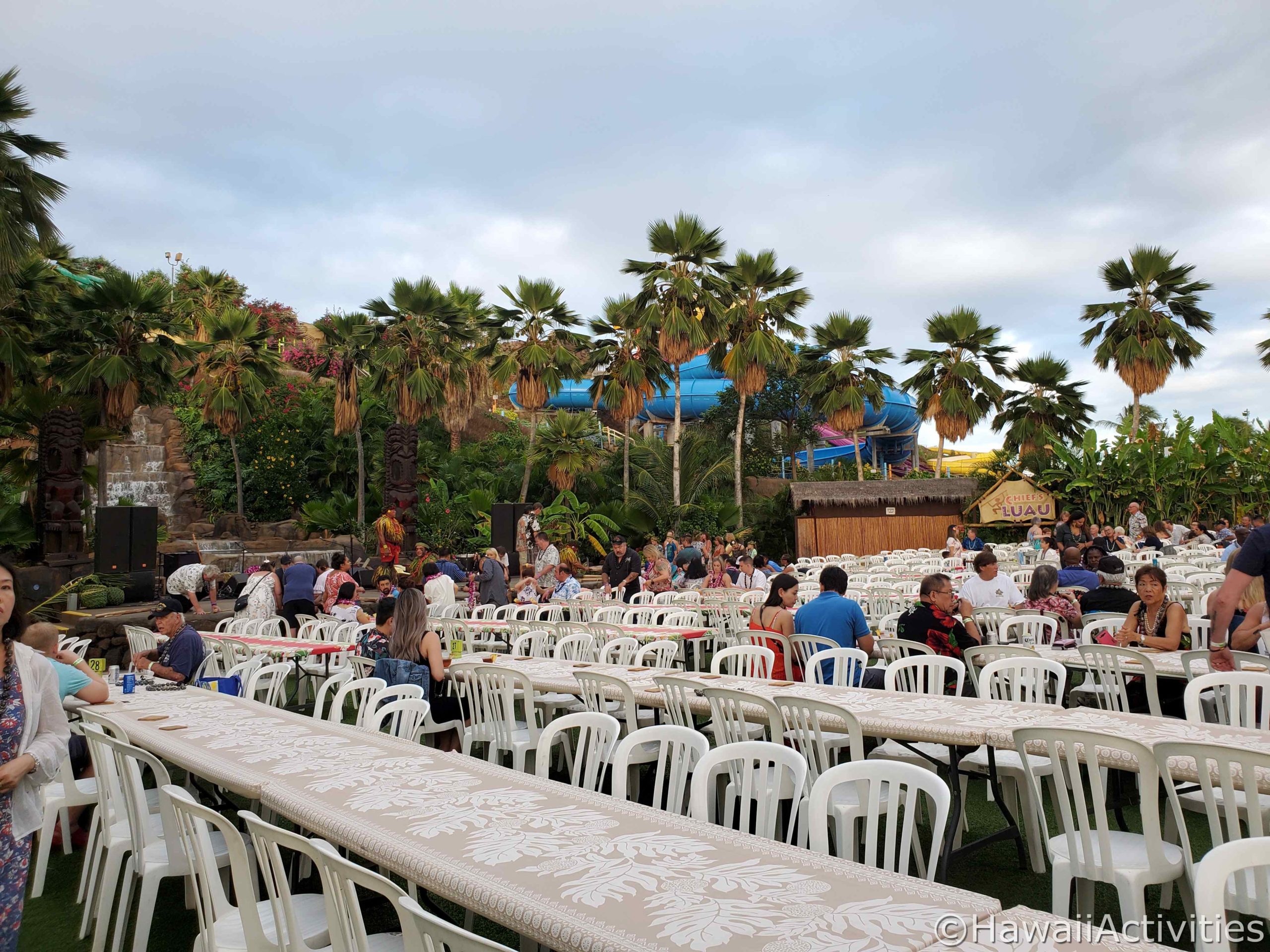 The luau venue itself makes you forget you are even at a water park.
The backdrop behind the stage is a stunning landscape consisting of trees, plants, flowers, and a cascading waterfall.
There were so many staff members available to help and they were all so welcoming, kind, and genuine.
Before the show we had about 45 minutes for pre-luau activities.
We could learn how to make a fire using Native Hawaiian techniques, get a Polynesian tattoo, learn how to make a lei out of ti leaves, or practice our hula skills.
Our favorite part was making our own ti leaf leis that we wore for the rest of the night. We kept them as souvenirs and hung them up in our home!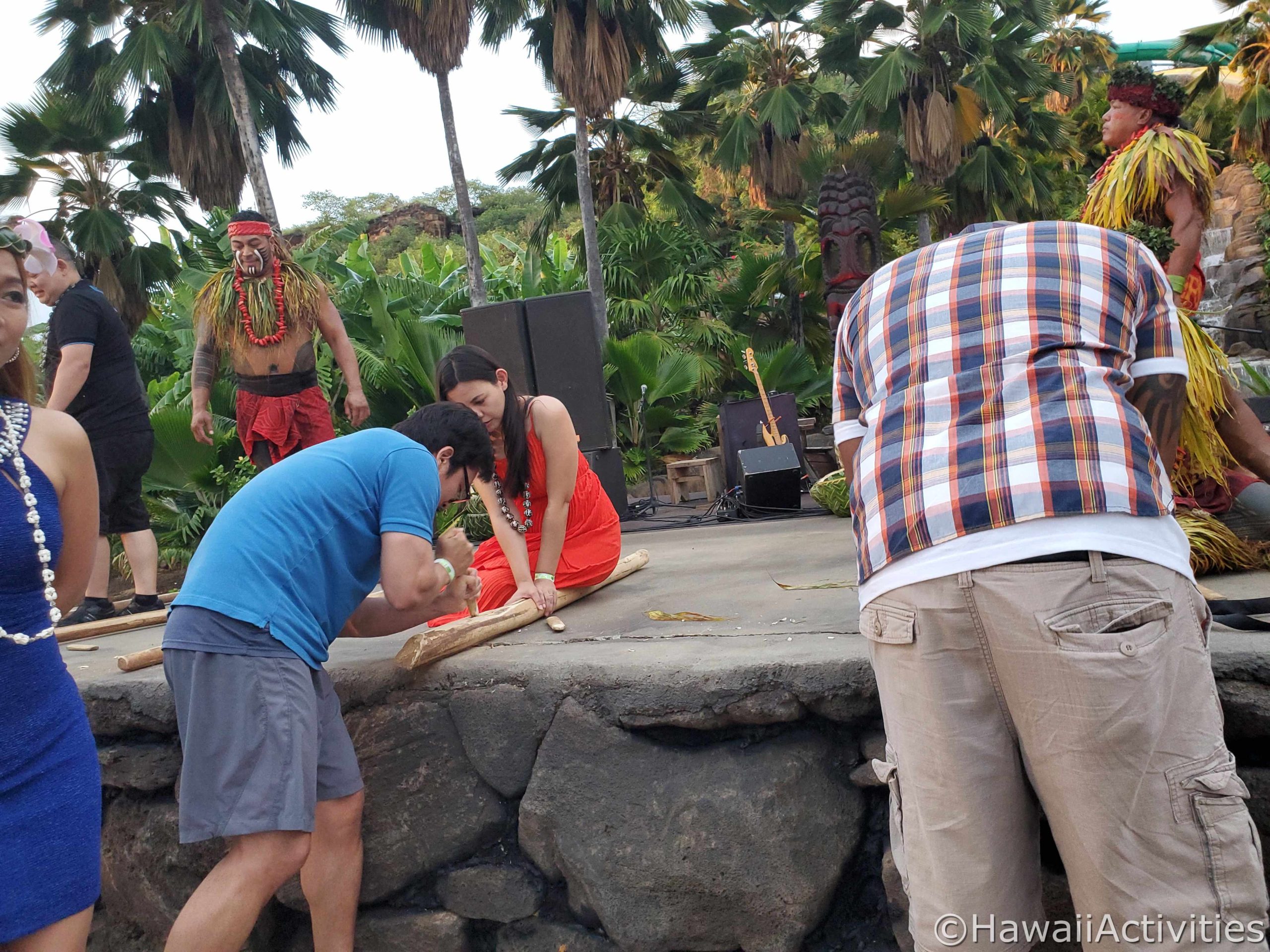 Food and Drinks
There is a bar at the backside of the venue where you can walk up to order.
Throughout the show you can also place an order with one of the servers.
We got 3 drink tickets to use at the bar in addition to the welcome Mai Tai.
You can use these drink tickets for any type of drink: Mai Tai, beer, wine.
Now what's a luau without a big buffet full of delicious food!
The dinner buffet at Chief's Luau impressed me. Like most luaus, they had a large spread of Hawaiian inspired dishes.
The best part, of course, was the imu kalua pig.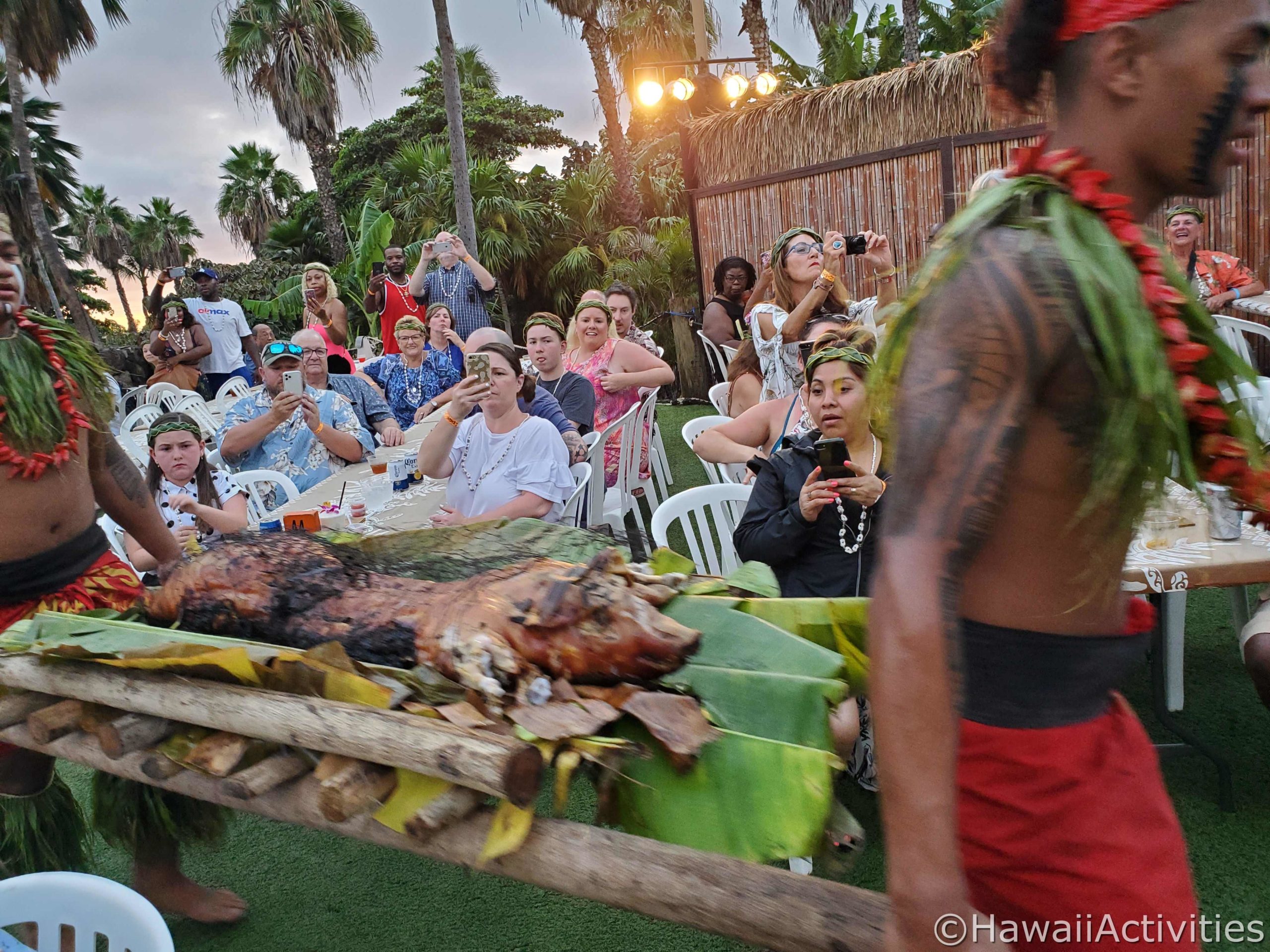 An imu is an underground oven, and this is how Native Hawaiians would prepare their kalua pig. It was absolutely delicious.
Another one of my favorites is lomi lomi salmon, which is a side dish served cold with fresh tomato, Maui onion, and salmon.
If you haven't heard of taro (kalo in Hawaiian), it is a root vegetable that was a food staple in Native Hawaii.
Taro is the main ingredient of poi, the traditional Hawaiian dish.
Chief's Luau incorporated taro into the bread rolls, making them purple in color!
For those of you who may have never heard of or tried any of these foods, give them all a try!
Get a little taster of all the different flavors to have a fulfilling Hawaiian experience.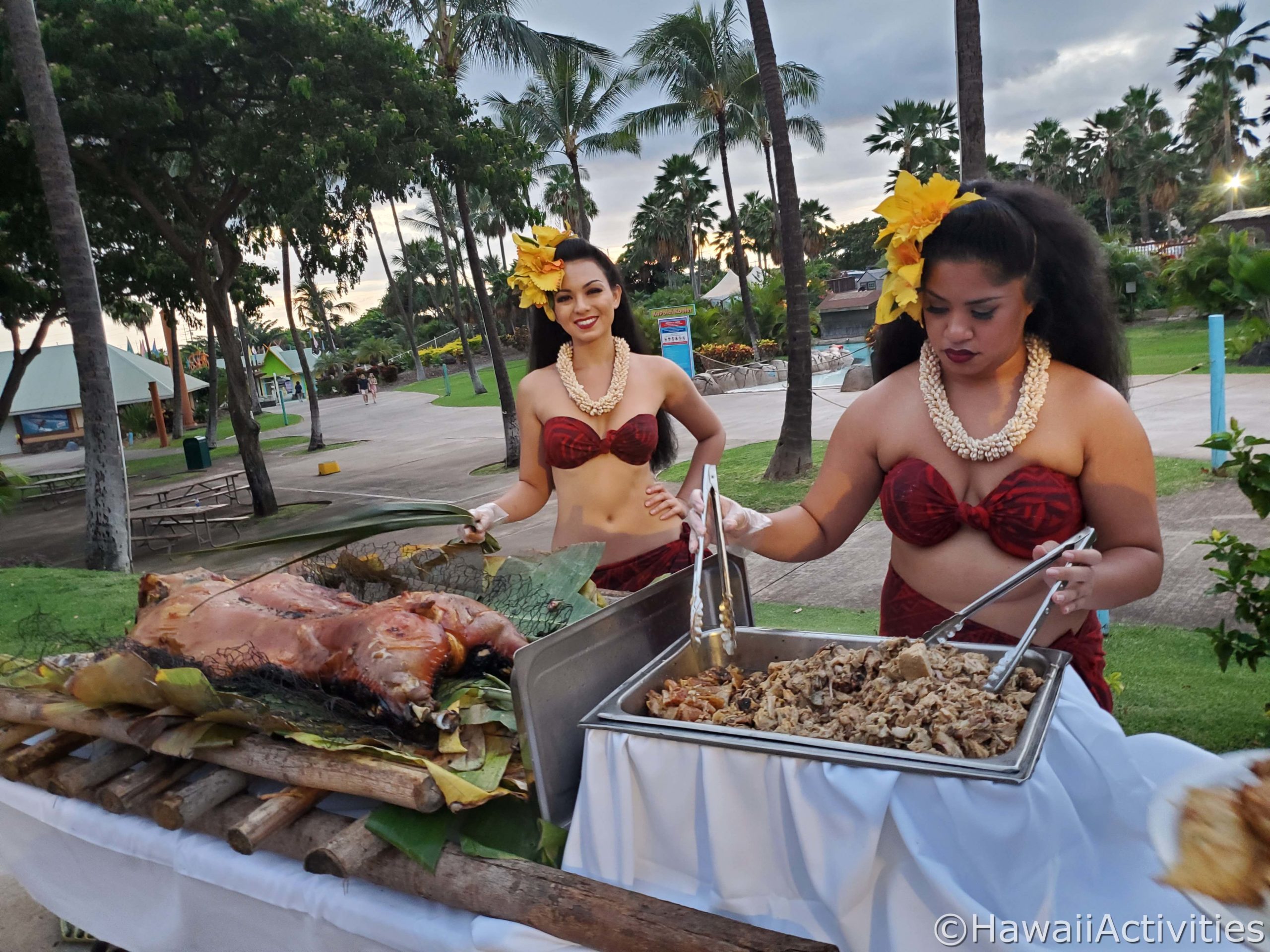 Some things might look very different to you but trust me, it is so fun to try all of the unique dishes.
The Royal Package guests were first in line for the buffet, which is another perk.
The Show Begins!
As we enjoyed our meal with live local music playing in the background, we just took this time to enjoy each other's company.
Once everyone had made their plate and were finishing up eating, the show began.
This exciting luau has performances of Hawaii, Tahiti, Samoa, and New Zealand, transporting you from culture to culture throughout the night.
For each of the different cultures, they had unique music, outfits, dances, and performances.
Chief Sielu is an amazing host.
He was absolutely hilarious and was making everyone laugh the whole time.
He made the evening feel very special by reminding us what Aloha Spirit and Ohana (family) really meant.
This is an audience-engaging luau as the Chief interacts with the guests, asks for volunteers, and gives guests the opportunities to join the stage for a dance.
Must-see! Chief Sielu's Fire Knife Performance
Chief Sielu was also part of the band and is a world champion fire knife dancer.
He shows off his talent towards the end of the show, making quite the grand finale.
This fire knife performance was the best one I've ever seen.
These fire knife dancers are very impressive considering it is an actual knife with a sharp blade at the end of the pole and both ends are on fire.
Chief Sielu concluded the luau with a sentimental farewell and the show came to an end.
Things to do in Kapolei
If you have the rest of the day free before this luau, you should make the most out of the drive and visit other parts of the west side.
Points of interest are Yokohama Bay, the Ka'ena point hike, or the Ko Olina hotels.
There are other activities to do nearby like dolphin watching cruises or Coral Crater Adventure Park. Just make sure to bring an extra change of clothes.
There is even a combo deal for Chief's Luau and Coral Crater zipline on HawaiiActivities.com! Spend 2 hours on a 6-line zipline course then head over to the luau which is only a 10 minute drive away.
What to bring to the Luau
I went to Chief's Luau in December and was completely comfortable in a sundress.
If you are sensitive to cold weather it might be a good idea to bring a light jacket or sweater.
Most of the men were wearing shorts and an Aloha shirt or polo. Most of the women were wearing either casual dresses or shorts with a blouse.
If I were to go back to this luau I would definitely bring bug spray.
We noticed when we were checking in at the entrance to the park there were mosquitoes circling us and we got a few bites.
Once we went into the actual luau venue it was mosquito-free, but if you want to avoid getting bites at the entrance it would be handy to have bug repellent on you!
Conclusion
Chief's Luau had the perfect combination of culture, tradition, comedy, romance, and Aloha to make the night so special.
Whether you are a traveling couple celebrating a special occasion, a family wanting to experience Hawaiian culture, or a local party wanting a fun evening, you will have a great time at Chief's Luau.
If you are coming to Hawaii, you have to experience a luau at least once! You will leave feeling grateful, loving, and inspired… and with a very full belly!
Book Chief's Luau at Wet'n'Wild on the HawaiiActivities website to browse different seating packages and read reviews from other travelers.
---
Born and raised in San Diego, Hawaii has always been Bailey's second home. She moved to Oahu four years ago and in addition to being a Hawaii travel expert, she enjoys spending time outdoors and cooking.
All author posts