Blue Ocean Waikiki Bottom Fishing Cruise (from Ala Wai Boat Harbor) [Open 2021]
Reviews
Mr
Mao
Posted on:
2019/03/29
| Mao
Fun trip
S. Crawford
Posted on:
2018/05/26
| S. Crawford
Read more
Overview
Oahu
3.5 - 4.5 hour(s) incl. transportation
Available Daily
Pick-up available
Not Accessible
What to expect
Head out on a fishing trip from Waikiki on-board a comfortable 49-passenger boat with friendly guides. Reel in the big one and keep your catch of the day!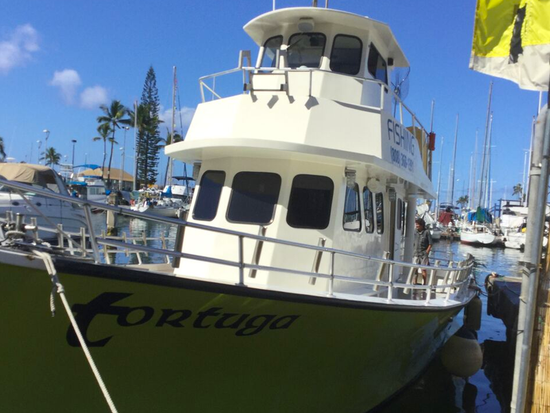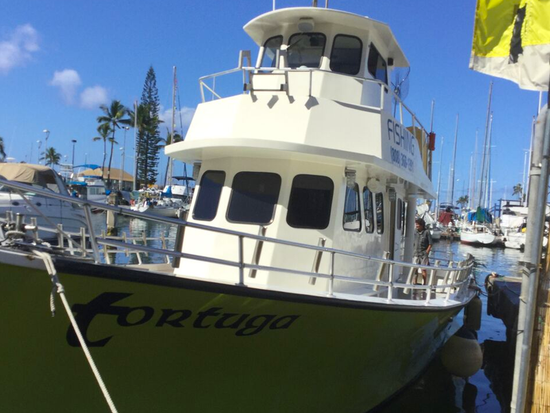 Overview
Inclusions: Fishing equipment / Cruise fee
Check-in at Ala Wai Boat Harbor
Shared Fishing Trip
(3 hrs)
Location
Pick-up/Check-in Time & Location
Drop-off/Check-out Time & Location
Notes
Restrictions
This activity is not wheelchair accessible.
If less than 6 participants are booked, the activity may not operate.
Children of all ages can participate in this activity.
Booking requirements (# of participants, vehicles, hours, etc.)
You can book a maximum of 49.
Additional notes
The activity schedule is subject to change or cancellation due to weather or traffic conditions.
The activity provider does not assume any responsibility for your valuables and/or personal belongings.
This activity may be changed or canceled for your safety, medical issues or comfort.
Gratuity is not included in the price.
If you are driving on your own, you will be required to pay a parking fee.
Participants can bring their own drinks and snacks as long as they are not in glass containers. Do not bring any bananas as they are considered bad luck in Hawaii.
You will be able to take home or grill any fish you catch on-board.
Due to COVID-19, all guests must follow these policies:
1. Face Mask is required
2. Pass a mandatory health screening at the entrance
3. Practice Social Distancing when possible
4. Limiting guests to maximum of 10 people including staff and crew.
Mr
2019/03/29
Families with Young Children
Mao
Good trip and having funs, beautiful views and the water was so clear that you can see the bottom
Fun trip
2018/05/26
Couples
S. Crawford
Good time had by all. Fun Supportive and Helpful Crew
Fishing trip
2016/04/26
Couples
Ty Frazier
I guess we might have been to spoiled back at home! Our trip time was supposed to be at 8:00am. We got there on time, and for some reason I guess captain didn't show up? They asked if we could come back for the mid day o...r night cruise. So we agreed to come back for the night cruise. We had to reschedule our whole day. We were told that we would be picked up at 4:30pm at our hotel. We got a call around 3:45pm and asked where we were at and if we could met early. We were out and about and we're not planning on being back until 4:30pm. So I asked if we could just meet at our original time, and he said yes but we had to meet him at a different hotel. So we show up and he was late so I had to call him to get an email. Not to mention that our hotel was only 5 blocks away. So we get to the boat and the trip was ok. Still don't think that the captain showed up, but a young lady drove that we were never introduced to. Had to continually ask for bait. The fish that we caught was eaten before us by the crew and we were offered the leftovers. Also I left to get money from the atm for a tip the first time when the captain did not show, though my girlfriend was comfortable as a crew member grilled her like we made our reservationsite the night before, but I had made them 3 days before. So in a conversation she was having with the crew members while I was gone he told her how he had did time in prison?????? She was really uncomfortable!!! But they already had our money so we had to go. I the only reason I am writing this review is they said it would buy2 get 1 free if you write a review. But we made the best out of a horrible trip. MAHALO!!!!!
more
Read all reviews (28)
FAQ
Q. What kind of boat will be used?
A. The "Tortuga" is a U.S. Coast Guard certified 50-foot Chesapeake Fishing Vessel with an air-conditioned cabin, onboard grill, and restroom. It holds up to 49 passengers.
Q. Can I keep what I catch?
A. Of course! Unlike many of the other fishing trips in Hawaii, you will be able to keep any of the edible fish you catch. Any fish that are not edible are considered catch and release.
Please visit VELTRA Support page to send an inquiry about this activity.
VELTRA Support
Payment / Cancellation Policy
Payment Methods
Credit card payment
Cancellation Policy
Any cancellations made after 16:00 local time, 2 business days prior to the activity will be subject to a charge of 100% of the total amount.
Top-Rated Activities for Oahu
Blue Ocean Waikiki Bottom Fishing Cruise (from Ala Wai Boat Harbor) [Open 2021]
Head out on a fishing trip from Waikiki on-board a comfortable 49-passenger boat with friendly guides. Reel in the big one and keep your catch of the day!