Waikiki Casual Sunset Cruise with Friendly Local Crew - BYOB [Open Now]
Highlights
Affordable family-friendly 90-min sunset cruise
Waikiki's only wheelchair accessible sunset cruise
BYOB - You are welcome to bring your favorite food and beverages!
50ft power catamaran certified for up to 49 guests
Convenient sunset departures from Kewalo Basin near Waikiki
Reviews
Ocean, boat, and sunset... best combination
Ariel Jade
Posted on:
2018/10/21
| Ariel Jade
Mom birthday trip
Celynn
Posted on:
2018/09/28
| Celynn
Read more
Overview
Oahu
2 hour(s)
Available Daily
Pick-up not available
What to expect
Cruise with Hawaii Glass Bottom Boat and enjoy a relaxing yet affordable Waikiki Sunset Cruise. Bring your own drinks and food and enjoy scenic views of Diamond Head and Honolulu coastline.
Due to COVID-19 regulations, all boat tours are limited to operate at a designated capacity, and new safety measures have been implemented to keep everyone safe during the activity. Please read the additional notes for more specific details, and always follow the captain's guideline onboard.
Sunset Cruise (25% Capacity)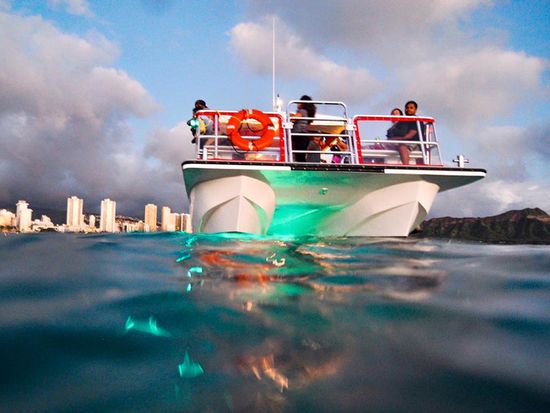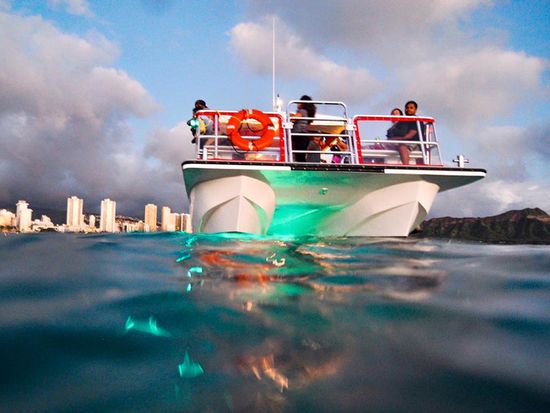 Due to the COVID-19 regulations, all boat tours are currently limited to 25% capacity.
1. Boat Capacity: A maximum of 12 guests allowed onboard. Subject to change without notice.
2. Number of people allowed per party: Maximum of 5 guests.
Overview
Inclusions: Beverages (no alcohol) / Coolers (BYOB)
Hawaii Glass Bottom Boat Sunset Cruise
(1.5 hrs)
Location
Pick-up/Check-in Time & Location
Drop-off/Check-out Time & Location
Notes
Restrictions
If less than 6 participants are booked, the activity may not operate.
Children of all ages can participate in this activity.
If conditions allow, guests may swim at the captain's discretion.
The boat also offers enough space for collapsible wheelchairs and walkers.
Additional notes
The activity schedule is subject to change or cancellation due to weather or traffic conditions.
Gratuity is not included in the price.
If you are driving on your own, you will be required to pay a parking fee.
Parking near the docks is $1 per hour, with free parking available further away.
Due to COVID-19, all guests must follow these policies:
1. Wear a face covering while on the property
2. Pass a mandatory health screening at the entrance
3. Practice Social Distancing when possible
4. Provide contact information when booking for contact tracing purposes
Required items to bring & attire
Sunglasses
Camera
Swimsuit
Motion sickness preventative
Snacks and appetizers are welcome on board; tables are available to serve them on. You may bring plates, forks, cups, etc.
Booking requirements (# of participants, vehicles, hours, etc.)
You can book a maximum of 5.
Ocean, boat, and sunset... best combination
2018/10/21
Solo Travelers
Ariel Jade
The sunset cruise was incredible. Everything about it was such a positive experience. Big shout out to the captains who made it entertaining and comfortable the whole time. I personally love being out in the water so I k...new I would enjoy myself but it's also nice to meet new people and have awesome hosts. I didn't want it to end!
more
Mom birthday trip
2018/09/28
Families
Celynn
We had the best time on the sunset cruise. My mom loved and the crew was awesome.
Very good and relaxing cruise
2018/07/09
Families
Kate from CA
The crew was very nice, friendly and helpful. The view was spectacular.
Highly recommend.
Read all reviews (13)
FAQ
Q. What kind of boat will be used?
A. The "Haleiwa Queen" is a 50 ft power catamaran that is not only extremely stable, but spacious as well. There is ample seating onboard, 3/4 of the boat is shaded, and an onboard restroom is available. The boat is completely enclosed by a railing system that allows children of all ages to move around freely without the risk of falling overboard. Children, adults, and elderly passengers alike can experience the Hawaiian coastline in comfort.
Q. What will we see from the boat?
A. The glass viewing ports located on the bottom of the boat will allow for clear views of the underwater world below you. Many marine creatures including native tropical fish, the Hawaiian green sea turtle and moray eels can often be seen. Depending on the time of day, dolphins can also be be spotted frolicking beside or beneath the boat, and the annual winter visitors, the humpback whales, often can be seen during the winter months.
Please visit VELTRA Support page to send an inquiry about this activity.
VELTRA Support
Payment / Cancellation Policy
Payment Methods
Credit card payment
Cancellation Policy
Any cancellations made after 18:00 local time, 2 business days prior to the activity will be subject to a charge of 100% of the total amount.
Top-Rated Activities for Oahu
Waikiki Casual Sunset Cruise with Friendly Local Crew - BYOB [Open Now]
Cruise with Hawaii Glass Bottom Boat and enjoy a relaxing yet affordable Waikiki Sunset Cruise. Bring your own drinks and food and enjoy scenic views of Diamond Head and Honolulu coastline.