North Shore's Best Zipline Tour by CLIMB Works - Oahu's Longest Ziplines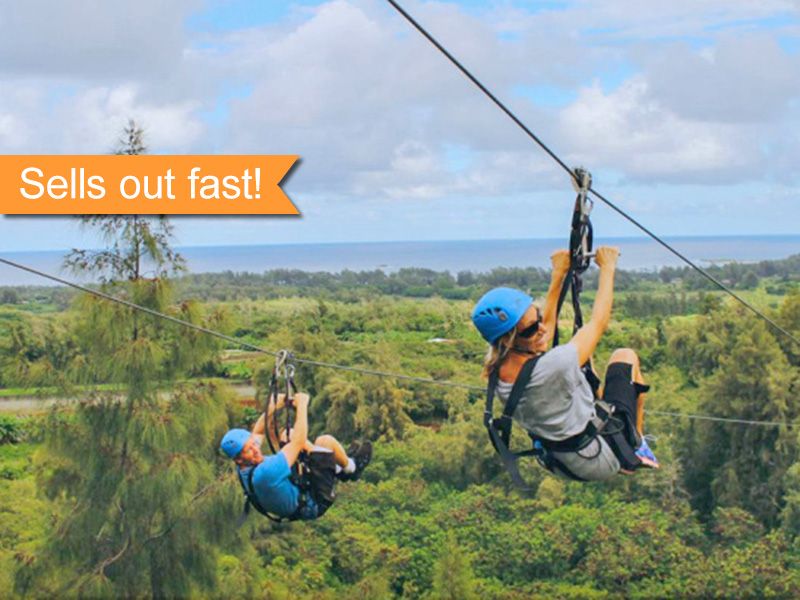 Highlights
Pick-up from Waikiki available
Close to Turtle Bay Resort
Reviews
Tour guide was very entertaining
Mmm
A fun, exciting Oahu activity
Jacky Daniels
Read more
Overview
Oahu
3.5 hour(s)
Available Mon, Tue, Wed, Thu, Fri, Sat
Pick-up not available
Not Accessible
What to expect
Experience the best zipline of Oahu with CLIMB Works Keana Farms. Enjoy panoramic ocean & mountain views of Oahu's famous North Shore. This 3-hour adventure features 8 dual lines, 2 rappels, 3 sky bridges & a fun ATV adventure to the ridgetop.
Please note that the practice line (line 1) is currently not in use. The tour will be operating with 7 lines instead of 8 until further notice.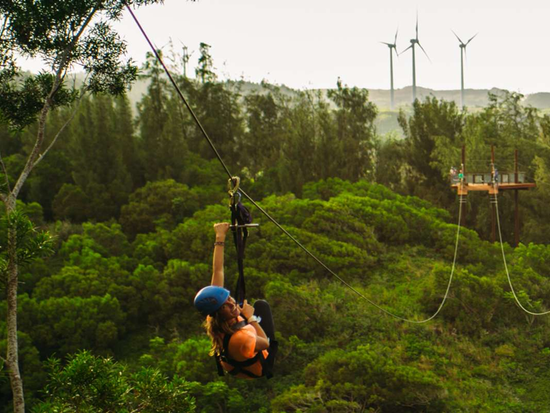 For guests with their own transportation who may already be nearby or staying at Turtle Bay Resort, select from a number of activity times and explore the North Shore of Oahu at your leisure.
Overview
Available Mon, Tue, Wed, Thu, Fri, Sat
Inclusions: Equipment rental / Guide / 8 zipline course / Sky bridges / ATV Ride
After your safety briefing and equipment fitting, take a quick ride on at ATV through farmland to the top of the zipline course.
10 mins
Fly down eight dual lines with a buddy while surrounded by beautiful, panoramic views of the North Shore!
2.75 hrs
Location
Pick-up/Check-in Time & Location
Drop-off/Check-out Time & Location
Notes
Restrictions
Guests with exhaustion are not permitted to participate in this activity.
Guests with heart and cardiovascular issues are not permitted to participate in this activity.
Guests who are pregnant are not permitted to participate in this activity.
This activity is not wheelchair accessible.
Children 7 years old and above can participate in this activity.
Guests should not have serious fear of heights (acrophobia).
Those with serious mental or physical handicaps or disorders that would not enable them to complete the tasks given during the tour are not permitted to participate.
Participants must weigh no more than 270lbs. You will be weighed at check-in. Misrepresentation of body weight could result in denial of service without a refund.
Children weighing under 80lbs may be required to ride tandem with a guide or another lightweight member in your party.
Those under the influence of drugs, alcohol, or anything else that impairs judgement are not allowed to participate.
There is no smoking allowed on the tour.
Do not wear short shorts, loose jewelry, or baggy clothes.
Unsecured items (phones, keys, water bottles, etc) that can fall out while ziplining are not allowed.
Other requirements
Participants are required to disclose their medical conditions.
Participants will be weighed upon check-in.
Participants are required to sign a liability waiver at the time of check-in.
Participants with long hair will need to keep their hair in a ponytail or a braid.
Those under the age of 18 must have a parent and/or legal guardian sign for them. Anyone participating under 18 years old must have someone 18 or older ziplining with them.
You will not be required to "hand brake" or drag yourself over spans on cable.
Booking requirements (# of participants, vehicles, hours, etc.)
You can book a maximum of 7.
Required items to bring & attire
Closed toe shoes
Necessary medication such as inhalers, nitroglycerine pills, or epi-pens. Backpacks or fanny packs are allowed only to carry medication.
Sandals and Five-Finger shoes are not allowed.
Additional notes
The activity schedule is subject to change or cancellation due to weather or traffic conditions.
Gratuity is not included in the price.
Complimentary parking available.
Please do not bring any valuable items with you. Lockers are available for small items such as your phone or car keys but everything else should remain in your car.
We are not responsible for lost items.
Due to COVID-19, all guests at must follow these policies:
1. Guests who do not complete their 2 week mandatory quarantine are subject to their activity being cancelled with a full refund.
2. Only 7 people max per group.
3. Provide contact information when booking for contact tracing purposes.
4. Wear a face covering while on the property.
Activity Provider
CLIMB Works Keana Farms
Payment / Cancellation Policy
Payment Methods
Credit card payment
Cancellation Policy
Any cancellations made after 18:00 local time, 2 business days prior to the activity will be subject to a charge of 100% of the total amount.
FAQ
How far in advance should I book this activity?
It is recommended to make a reservation at least five (5) days in advance to ensure you reserve your preferred time.
Why do I have to be there a half hour early?
During this half hour you will check in, get geared up, and receive instruction. It is very important that you are on time. Due to the nature of a reservation business, Keana Farms cannot accommodate late arrivals and your tour will leave without you and no refunds will be provided.
Are there any lockers or storage available?
Small lockers are available for your wallet, phone, and keys. They are able to have bags left at the back counter, but they make no guarantees for property not otherwise locked. Keana Farms can hold onto small bags behind the front desk, but everything else must be left in your vehicle. The activity provider is not responsible for any lost items.
Does this tour operate if it rains?
Yes, the tour goes out rain or shine. Hawaii is known for quick bursts of rainfall on any given day, and it doesn't slow down the tour even a bit. They do not, however, operate during thunderstorms.

Although they cannot predict what the weather will do, their staff is trained to make decisions as to when to continue and when to reschedule. Each platform has a way to get each participant safely off of the tour and onto the ground where they can take you back to the main office. Depending on how far you made it through the course, you can reschedule or be partially refunded.
Is there a lot of walking?
You will walk about a quarter mile during your zipline, but not all at one time. Throughout the tour you will be walking on sky bridges and boardwalks with incredible views of the Hawaiian landscape.
Can my friends and family just watch me while I zipline?
Due to the nature of the course and how it is set up over 60+ acres, guests will not be able to watch friends and family go through the course.
Are children allowed to zipline?
Children ages 7 & older may ride the ziplines. There is a minimum weight requirement of 80 lbs (36 kg) for each participant, but any children under this required weight will ride tandem with a guide.
Can I bring my camera?
Yes, as long as it is secured with a strap. CLIMB Works also takes photos of each participant at specific points in the tour.
Please visit VELTRA Support page to send an inquiry about this activity.
Veltra Support
Top-Rated Activities for Oahu
North Shore's Best Zipline Tour by CLIMB Works - Oahu's Longest Ziplines
Experience the best zipline of Oahu with CLIMB Works Keana Farms. Enjoy panoramic ocean & mountain views of Oahu's famous North Shore. This 3-hour adventure features 8 dual lines, 2 rappels, 3 sky bridges & a fun ATV adventure to the ridgetop.