Big Island One Day Sightseeing & Volcano Tour from Oahu [Open Soon]
Reviews
I recommend this tour.
dmcq
Posted on:
2020/03/06
| dmcq
Tour of the Big Island
Gwen from Texas
Posted on:
2019/11/11
| Gwen from Texas
Read more
Overview
Oahu
15.5 - 17 hour(s) incl. transportation
Available Mon, Tue
Pick-up available
Not Accessible
What to expect
Be whisked away to the Big Island for an inter-island tour from Oahu. Experience an an all-day circle island tour on the Volcano Isle, visiting a Kona coffee plantation, a black sand beach, Place of Refuge, and Hawaii Volcanoes National Park.
Hawaii Grand Circle Island + Hawaii Volcanoes National Park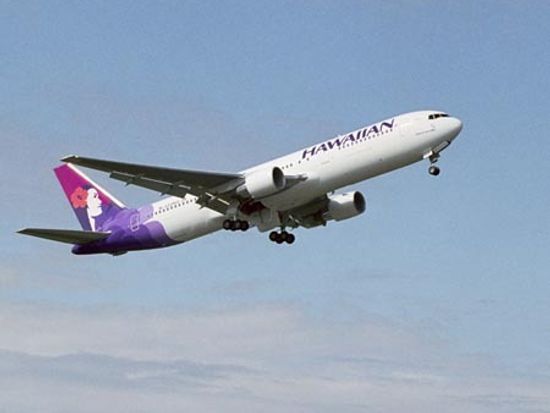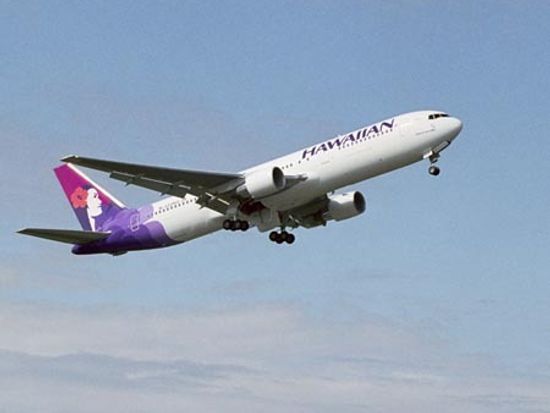 Overview
Inclusions: Admission / Airfare / Transportation fee / Guide
Pick-up from Waikiki Hotels & Check-in at Honolulu Airport
Flight from Oahu to Big Island (Honolulu to Kona) [Hawaiian Airlines]
(50 mins)
Visit a Kona Coffee Plantation & Museum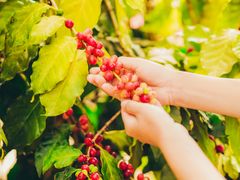 Kona is famous for rich and aromatic Hawaiian coffee. Experience scenic ocean views at Kealakekua Bay and Captain Cook and see the spectacular coastline from the Kona Coffee Mill.
Puuhonua o Honaunau National Historical Park
(1 hr)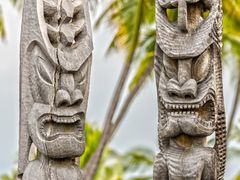 Pu uhonua o Hōnaunau National Historical Park is a Hawaiian ancient royal grounds and known as the "Place of Refuge". Set foot in this sacred place and explore several Hawaiian temples called heiau.
Stop at Punaluu Black Sand Beach Park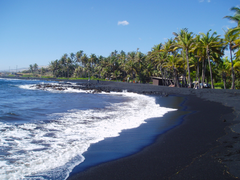 Punaluu is one of the most famous beaches on the Big Island of Hawaii. This black sand is made of basalt deposits from lava flows. Don't forget your camera and take some pictures of the black shore that is unlike any other beach you've visited before.
Lunch at Volcano House Restaurant
(*Meals are not included in the price.)
Have a lunch break at Volcano House Restaurant with a panoramic vista of Kilauea caldera. You will also get time to check out the Volcano exhibits and gift shop at Kilauea Visitor Center, across from the restaurant.
Kilauea Volcano National Park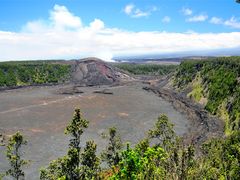 Visiting Volcano National Park is must-do Big Island attraction. See the majestic Halemaumau Crater, lava field & steam vents. This area changed remarkably since June 2018. Stroll the paved Devastation Trail and explore the Kilauea Iki Crater where the 1959 eruption occurred.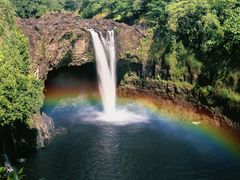 Visit famous Hawaii waterfall Waianuenue, as known as Rainbow Falls, a popular photo location. On sunny days, you'll get to see a rainbow form in the waterfall.
Mauna Loa Macadamia Nuts Visitor Center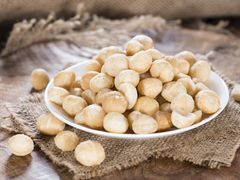 Stop at Mauna Loa Macadamia Nut Factory and take a self-guided tour.
Flight from Big Island to Oahu (Hilo to Honolulu)
(50 mins)
Return to Honolulu Airport & Drop-off at Waikiki Hotels
Location
Pick-up/Check-in Time & Location
Drop-off/Check-out Time & Location
Notes
Restrictions
Guests may not fly within 24 hours of a two-tank scuba dive due to the high risk of decompression sickness.
Guests who are pregnant are not permitted to participate in this activity.
This activity is not wheelchair accessible.
Children 3 years old and above can participate in this activity.
Children 2 years old and above are required to have their own airfare and seat on the tour. Children under 2 may sit on a parent's lap on the flight and the tour with no seat allocated at no charge.
Other requirements
Please call the activity provider 24 hours before your activity to reconfirm your booking. Your voucher has the necessary contact information listed.
Participants are required to sign a liability waiver at the time of check-in.
For all island flights and day trips, the name should appear as it is on picture ID (license or passport). The airlines will deny boarding if the passenger's legal name, as shown on their valid government-issued ID does not match the name on their E-Ticket. If a passenger is denied boarding, there will be no refunds.
All passengers 18 years old and above must present government-issued photo ID (Passport for non-US nationals) for airline check-in.
Required items to bring & attire
A valid government-issued photo ID
Closed toe shoes
Passport required for non-US
nationals
Additional notes
The activity schedule is subject to change or cancellation due to weather or traffic conditions.
Meals are not included in the price.
Drinks and meals are available for purchase
We will not extend financial reimbursement to compensate for flight or traffic delays beyond reasonable control of the activity provider, or disappointment if circumstances make it impossible to provide services as intended. Examples may include, but are not limited to: unexpected closures, rain, or road closures.
Tour dates may be fully booked at the price listed due to the limited availability of airline tickets. However, the date may be available for an additional fee. Additional fees vary depending on availability and are subject to change without notice.
Should the tour itinerary, route or schedule change due to unforeseen circumstances, services are non-refundable.
FAQ
Q. Does the price include airfare?
A. Yes, airfare is included.
Q. Why is this tour non-refundable?
A. All inter-island tours provided by Polynesian Adventures Tours are non-refundable due to airline cancellation policies.
Q. How many people are there in a tour group?
A. Average group sizes will vary from day to day. This tour normally utilizes a mini-bus which can accommodate up to 20 passengers.
Q. How far in advance should I book this activity?
A. We recommend booking at least 1-2 weeks in advance. If you have very specific schedule requirements and are not flexible, please book sooner. Last minute availability is often possible, but limited.
Q. What stops are included on this tour?
A. There will be many stops and photo opportunities along the way. Highlights Include: Kealakekua Bay, Punalu'u Black Sand Beach, Hawaii Volcanoes National Park, Thurston Lava Tube, Mauna Loa Macadamia Nut Factory, Big Island Candies, Kona Coffee company, Rainbow Falls, Parker Ranch, and more.
Q. Are there any refunds if I miss this tour?
A. No, refunds are not processed for missed activities that include air fare. Reservations for inter-island tours cannot be cancelled once they are confirmed.
Please visit VELTRA Support page to send an inquiry about this activity.
VELTRA Support
Payment / Cancellation Policy
Payment Methods
Credit card payment
Cancellation Policy
Any cancellations made after the booking confirmation date will be subject to a charge of 100% of the total amount.
Change Policy
No name or date changes will be honored once booking is confirmed. Name or date changes after booking has been made will be assessed a change fee of up to $200 per person.
Top-Rated Activities for Oahu
Big Island One Day Sightseeing & Volcano Tour from Oahu [Open Soon]
Be whisked away to the Big Island for an inter-island tour from Oahu. Experience an an all-day circle island tour on the Volcano Isle, visiting a Kona coffee plantation, a black sand beach, Place of Refuge, and Hawaii Volcanoes National Park.