Paradise Helicopters Private Charter (from North Shore)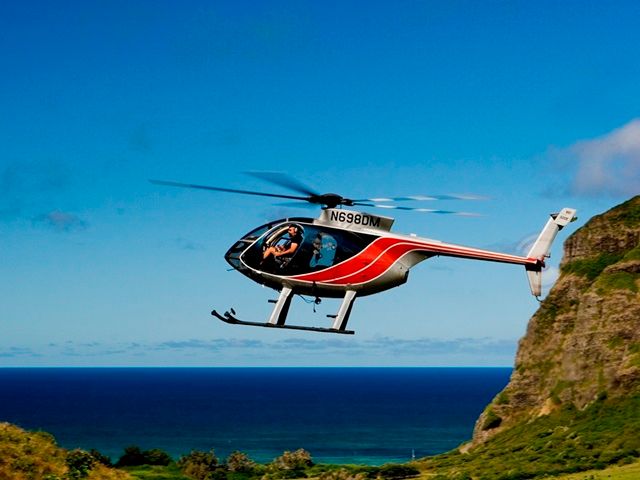 Overview
Oahu
Available Daily
Pick-up not available
Accessible
What to expect
Enjoy the best way to experience Oahu with your own private helicopter charter for up to four passengers. From beaches to waterfalls, you can see it all!
To protect our visitors and activity providers, precautionary measures will be set up to monitor and mitigate the spread of potential disease. Please see the additional notes below for more details.
Overview
Inclusions: Helicopter Charter
Check-in at the Turtle Bay Resort
Helicopter Private Charter
Varies
Location
Pick-up/Check-in Time & Location
Drop-off/Check-out Time & Location
Notes
Restrictions
This activity is wheelchair accessible.
Children of all ages can participate in this activity.
Wheelchair Accessibility: Guests can participate in the helicopter flight if they are able to board the aircraft on their own or have members of their party available to offer assistance. Additional assistance from the crew may be available.
Seat assignments are based on everyone's weights, heights and the balance of the helicopter. By maintaining proper weight and balance in our aircraft we can provide guests with a safe, smooth and comfortable Experience on Paradise Helicopters.
In compliance with Federal Aviation Administration (FAA) regulation, Paradise Helicopters will weigh each individual when checking in at the Airport for safety and weight balance of the aircraft. Please provide accurate body weights for all passengers. Misrepresentation of body weight could result in denial of service without refund.
All passengers must be able to fit into a single seat in the helicopter and seating will be dictated by the weight of each passenger.
Other requirements
Please call the activity provider the day before your activity (no later than 18:00 local time) to reconfirm your booking. Your voucher has the necessary contact information listed.
Required items to bring & attire
A valid government-issued photo ID
Wear whatever is comfortable for you. If you are going to take pictures, darker colors are better because it reduces the chance of reflections in your photos.
Additional notes
The activity schedule is subject to change or cancellation due to weather or traffic conditions.
Gratuity is not included in the price.
If you are driving on your own, you will be required to pay a parking fee.
If you are prone to motion sickness, take motion sickness preventatives before you fly.
Due to COVID-19, all guests must follow the Health & Safety Guidelines below.
1. Practice Social Distancing. No shaking hands and engaging in unnecessary physical contact while on the premises.
2. Always wear a face covering while on property. For safety, pilots may remove face masks while flying.
3. Must pass a mandatory health screening at the entrance.
4. Hand sanitizer is provided to all staff and guests. Thorough disinfecting and sanitizing in all aircraft prior to boarding.
5. Provide contact information when booking for contact tracing purposes.
The activity provider does not assume any responsibility for your valuables and/or personal belongings.
Activity Provider
Paradise Helicopters
Payment / Cancellation Policy
Payment Methods
Credit card payment
Cancellation Policy
Any cancellations made after 18:00 local time, 3 business days prior to the activity will be subject to a charge of 100% of the total amount.
FAQ
What kind of helicopter will be used?
With the option to have the doors on or off, the Hughes 500 is a four (4) passenger aircraft that is the perfect choice for couples and smaller groups. This aircraft offers a more personalized flight and you are always guaranteed a window seat. Known as the "Magnum P.I." helicopter, its quick maneuverability and smooth ride gives you quite an exciting helicopter experience.
Please visit VELTRA Support page to send an inquiry about this activity.
Veltra Support
Top-Rated Activities for Oahu
Paradise Helicopters Private Charter (from North Shore)
Enjoy the best way to experience Oahu with your own private helicopter charter for up to four passengers. From beaches to waterfalls, you can see it all!