Queen's Treasure Sunset Cocktail Sail (from Kaanapali Beach)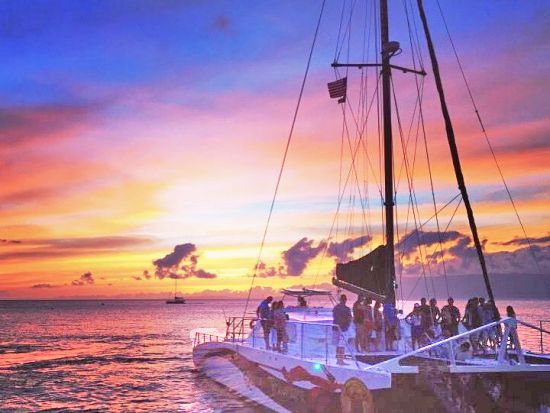 Reviews
The best luau in Maui
Matt
Great Experience!
Dee
Read more
Overview
Maui
2.5 hour(s)
Available Daily
Pick-up not available
Not Accessible
What to expect
With a convenient Kaanapali departure, sip on a cocktail from the open-bar, nibble on tasty appetizers and relax as you watch the sun dip below Maui's horizon.
The band is great. The dancers are talented and their talents are diverse. The food is very good (short ribs for sure). The servers are incredibly attentive (especially Evan). Go!
Mario, Becka (sp?), and Cap'n Linda did an outstanding job of making us feel welcomed and appreciated. They (the crew) were friendly, courteous, and genuinely happy to have us on board. I have no other sunset cruise in... Maui with which to compare this event, however, I can recommend this cruise to you all without reservation. (Another couple we met on board had been on Teralani before, and they said Queen's Treasure was much better...for what it's worth). The food was good...hors d'ouervres, but substantial enough to fill. Meatballs, tuna roll-ups, cheeses, crackers, fruit, veggies, dips, and some deli meat. Drinks were sufficient for the evening. I recommend NOT paying extra for the premium bar, 3 drinks are plenty (even for the seasoned professional, such as I), and even so, they weren't keeping track of those who did, or didn't pay for the premium package, so drink at will! The boat has a max occupancy of 49, we were scheduled with that many, but only 43 showed up. Plenty of room, drinks, and food! Mahalo!!
more
Awesome!
2015/08/17
Families
Brian
Queens treasure sunset cruise was amazing! The crew (Sam and Linda) both great people, courteous and very friendly. I would recommend this to anyone and would certainly do it again.
Read all reviews (3)
Activity Provider
Queen's Treasure
Payment / Cancellation Policy
Payment Methods
Credit card payment
Cancellation Policy
Any cancellations made after 18:00 local time, 2 business days prior to the activity will be subject to a charge of 100% of the total amount.
Change Policy
There is a $15.00 per person fee for rescheduling reservations within 24 hours of the activity.
FAQ
What if I am prone to seasickness?
Consider taking an over the counter motion sickness preventative before your cruise if you are worried about sea sickness.
What should I wear to this activity?
There is no dress code but we recommend casual or Aloha attire.
What kind of boat will be used?
The "Queen's Treasure" is a 65' x 30' Luxury Sailing Catamaran built by Gold Coast Yachts in St. Croix USVI in 2011 and features twin Yanmar 315 hp engines, inside and outside seating areas, two nets on the bow for seating, two bathrooms with sinks, spacious galley and a stereo system with BOSE speakers.
What is the appetizer and drink menu?
Appetizer Menu: Vegetable Crudités, Assorted Domestic and Imported Cheeses and Crackers, Antipasto Platter (salami, pepperocini, baby artichokes and olives), Assorted Wraps (spinach, tuna or chicken), Pineapple Stuffed Teriyaki Glazed Meatballs, and Chocolate Dipped Strawberries & Pineapples.

Non-alcoholic Beverages: Pepsi, Diet Pepsi, Ginger Ale, Lemon-lime soda, Passion Orange Guava Juice, Lemonade, Pineapple Juice, Cranberry Juice, Iced Tea and Water.

Open Bar: Mai Tais, Vodka, Rum, Gin, Kona Longboard Beer & Michelob Ultra Light Beer on tap, White Wine and Champagne.
Please visit VELTRA Support page to send an inquiry about this activity.
Veltra Support
Top-Rated Activities for Maui
Queen's Treasure Sunset Cocktail Sail (from Kaanapali Beach)
With a convenient Kaanapali departure, sip on a cocktail from the open-bar, nibble on tasty appetizers and relax as you watch the sun dip below Maui's horizon.